Search forums
DISNEY TREASURE BOOKINGS NOW OPEN! RECEIVE UP TO A $1000 SHIPBOARD CREDIT WITH DREAMS UNLIMITED TRAVEL! Get a Quote!
Disneyland (California)
Why is DLR Maleficent called 'Murphy'?
Thread starter mjaclyn
Start date Nov 18, 2010
Currently in Wonderland
I was just wondering why the Maleficent dragon in Disneyland's version of Fantasmic is called Murphy... does anyone know?
3TinksAndAnEeyore
Dis veteran.
mjaclyn said: I was just wondering why the Maleficent dragon in Disneyland's version of Fantasmic is called Murphy... does anyone know? Click to expand...
Quickly becoming a Disney addict!
3TinksAndAnEeyore said: Because of "Murphy's Law" - What can go wrong, will go wrong. Click to expand...
Disgram23kids
Earning my ears.
Disney Princess
Disgram23kids said: Has Murphy been there since Fantasmic first opened??? We went the first summer Fantasmic was showing and I just don't remember seeing the dragon. Of course, they say the memory is the frist thing to go with age and I'm getting there quickly. Click to expand...
Murphy was there in Sept 2009. He debuted sometime that summer.
3Minnies1Mickey
<font color=magenta>just wanted to add, this is no.
specialks said: Murphy was there in Sept 2009. He debuted sometime that summer. Click to expand...
Chicago Gal
Murphy is a female. Since it is Maleficent that turns into the dragon, the dragon's gender is female, and Murphy should therefore be referred to as "she". I have never seen Murphy, and so I am very excited about that possibility during my up and coming trip in just 69 days.
barbaraann said: Murphy is a female. Since it is Maleficent that turns into the dragon, the dragon's gender is female, and Murphy should therefore be referred to as "she". Click to expand...
mrsxsparrow
Goofy_Mom said: Sorry, my bad on the pro noun. I do know that she was supposed to be there for Summer Nightastic 2009 but was down most of the summer, I was there in July for Dance the Magic with my DD. I'm such a goober, I'm thinking its 2011 Good thing we have others who are more on the ball. Click to expand...
Mouseketeer
Why is she called Murphy? I've been to see F! at least 5 times in the past year and a half, and have only seen Murphy once, dead on stage as they announced the second show had been canceled. Murphy's Law hits her so often that she picked up the name. BTW, we're going back Dec 17th, so if you want to see Murphy you should plan to go before then. She'll surely break down again before we get a chance to see her.
AMouse&ADream
The dragon was missing from the F! show while we were there last month, which was a bit annoying because we took family who had never been to DLR before. We caught it prior to that, but wanted the newbies to see it as well.
Capt Silly said: Why is she called Murphy? I've been to see F! at least 5 times in the past year and a half, and have only seen Murphy once, dead on stage as they announced the second show had been canceled. Murphy's Law hits her so often that she picked up the name. BTW, we're going back Dec 17th, so if you want to see Murphy you should plan to go before then. She'll surely break down again before we get a chance to see her. Click to expand...
Share this page
Dis news & updates.
RSVLTS Back with Cold Weather Disney 100 Gear&Hats
New Disney Paper Parks: Mystic Manor Carousel Book
Disney Vacation Club Hoop Dee Holidays Member Exclusive!
Third Date Sells Out for Disney Jollywood Nights
New Chocolate Chip Cookie Candy Bars at East End Gideon's Bakehouse
New DISboards Threads
Today at 3:05 AM
Disneyland Community Board
Today at 12:39 AM
Aulani, A Disney Resort & Spa
Today at 12:26 AM
Community Board
FigmentSpark
Yesterday at 11:33 PM
Royal Caribbean
Yesterday at 10:59 PM
Disney Cruise Line Trip Reports
Yesterday at 10:37 PM
Latest posts
Latest: mamabunny
9 minutes ago
Latest: hsmamainva
14 minutes ago
Latest: DaisyDuck001
18 minutes ago
Latest: NYCgrrl
20 minutes ago
Latest: goopysolelady
22 minutes ago
Mousertainment.com
Casting a spotlight on people, places & things.
East vs. West: Fantasmic!
"Mysteries and magic, visions fantastic…"
Murphy the Dragon – the mascot of Fantasmic! at Disneyland Park.
In this season of villains, it only seems appropriate to shine a spotlight on one of the greatest villainous battles you can find at a Disney Park – the nighttime extravaganza Fantasmic! However, since there are somewhat different stagings of this show at both Disneyland Resort and Walt Disney World Resort, let's see how one stacks up against the other… at least in my personal opinion!
I remember that my overriding first impression of the Walt Disney World Resort was being blown away by the sheer SIZE and immensity of everything compared to the Disneyland Resort. I couldn't stop saying "IT'S HUGE!!!"
I looked at Main Street, U.S.A. and said, "It's HUGE!"
I looked at Cinderella Castle and said, "It's HUGE!"
I looked at Spaceship Earth and said, "It's HUGE!"
I looked at the Tree of Life and said, "It's HUGE!"
So you can imagine the mindset I went in with to see Disney's Hollywood Studios' version of Fantasmic! – my absolute favorite Disney nighttime spectacular and one of the most thrilling, emotionally moving and magical experiences I think any guest can have at a Disney Park.
But I knew something was off as I approached the stadium bleacher seating under the bright lights, with Cast Members peddling popcorn and snacks across the rows of people while a couple of other guys shouted bad jokes at the crowd and tried to get them to do "the wave"…
And then I saw the size of the waterway and the cave set that the show would be performed on… and I started to laugh… "but it's all so small!"
And I didn't stop laughing until long after the show ended.
So I'm going to give you the spoiler result right up front: Disneyland Resort wins this comparison hands (gloves?) down. And here's why…
I'm going to break this into components of the two different presentations. Let's start with:
Viewing area/Seating setup
Disney's Hollywood Studios:
I will give credit to Disney's Hollywood Studios for their easy to find bleacher seating (including an option for reserved VIP seating with various dining packages). You can also use FastPass+ here to make a reservation. Given the half-hour length of this show, guaranteeing everyone a seat rather than making them stand is a big win.
Disneyland:
The one area where Disneyland doesn't get it right – its recent transformation of Fantasmic! from a first-come, first served show with most people able to find an acceptable viewing spot even up to showtime – to a nearly-exclusively Fast Pass and dining package-reserved viewing area show that still doesn't work efficiently or offer any extra seating. This change also came with a horrendous traffic pattern change, which makes New Orleans Square IMPOSSIBLE to pass through now during Fantasmic! hours. Whereas previously one could fairly quickly work their way around the crowd on the way to Critter Country or Frontierland/Adventureland. A frustrating, epic fail all around. That said, I'd still pick obstructed standing-only viewing to see this show over seating at the other one. But that's also because of…
Sitting (or standing) in the darkness in front of the Rivers of America, the low murmurings of the crowd around me, with area-appropriate music and lamplight coming from behind me in New Orleans Square, waiting as the introduction to Fantasmic! begins, still sends chills up my spine every single time, knowing what wonders I am about to experience… Or as they say on the Interwebs these days… oh, the feels!!!  (And then there is the glorious music of the show itself – the Fantasmic! theme is one of my favorite pieces of park music – but I'll talk about that in a future article!)
Can I get a churro with that? Yeah, I felt like I was at a baseball game, sitting in the bleachers waiting for this show to start. No darkness, no musical theming to get you into the slightly spooky place-setting mood. Just loud, bright, garish, noisy – and then the show starts. There was none of the majesty and grandeur of the Disneyland version. It was just… another show.
Cave set and waterway in the Pocahontas sequence in Disney's Hollywood Studios version of Fantasmic!
Not only were the cave and moat sets for the show here small by comparison, but the effects were, too. Everything from the water screens to the light, laser and flame effects seemed… contained.
As opposed to the Disneyland version, set against Tom Sawyer Island on the Rivers of America. Everything about this show is BIG – from fire and water effects to the laser light projections – and the setting adds such verisimilitude!
Mickey Mouse vs. Maleficent's Dragon at Disneyland Park – who do you think will win?
Disneyland: Dragon
Granted, Disneyland has only had this massive animatronic a few years, and granted it took him quite a while to work properly once they did have him! (Hence the nickname "Murphy" as in the Law.) But he works and he is glorious!
The Fantasmic! dragon at Disney's Hollywood Studios. No really, it is.
Disney's Hollywood Studios: Dragon
All I kept thinking as I was watching this was – It's a head. On a pole. With ribbons on it. Seriously? Should I just call this Fantasmic! Jr.? Yeah, pretty much…
Make way for the Mark Twain!
Disneyland: Boat sequence
The heartwarming finale with more than two dozen characters aboard the magnificent Mark Twain Riverboat is always breathtaking to behold!
Disney's Hollywood Studios: Boat sequence
They have an open-air barge with the characters waving from it. It's… quaint. Though it was nice to see a different mix of characters than those in the Disneyland show. But it just emphasizes the smaller, staged feeling of this version of the show vs. Disneyland's "reality" of an "actual" river and an actual working riverboat.
Pocahontas' companions in canoes at Disney's Hollywood Studios' Fantasmic!
Disney's Hollywood Studios: Pocahontas sequence
As a big fan of Pocahontas , I actually really enjoyed this segment of the show just because it was new and different for me. But it still felt a bit dated to have such a long section dedicated to this one relatively older film that is not really considered one of the "classics". However, even an extended fight scene and John Smith swinging around the cave set doesn't compare with…
The Sailing Ship Columbia – serving as Captain Hook's pirate ship!
Disneyland Park: Peter Pan sequence
Peter Pan fighting Captain Hook amongst the rigging of the moving Sailing Ship Columbia along the Rivers of America! Really, this is one of the most exciting scenes you can find at any show at any Disney Park. It's breathtaking (and a bit scary) to watch the performers so skillfully telling a story while performing incredible rope and fight stunts at the same time!
There are so many things I love about the Walt Disney World Resort. Especially its size. But based on everything I saw between the two productions, I give this one squarely to Disneyland as opposed to the "Fantasmic! Jr." version at Disney's Hollywood Studios. This was the one place where I felt Disneyland absolutely did it bigger and better!
It makes me incredibly sad to know that in just a few weeks we will be losing Fantasmic! as the entire Rivers of America section of Disneyland Park will be going under construction in January for Star Wars Land and the show will go dark for likely a year and a half minimum. And when it returns, it may not be the same show it is today.
So I cannot say it enough – if you've never seen Fantasmic! at Disneyland Park – PLEASE do yourself a favor and do so NOW while you still can have the full experience with the show and the Rivers in all their glory! I hope to catch it at least one or two more times in the next few weeks myself before it starts to seem like it was all just a dream…
Have you seen BOTH versions of Fantasmic!? Do you have a favorite and why?
Update 9/13/16: I've uploaded a Fantasmic! Orlando video – Check out one of this show's performances here on the Mousertainment YouTube Channel
Share this:
2 thoughts on " east vs. west: fantasmic ".
I have seen them both, and while I personally wouldn't give Disneyland such a huge edge over WDW, I agree that the pirate ship cannot be beat in terms of "good show." I believe I literally gasped out loud when I saw it coming around. I agree that the Fantasmic! music is really excellent, though, one of my favorite show soundtracks as well. And am I crazy, or was there a physical Chernabog element to the show in the past, in addition to the Night on Bald Mountain music? Not sure if I daydreamed that detail… I like the way you broke down the show into pieces for your analysis. Nice post!
Like Liked by 1 person
Thanks – glad you liked the article! I think my perspective is definitely colored by having seen Disneyland's version first. And while I maintain that the bottom line of production values and atmosphere makes the West Coast version much stronger – I probably would have liked the East Coast version more if I'd seen it first. It definitely has its charm, but it's still the little sibling version to me in comparison! 🙂
Leave a Reply Cancel reply
This site uses Akismet to reduce spam. Learn how your comment data is processed .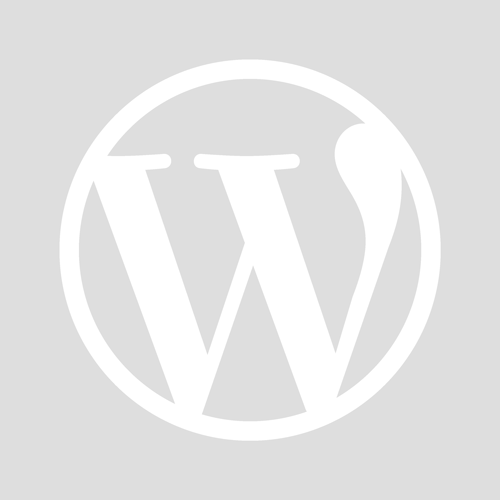 Already have a WordPress.com account? Log in now.
Follow Following
Copy shortlink
Report this content
View post in Reader
Manage subscriptions
Collapse this bar
Today's news
Skullduggery podcast
Conspiracyland
My Portfolio
Personal finance
Daily Fantasy
Horse Racing
GameChannel
Team apparel and gear
Shop BreakingT Shirts
Entertainment
Style and beauty
Privacy Dashboard
Disneyland Fans Joke and Mourn the Flaming Demise of Murphy the 'Fantasmic!' Dragon
For over 30 years, Disney fans have flocked to Disneyland to see "Fantasmic!," a nighttime show that celebrates the power of imagination. But no one could have imagined seeing the dragon used during the show's climax to burn down to the ground in a tower of flames.
On Saturday night, Anaheim firefighters were dispatched to the Happiest Place on Earth when the show's 45-foot fire-breathing animatronic dragon burst into flames during the nightly performance of "Fantasmic!" on Tom Sawyer Island. No one was injured in the incident, and fire officials are investigating the accident with Disneyland's cooperation.
In the finale of "Fantasmic!," the famous villain Maleficent transforms into a black and green dragon, just as she does in the classic Disney film "Sleeping Beauty," to destroy Mickey Mouse within the world he's created in his imagination. The dragon shoots out a blast of fire onto the water surrounding Tom Sawyer Island, creating a ring of flames. But Mickey, taking control of his dream world, quenches the fire with water fountains and blasts Maleficent with a shot of magic to defeat her.
Just watched Fantasmic Dragon catches on fire at Disneyland #disney pic.twitter.com/49yTBA2MR7 — mlg (@MelissaLeeGiles) April 23, 2023
But during Saturday's show, as Mickey began to extinguish the flames, the head of the dragon — called Murphy by hardcore Disneyland fans — suddenly ignited. Within a minute or so, the fire had spread to the rest of Murphy's body, consuming the amusement park marvel that had been introduced to "Fantasmic!" in 2009 as part of a modernization of the show's special effects.
Videos and photos of the accident and its aftermath have gone viral among Disney fans, including one taken by a parkgoer who was recording his ride on the soon-to-be-closed Splash Mountain and could catch a glimpse of Murphy on fire in the distance.
So we were on Splash Mountain at #Disneyland when Maleficant caught fire, and it was definitely a night to remember. @dlnt @ThemeParkLore @ScottGustin @MiceChat @OOCParks pic.twitter.com/PLG9CdX4jH — Leviathan (@LeviathanPop) April 23, 2023
On Sunday, further pictures were posted online of Murphy's burning demise and its charred remains, which were removed from Tom Sawyer Island by Sunday morning. Some Disneyland fans mourned the loss of the awe-inspiring animatronic, while others made some tongue-in-cheek jokes.
As for where Murphy got his name, it originated from the repeated delays that Disneyland had to make in debuting the dragon in summer 2009 due to various difficulties in getting the giant thing to work. As weeks of waiting turned into months, fans called the dragon Murphy after Murphy's Law, which states that "anything that can go wrong, will."
With that in mind, Murphy's final fate was quite fitting.
His wings were heavy Pipes weak, gills were sweating There's gasoline on his scales already Mom's spaghetti #Fantasmic #Maleficent #Disneyland pic.twitter.com/AQfX0MOG0b — Jayman (RIP Murphy) (@DasJayman) April 23, 2023
I don't know who this guy is but he is a legend for this #fantasmic #Disneyland pic.twitter.com/5YfcJpTxyH — Rebecca Saryan (@chubecca) April 23, 2023
A tribute drawing I spent all night making to one of the best Disneyland animatronics. You will be missed, Murphy the Fantasmic Dragon. Wish I had the chance to say goodbye. pic.twitter.com/LDbn30SlRI — Imagination Station (@Pryorcal1) April 23, 2023
@RobertIger I wanna commend all the great cast members last nite at the Fantasmic inferno! They did a fantasmic job at keeping everyone safe! Sadly Murphy the dragon took a bad ! pic.twitter.com/taADEyrHon — Disney Guy (@DisneyGuy2) April 24, 2023
Also Read: 'Morning Joe' Mocks DeSantis for Being Made to 'Look Like a Fool' Over Disney Fight: 'Mickey Mouse Has Brass Knuckles' (Video)
Recommended Stories
More than half of women 50 and over keep a 'sexual toolbox,' new poll finds. here's what it is — and how to build your own..
Sexual toolboxes contains products, such as lubricant, that make intimacy more pleasurable. Experts say they're also empowering.
Do you know where your washing machine filter is, and how to clean it out?
If you've never cleaned your washing machine filter before, you may be surprised to find what's lurking in there.
Fantasy Football rest-of-season RB rankings: Christian McCaffrey remains No. 1
Fantasy football analyst Scott Pianowski hits the running back position with a Shuffle Up for the rest of the season.
Sources: TCU knew of Michigan's sign-stealing scheme prior to CFP game, used 'dummy signals' to dupe Wolverines
The Horned Frogs coaching staff was aware of Michigan's antics after being warned by several coaching staffs. And they had a plan to counter it in last season's College Football Playoff semifinal win.
Reba McEntire rightly scolds 'Voice' contestant for changing up 'one of the most iconic and beautifully written songs of all time'
"When you're singing a song that is so well-known as 'How Deep Is Your Love,' you need to stay with the melody," Reba warned Mac Royals. But he totally ignored her advice.
Fantasy Football Week 8 Trade Analyzer: Time to move some players coming off big games
Sal Vetri breaks down a combination of sell-high and buy-low candidates for fantasy managers to consider in trades this week.
Devo on how the Carter/Reagan election inspired 'Whip It,' what Jagger thought of their 'Satisfaction' cover and why it's 'depressing' that their message still resonates 50 years later
"We were hoping that we were just a little overly paranoid," Mark Mothersbaugh says drily, reflecting on Devo's prescient messaging and society's past half-century of de-evolution.
'No Hard Feelings' tops Netflix streaming charts: What to know about Jennifer Lawrence's R-rated comedy — and that NSFW beach scene
Should you watch "No Hard Feelings"? If you missed it in theaters, here's what you need to know.
Plumbers on TikTok share what not to put in a garbage disposal: 'Why have a garbage disposal then?'
TikTokers are shocked by plumbers' instructions on garbage disposals.
The Fantasy Football Numbers Do Lie: Patience with Javonte Williams will pay off
Dalton Del Don examines four players who we might not have an accurate assessment of their fantasy value without a closer look at the numbers.
Search Search Please fill out this field.
Sweepstakes
Watch Disneyland's Fantasmic dragon catch fire during live performance
Disneyland officials said in a statement to EW that similar pyrotechnic effects at its global park properties have been temporarily suspended amid the investigation.
Entertainment Weekly's Oscars expert, 'RuPaul's Drag Race' beat reporter, host of 'Quick Drag' Twitter Spaces, and cohost of 'EW's BINGE' podcast. Almost all of the drag content on this site is my fault (you're welcome).
UPDATE: Disneyland officials released a statement to EW following Saturday's Fantasmic fire, indicating that they are suspending the use of pyrotechnic effects at select Disney parks shows around the world as they continue to investigate.
"During the final showing of Fantasmic at Disneyland park on Saturday evening, the dragon prop caught fire. Anaheim Fire & Rescue quickly responded, and the fire was extinguished. All cast members were safely evacuated from Tom Sawyer Island," reads the statement to EW. "Due to smoke and wind, attractions near the island were safely evacuated of any guests, and the cause of the fire remains under investigation at this time. We are temporarily suspending fire effects similar to those used at Disneyland park's Fantasmic at select shows and entertainment experiences globally out of an abundance of caution following the Fantasmic prop fire at Disneyland park. The continued safety of our cast and guests is of the utmost importance."
PREVIOUS: Disneyland put on a fireworks show of a different kind this weekend.
The Maleficent dragon — which shoots fire out of its mouth during the climax of the park's popular Fantasmic performance — burst into flames mid-show, according to various reports from guests at the California resort Saturday night.
In a viral TikTok video shared overnight (below), the Sleeping Beauty dragon can be seen engulfed in fire while an announcement plays over the park's loudspeaker system.
"This performance of Fantasmic cannot continue. We apologize for any inconvenience this may cause, and hope you enjoy the rest of your evening here at Disneyland," the announcer says in the clip. "Once again, this performance cannot continue due to unforeseen circumstances. Thank you."
The video shows a park employee approaching the stage shortly after the announcement, using what appears to be a fire extinguisher to contain the fire, though the worker quickly leaves when parts of the 45-foot-tall structure explode.
"The dragon's head started to glow, and I see fire and kind of smoke coming out," Disneyland guest Elaine Gilmer told local news , describing the accident. "I was like, 'Oh... they added some new stuff because that didn't happen like that before.'"
Representatives for Disney and the Anaheim Fire & Rescue department did not immediately respond to EW's request for comment, though Los Angeles' ABC affiliate reported that the park's Frontierland area — which borders Rivers of America, where Fantasmic takes place — was evacuated during the fire.
Fantasmic first launched at Disneyland in 1992 as a nighttime spectacular event featuring story elements from the beloved animated film Fantasia , particularly the Sorcerer's Apprentice scene starring Mickey Mouse. It uses water, fire, and digital projection effects while also incorporating live actors and scenes from popular Disney movies.
Saturday's incident recalls a similar mishap at Florida's Disney World resort in 2018, when another iteration of the Maleficent dragon caught fire during a parade at Magic Kingdom.
Watch Maleficent catch fire at Disneyland in the TikTok video above.
Sign up for Entertainment Weekly 's free daily newsletter to get breaking TV news, exclusive first looks, recaps, reviews, interviews with your favorite ... stars, and more.
Related content:
Jenifer Lewis to reprise Princess and the Frog role in Disney's Splash Mountain replacement
Disneyland removes Song of the South tune 'Zip-a-Dee-Doo-Dah' from Magic Happens parade
Disney World Imagineer addresses fan interest in hypothetical villains land from D23: 'We took note'
By clicking "Accept All Cookies", you agree to the storing of cookies on your device to enhance site navigation, analyze site usage, and assist in our marketing efforts.

Giant Dragon Catches Fire During 'Fantasmic!' Show at Disneyland
Several videos showed what appeared to be the maleficent dragon, described as being 45 feet tall, engulfed in fire., by rudy chinchilla and the associated press • published april 23, 2023 • updated on april 23, 2023 at 4:04 pm.
A "fire-breathing" prop dragon went up in real flames during a performance of "Fantasmic!" at Disneyland Saturday night.
Several videos posted to social media showed what appeared to be the Maleficent Dragon, described as being 45 feet tall , engulfed in fire.
Guests were ushered away from the area, and there were no immediate reports of injuries.
Ryan Laux, a frequent Disneyland visitor, said fire has always been a part of the "Fantasmic!" presentation. But he said he knew something was awry when when flames didn't come from where they usually do.
Get Southern California news, weather forecasts and entertainment stories to your inbox. Sign up for NBC LA newsletters.
"The head started going on fire instead of the fire projecting out," said Laux, who lives in Los Angeles and captured the blaze on video.
The show was stopped almost immediately "and then right after that, the dragon started catching fire and the whole body was up in flames," he told The Associated Press on Sunday.
One video captured a PA announcement telling visitors that the performance could not continue due to "unforeseen circumstances."
Get Los Angeles's latest local news on crime, entertainment, weather, schools, COVID, cost of living and more. Here's your go-to source for today's LA news.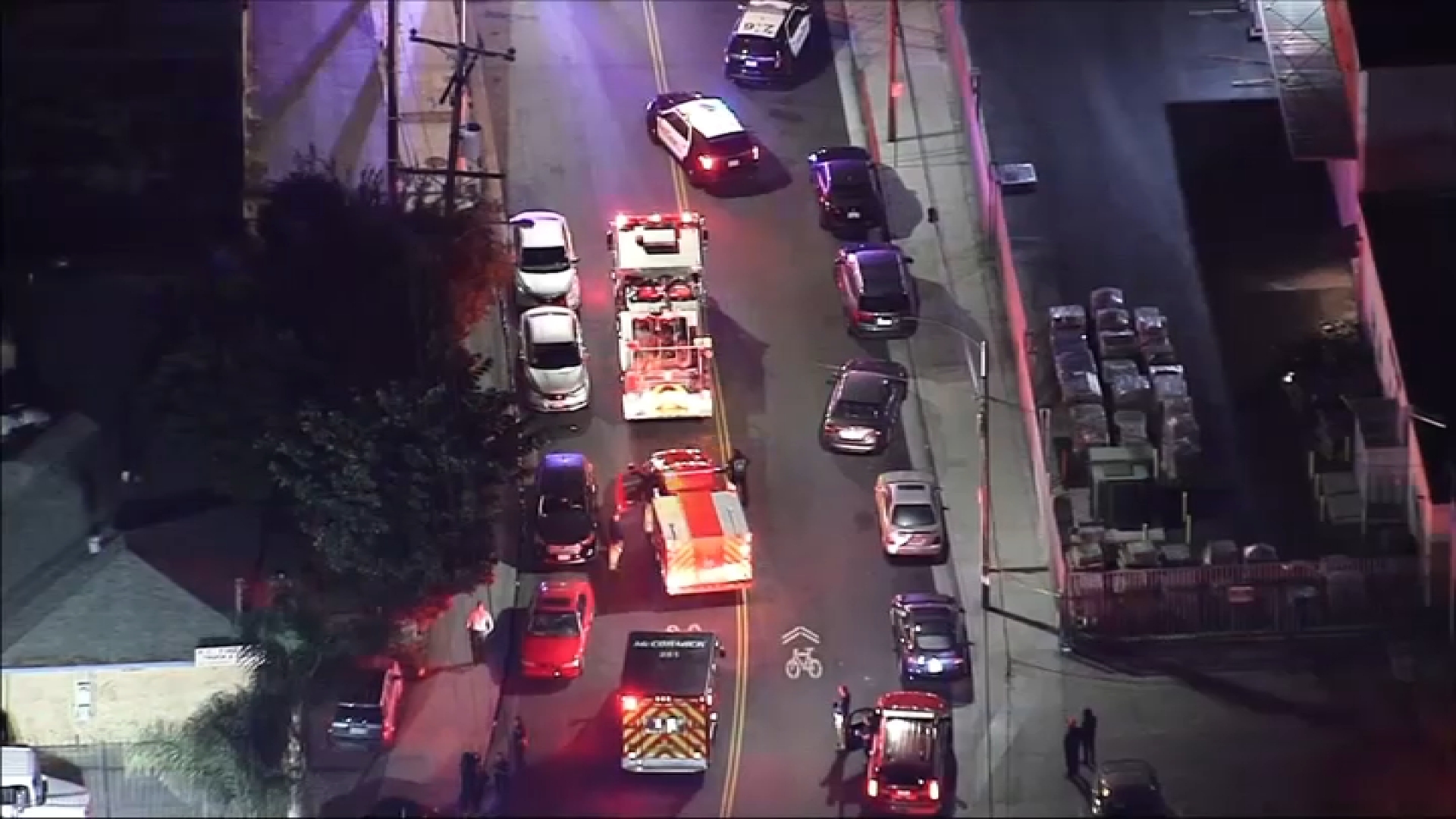 Students locked down as shots ring out after football game at South Gate high school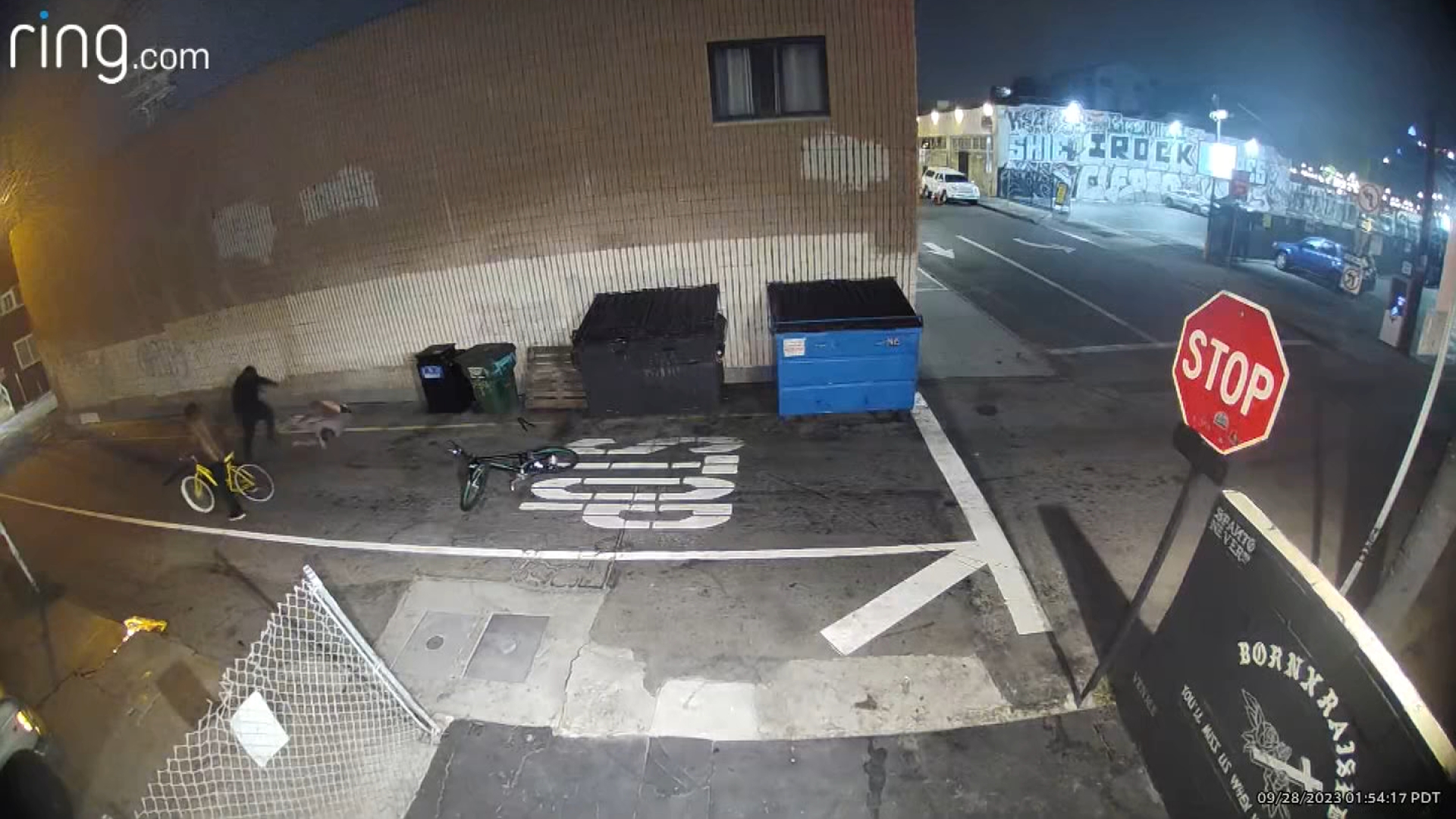 Man uses bolt cutters to knock victim unconscious in 'brutal' Venice attack
The show takes place twice nightly near the park's famous Tom Sawyer Island. The climax features Mickey Mouse battling a giant dragon named Maleficent.
Laux said Mickey vanished from the stage as soon as the dragon's head became engulfed in flames.
This article tagged under:

The Loss of Maleficent in Fantasmic! is More Than Just a Dragon
On Saturday night the skies at Disneyland were aglow in a way that nobody wanted to see. Rather than fireworks brightening up the light, the Maleficent dragon in Fantasmic! caught fire and ended up burning to the ground in front of thousands of guests who were watching the second show of the night. The glow from the fire and the accompanying smoke could be seen throughout the park. By mid morning the following day, what was left of the dragon was hidden behind a scrim. Any guests who didn't know any better would assume that regular work was being done in the area. However, that couldn't be further from the truth. Come with me as we take a look at other impacts that this accident had.
The loss of the dragon on Saturday night at Disneyland wasn't just an animatronic showpiece. The impact goes much further than just destruction. It undoubtably also had an impact on the cast members who were working in and around the show. Some cast members were working on Tom Sawyer Island and saw the centerpiece of their show go up in flames. There had to be some level of concern for safety at that point. I can't tell you how many people in the last 48 hours have texted me with concern over how close Mickey Mouse was to the dragon when it went up in flames. Mickey Mouse is just what could be seen. There also are other performers and show support cast members in the vicinity. In the moment, this had to be terrifying.
As I continue to think about different impacts of Maleficent going up in smoke, there is also another one that comes to mind. Fantasmic! is a show that the many people who bring it to life invest their hearts and souls into. Think of how proud and honored people are to work on the show in any capacity. Many of them just watched a major piece of this beloved show go up in smoke right in front of them. If they weren't there, they undoubtably saw it on the internet. Either way, it had to be horrifying and heartbreaking.
Moving forward and over to the internet, the reaction has been across the boards. First the internet was full of videos of that terrible moment. Then the discussion moved on to how sad people were for the animatronic dragon. This came before the memes started appearing. All of these things had to have been seen by the cast members who live on social media and the internet just like you and me.
Why do I bring all of this up? As I'm watching the posts on the internet, almost everything is focused on an animatronic dragon that went up in smoke on Saturday night. They focus on the fire, the loss of a dragon, and the hilarity some find in the moment. They aren't focused on the people who are most impacted by this incident, the cast members. It is very easy to see a dragon on fire and to talk about it and make jokes about it. It is much more difficult to see beyond the flames and into the shadows behind it where cast members are being impacted by this incident.
The loss of the Maleficent Dragon in Fantasmic! on Saturday night also means the loss of some level of stability for those who work on and around the show. This could be emotionally and for some potentially financially. It undoubtably has lead to anxiety for some of those who have been impacted. This was not wanted, this was not fun, and it is not over.. but only beginning. There will be a lot of ground to cover before it will become a distant memory.
As part of the Disney community, let's take a moment to recognize how hard this could be for those who were closer to the situation. Let's show some grace and kindness. Let's hold out a helping hand or even a hug to those who are struggling with this and show the good that can come from the Disney community. Let's also show that the Disney community doesn't just care about the consumers but the cast members who make the magic.
I will be honest, I don't know how many cast members are struggling today with the aftermath of this weekend. I do, however, think it is a good idea to err on the side of caution and kindness. One simple act of kindness can change the world. I would like to be remembered for acts of kindness that changed the world for the better, rather than for a sensational story or a witty post. It is possible that I'm simply thinking about one or two cast members, I would guess, however, there are more, that are struggling in some way after this weekend. Even if it is just one or two, I think it is worth it to keep kind and try to make the world a little bit better and a little more positive.
In the coming days, weeks, and potentially even months, guests visiting the Disneyland Resort will not be seeing Fantasmic! and the powers of Mickey's imagination come to life along the Rivers of America. This will be a piece of the magic of Disney that will be missing for the foreseeable future. However, the impact will be felt by more than just those experiencing the magic. The impact will be felt by those who made the magic. As we visit the parks during this time, as we post on social media and websites during this time, let's keep that in mind and #keepkind.
Click to share on Facebook (Opens in new window)
Click to share on Twitter (Opens in new window)
Click to share on Pinterest (Opens in new window)
Click to share on Tumblr (Opens in new window)
Click to share on LinkedIn (Opens in new window)
Click to email a link to a friend (Opens in new window)
Click to share on Reddit (Opens in new window)
Click to print (Opens in new window)
Click to share on Pocket (Opens in new window)
Related Posts
3 thoughts on "the loss of maleficent in fantasmic is more than just a dragon".
Well said, Mr. Daps! My heart hurts for everyone who went through the trauma of that night, as well as those whose livelihoods and mental health have been affected negatively going forward. We all miss Murphy, certainly, and losing her is a painful blow. But the tragedy we also have to keep in mind is to the lives of the cast members, performers, and technicians who put such love and care into the show. They deserve our wholehearted support during this difficult time.
Perfect commentary…..and I agree…..the fear, sadness, sense of loss….those of us spectators on the outer rim.can only imagine and try to empathize. A show of that magnitude is only successful with many working together…..under intense duress and a certain level of risk but also a unique passion and love to share this story and its message to the world of Disney admirers. Being a Mom to a Lifelong performer…..I see and feel this first hand. Yes…..be kind…..be loving….listen…..and actually hear….what those involved have to say. Moving forward…..as it comes to a harsh reality what risks these performers and support workers take EVERY time this show is presented….hopefully they are duly compensated. They work at an extreme level and should be shown THAT every time they go out there and share the Magic with passion and grit. Bless you all…..so grateful for what you all give….and that you all made it safely off the island. Thank you Mr. Daps for making us simply think and care.
It was terrible about Maleficent, I'm embarrassed to say that I never thought of people working on the show that night. Something like this also happened to a dragon during a parade at WDW. I can only imagine what cast members go through when something like this happens. Here's hoping that everyone is alright.
Leave a Comment Cancel reply
Save my name, email, and website in this browser for the next time I comment.
This site uses Akismet to reduce spam. Learn how your comment data is processed .