Indian Spirit Festival 2023
The Indian Spirit Festival 2023 just ended!
On the 6 elaborately designed stages in Eldena, the best DJs of the psytrance scene provided you with their unique melodies. You could dance for 5 days and 4 nights and in between marvel at the costumes and arts of the artists, jugglers and fire artists. You also had the choice to participate in different workshops around yoga, meditation, dance and creativity. To reminisce or to get a glimpse of the Indian Spirit Festival 2023, have a look at the photos and videos of the festival days. Have fun!

By loading the video, you accept YouTube's privacy policy. More Infos
Video laden
YouTube immer entsperren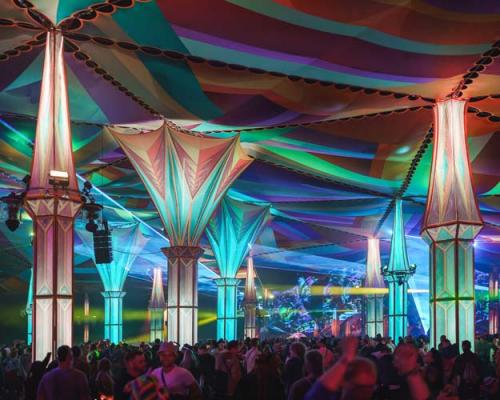 Leave a Reply Cancel reply
Your email address will not be published. Required fields are marked *
🇯🇵 日本語サイトへ / Go to Japanese Site
Indian Spirit Festival (Germany)
Table of Contents
Indian Spirit Festival 2023 – Aug 30th – September 4, Eldena, Germany
Indian spirit – the summer closing festival.
Indian Spirit Festival is an annual summer psytrance festival in Northern Germany. The event welcomes visitors from all over Europe and the world to a unique, spiritual playground.
For five days and four nights, festival goers can enjoy a world-class lineup featuring the best of psytrance talent, as well as an unparalleled production, live performances, workshops, marketplaces and so much more.
Taking place during the last weekend of August each year, the event closes out the summer festival season in Germany with a unique and electrifying journey.
Embracing The Indian Spirit
Indian Spirit Festival has its idealistic origin in India, specifically Goa. Centered around the electronic sub-genre of psychedelic trance, or 'psytrance', the festival pays tribute to its musical origins, which date back to the early 1990's in Goa, India.
The festival actively embraces the Indian Spirit, promoting a unique and holistic atmosphere along with strong, sustainable values; not only throughout the festival, but in their brand and vision as a whole. The festival also embodies the Indian spirit by creating a colorful and electrifying environment for its visitors each year.
Rhythmic Sounds
The Festival regularly welcomes more than 100 local and international psytrance artists to the event each year. Ranging from rising stars to world-class acts in Psychedelic trance scene.
The 2021 event will be hosting Ace Ventura, Astrix, Neelix, Electric Universe, Infected Mushroom, GMS, Vini Vici, Skazi, Bliss, Liquid Soul…many more!
The event features two stages, also known as 'floors'. The Moon Stage shines non-stop from Thursday to Monday featuring a wide variety of talent. The Sun Stage is reserved exclusively for progressive and unique offbeat artists from Friday to Sunday.
Both stages are designed with minimal differences in size, decoration, lighting concept and sound system, allowing visitors to fully immerse themselves in the music no matter where they go.
Unmatched Entertainment
In addition to the unique rhythmic sounds, the festival also boasts an unmatched production featuring world-class light shows, live entertainers, on-site activities and more. Visitors can be amazed by the best of deco, laser and mapping, including the highly anticipated laser harp show by Electric Universe.
Entertainers from fire spinners to jugglers, walking acts and more all roam the grounds throughout the event. Activities on offer range from body painting to dreadlock workshops, yoga classes and much more, for anyone and everyone willing to give it a go. A large selection of food options, clothing and jewelry stalls, markets and more can also be found around the festival grounds.
With so much to see, do and enjoy, Indian Spirit is more than just a music festival; it is a truly unique spiritual experience like no other.
Indian Spirit Festival Location
Indian Spirit Festival is held at the following location:
Location: 19294 Bresegard bei Eldena, Mecklenburg-Vorpommern, Germany
The Festival takes place in the small northern German town of Eldena, located between the major cities of Berlin and Hamburg. The festival grounds are located in a secluded area roughly 5 minutes from the city centre of Eldena. For five days each year, the festival transforms the large open space into a spiritual playground for music lovers.
Visitors are able to camp in nature and experience a pop-up utopia filled with music, markets and more. There are two unique stages, as well as various art installations and a 'Psychedelic Circus' featuring everything from food shops to clothing, jewelry, hand made gifs and more
How to get to Indian Spirit Festival – Check Indian Spirit Festival official website for detailed information
Indian Spirit Festival Gallery
Indian Spirit Festival Tickets
You can purchase the festival tickets at Indian Spirit Festival official website .
Indian Spirit Festival FAQ
Indian Spirit Festival takes place in Eldena, a small town located just outside Ludwigslust in Northern Germany. The festival grounds are located around 200km northwest of Berlin and 130km east of Hamburg.
The Festival regularly welcomes around 10,000 local and international visitors to the event each year, along with more than 100 of the biggest and best psytrance artists. 
Indian Spirit Festival is accessible both by public and private transport. If you are travelling by car, you can take the A24 and change onto the A14 towards Ludwigslust. Take the Grabow exit, continue on B191 towards Eldena and follow the signs to the festival. If you are flying in for the festival, the nearest airports are Hamburg and Berlin. From there, you can take a train directly to Ludwigslust, where a dedicated shuttle service is available to take you to and from the festival for 5 euros. Both airports also offer plenty of car rental services if you want to drive to and from the event. Indian Spirit Festival also partners with a number of local and regional bus tour providers, giving visitors the option to purchase affordable and stress-free ticket and travel packages. Feierresen offers round-trip packages from most major cities in Northern Germany, while Hard Tours offers departure points from most major cities in Southern Germany. There are also services available from various cities in Sweden, Denmark and Norway, via Festivalbussen. You can find more details on how to get to the festival here .
Indian Spirit Festival takes place across five days at the end of August each year. The event kicks off on Thursday evening and continues non-stop until Monday afternoon.
Indian Spirit Festival offers a large on-site camping area located just outside the festival's entrance. Campers can enter the site from noon on Thursday and must leave by Tuesday afternoon. Visitors can bring their own tents, which can be set up next to their car. Camper and caravan camping is also permitted. The general campgrounds include plenty of toilets, showers and more. Campers also have the option to rent a private toilet for the duration of the event. The festival also features a Special Camping Village for pre-set up rental tents. There are three pre-set up camping options: Festipi, Utopia and Kartent. Festipi Camping includes a pre-set up teepee style tent, suitable for 1, 2 or 3 people; with sleeping bags, pillows and mattresses included. Utopia Camping includes a regular pre-pitched tent, suitable for 1, 2, 3 or 4 people; with sleeping bags, sleeping mats, pillows, a tent light and more included. Finally, Kartent camping includes a unique, sustainable cardboard tent, suitable for up to 2 or 4 people with an airbed and sleeping bags included. The Special Camping Village is located in the closest campsite to the entrance and also features extra toilets, illuminated areas, a 24-hour reception and more.
Top Photo By Steffen Schulze @Indian Spirit Facebook page
You may also like
Earth frequency festival, best psytrance festivals around the globe, voov experience (germany).

Countdown to the Indian Spirit Festival 2023
Article contributed by berlinieros pr | published on thursday, august 17, 2023.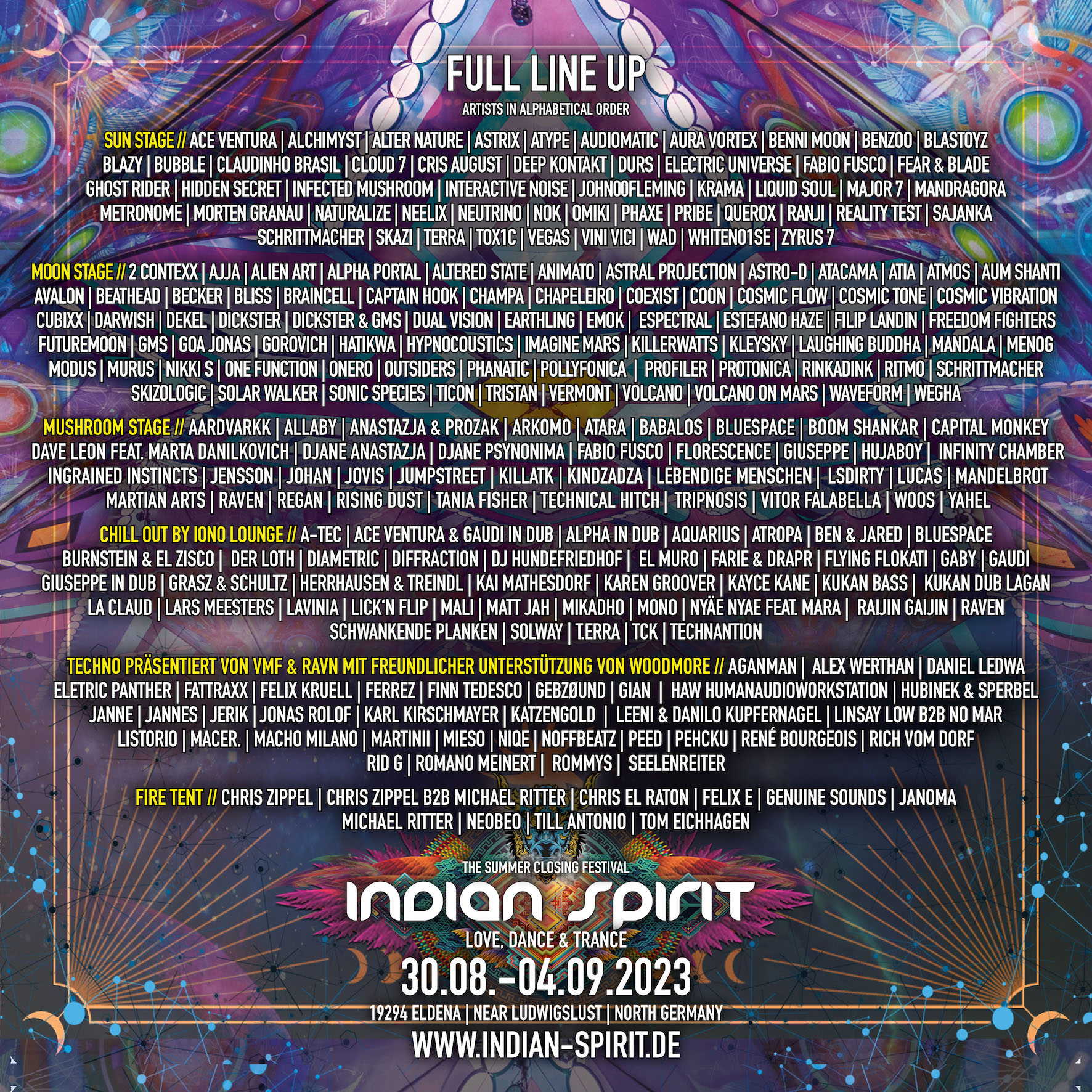 Only 15 days until the small town of Eldena in Mecklenburg-Western Pomerania turns into a place of pilgrimage for Goa and Psytrance fans from all over the world. From August 30 to September 04, 2023, the Indian Spirit Festival will present non-stop music on a total of six stages for five days. It is one of the biggest happenings of its kind and offers the best line up of these genres in Europe. A total of 250 internationally renowned artists from Goa, PsyTrance and Techno will play on three main stages and three smaller stages. Over 20,000 visitors will go on an unforgettable journey into the world of "love, dance and trance". The construction for the biggest psychedelic festival in Germany, Austria and Switzerland has already been going on for two weeks. Now the last details are revealed.
The "Sun Stage" will be the largest covered stage in all of Germany. For this, the fabrics will be painted and sewn by one of the best decoration teams in the world. This area will become a visual synthesis of the arts, additionally equipped with the latest video mapping technology and state-of-the-art laser systems, which will allow visitors to visually immerse themselves in psychedelic spheres in addition to the music. The terrific line up of this stage presents stars like Ace Ventura, Astrix, Liquid Soul, Neelix, Infected Mushroom, Vini Vici and many more will perform.
The "Moon Stage" offers the guests music at every minute of the festival. Here it starts on Thursday at 6 pm and ends Monday at 1 pm - 24 hours non-stop with well-known artists like Avalon, Captain Hook, GMS, Atmos or Sonic Species. Of course, the most modern video mapping offers visual overkill at any time of day.
The third main stage is the "Mushroom Stage" and offers a variety of acts, such as Boom Shankar, Kindzadza, Hujaboy, Fabio Fusco or Bluespace, which will make the hearts of psytrance fans beat faster.
The three smaller stages are the "Chill Out" area, where visitors can relax to the sounds of Ace Ventura & Gaudi in Dub, Alpha in Dub, Gaudi or Lavinia. The Techno Stage presents a diverse line-up of highly talented artists from the techno scene. And the Fire Tent offers a special atmosphere thanks to a mixture of electronic sounds and pulsating beats that will immerse visitors in another dimension.
The 10-hectare festival site offers visitors not only first-class music. A large market mile in the style of the hippie market on Ibiza with over 100 booths invites you to stroll, shopp and enjoy. In addition, workshops, yoga, meditation and healings will be offered in various tipis. At Yoga & Meditation Magic Sky, from Friday to Sunday, you can join classes such as Yoga & Body Activation, Chakras Yoga & Sound Mediation, Kundalini Yoga, Hatha Yoga, Flow Yoga, Vinyasa Flow Yoga, Power Vinyasa Yoga, Partner Yoga and many more. The Workshop Tipi will offer classes such as Infinate Creativity, Macramé with Mellikrame, Silten Disco UV Paint Party or Dreamcatcher. The Healing Tipi will feature classic massages, lectures such as Energizing Water, Water Memory and Healing Effects, a harmonious healing sound bath, and Reiki and Swedish massages combined with other healing modalities. The Double Tipi features an art exhibition by Caos Concept, Public Beta, Raven PicUps, Tiny Space Art and is a place for various interviews. Last but not least the Fire Place in front of the Fire Tent, which invites jugglers and fire artists to play freely at any time, but also offers Hula Hoop Dance & Tricks or Flow Art Workshops.
The Indian Spirit Festival has been a special kind of experience since 1999 and is known for its lively and warm community, which provides an unforgettable journey into the world of electronic music. The Indian Summer transforms the leaves of the trees into a colorful sea of colors, providing the perfect backdrop for the biggest psychedelic festival in Germany, Austria and Switzerland. Countless artists, jugglers and fire artists on the area deepen the flair of a never-ending summer and enchant the guests. Every year thousands of psytrance fans from all over the world make a journey to Eldena in Mecklenburg-Western Pomerania to celebrate the end of the European festival season.
The Indian Spirit Festival will take place from August 30 to September 04, 2023 in Eldena, Mecklenburg-Western Pomerania. Full Weekend tickets are available in the pre-sale phase 2 for 109.99 euros plus fees at https://www.indian-spirit.de/ .
Indian Spirit Festival 30 August - 04 September 2023 Eldena (County Ludwigslust-Parchim) www.indian-spirit.de
LATEST ARTICLES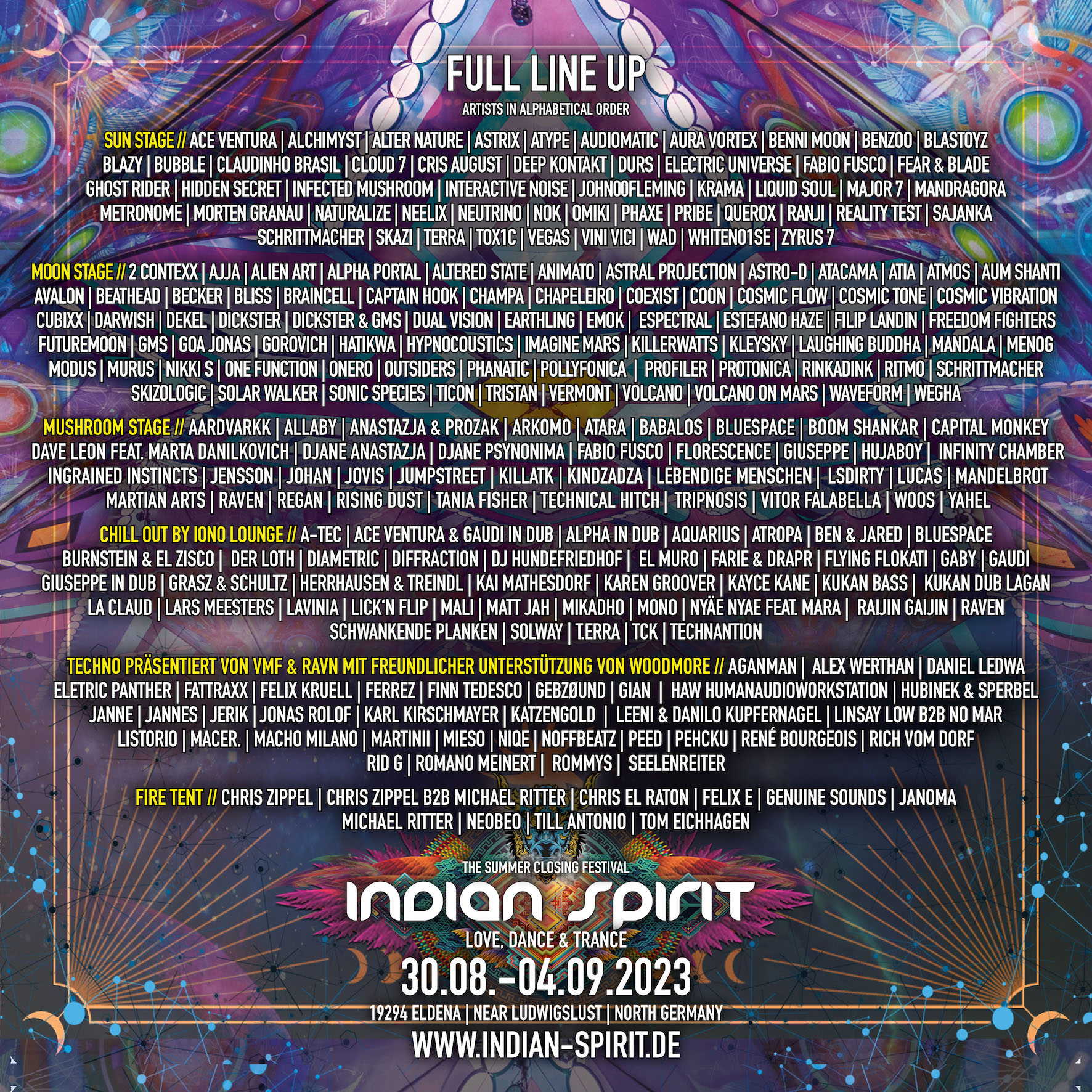 Be A Part Of The Grateful Web
Check us out on facebook.

Grateful Web
Progressive jam giants Umphrey's McGee's return to Las Vegas for the seventh installment of the massively popular UMBowl production was marked once again by a stand-out tour closing dual evening extravaganza where all stops were pulled out and the power given directly to the fans, for better or for worse.
On June 24, Round Records & ATO Records will release GarciaLive Volume Six: July 5, 1973 – Jerry Garcia & Merl Saunders, the latest installment of the celebrated GarciaLive archival series. The three-CD set was recorded at the 200 capacity Lion's Share club formerly located in the small town of San Anselmo, CA, just 20 miles north of San Francisco. The performance features Jerry Garcia performing with friend, mentor and legendary keyboardist/vocalist Merl Saunders. The duo is joined by drummer Bill Vitt and bassist John Kahn, who soon became a lifelong Garcia collaborator.
COPYRIGHT © 1995 - 2023 GRATEFUL WEB, INC. ALL RIGHTS RESERVED.