The Story Behind The Song: Cradle Of Filth's Her Ghost In The Fog
How Cradle Of Filth wrote their breakthrough hit Her Ghost In The Fog with a little help some long-dead soldiers and a dose of magic mushrooms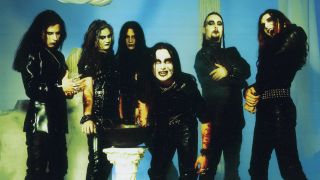 It's a beautifully sunny day in the summer of 2000, and Cradle Of Filth are tripping balls in a field in East Sussex. The band have temporarily relocated from their native Suffolk to the town of Battle, and are currently standing in the exact spot where, 934 years prior, William The Conqueror and King Harold II waged The Battle Of Hastings. As they bake in the sweltering heat, they see long-dead soldiers trooping past them.
"We had taken some magic mushrooms," Cradle Of Filth singer Dani Filth recalls today. "We saw ghosts and all manner of things."
Dani reflects on these psilocybin induced apparitions with the air of someone talking about visiting their nan for tea. That's because it wasn't out of the ordinary; for Cradle Of Filth, that summer was routinely insane.
Holed up in Parkgate Studios in Battle, Cradle were animals. They were young and their stock in the metal scene was rocketing. They partied hard. They drank. In Dani's carefully selected words, they "fraternised" with locals. At one point, their friend, horror director Alex Chandon, dropped in and promptly started terrorising pensioners in the nursing home down the road.
"I remember him going next door and pretending that he'd lost his grandma so he could do some filming," says Dani.
Yet amid all the shenanigans, Cradle Of Filth managed to write one of the most pivotal and enduring songs of their career, Her Ghost In The Fog . The track, from 2000's Midian , laid down the musical template they've followed ever since. A minor MTV hit at the time, two decades on it's the most-played number in the band's setlist, aired more than 500 times.
"I wish we'd never written the bloody thing," says Dani drily. "You're going through the setlist, going, 'We should really play this! We haven't played this for a while! Oh wait, we've got to play Her Ghost In The Fog . That puts paid to that, then!'"
The track didn't quite turn Cradle into superstars, but it did mark the point where they well and truly left the underground behind. The band were already in the ascendency by that point. Having made their name as black metal malcontents infamous for their blasphemous 'Vestal Masturbation' t-shirt, they had taken their first steps towards something approaching respectability when they bagged a deal with influential independent metal label Music For Nations, formerly the home of Metallica and Anthrax.
Their first two albums on the label, 1996's Dusk And Her Embrace and 1998's Cruelty And The Beast had turned them from corpsepainted outsiders into music press darlings, while their the video that accompanied the title track of 1999's From The Cradle To Enslave EP even got a few plays on MTV – something that would have been unthinkable a few years earlier.
Despite a series of line-up changes during and after the EP, band morale leading up to Midian was high. Founding guitarist Paul Allender was back following a four-year hiatus, and they'd also tapped drummer extraordinaire Adrian Erlandsson, famed for his work in melodeath speed freaks At The Gates .
"It was like a fresh beginning, but we were reuniting old friendships at the same time," Dani remembers. "Everybody wanted the band to be successful. Everyone wanted to work hard and play hard."
To write Her Ghost In The Fog and the rest of Midian , Adrian Erlandsson, Gian Pyres and keyboardist Martin Powell moved in together. The Cradle House, as the singer now calls it, was in the band's stomping ground of Ipswich.
"It was at the bottom, funnily enough, of Cemetery Road," he says. "It became quite synonymous with debauchery. You can use your imagination: three single lads in quite an established band partying a lot."
In late June 2000, the whole band decamped to Parkgate to record Midian . For a young extreme metal outfit – Dani was only 25 at the time – the residential studio was the height of opulence. "It was down near Hastings, a beautiful part of the world, and everyone had their own chalet," he says. "We had a cook there! It was gloriously hot, so we took trips down to the beach. It just felt like you were on holiday!"
Dani still found time to write lyrics for the album amid the ceaseless partying. The album itself was named after the cemetery in horror author Clive Barker's 1988 novel Cabal and its later film adaptation, Nightbreed . Just as the Midian of Barker's book was a hub for all manner of monsters, so the album was about "an amalgam of mythical beasts", with Her Ghost In The Fog ticking the 'Victorian ghost story' box.
Specifically, Dani drew on the inspiration of Tim Burton's 1998 movie Sleepy Hollow , itself based on Washington Irving's 1820 short story The Legend Of Sleepy Hollow . "It was a continuation of my love affair with the gothic romance," Dani explains.
"One would assume it takes place in a mythical 18th-century village. Someone's wife has tendencies towards witchcraft and she's preyed upon by religious folk, although it's more for the fact that she's a beautiful woman. She's attacked and murdered, and the narrator wreaks his revenge. It was a rape/revenge story."
Musically, the track strayed further from black metal than Cradle ever had before. They'd never fully been at home in the genre to begin with, but Her Ghost In The Fog drastically dialled up the melody. Paul Allender and Gian Pyres laid down a web of high-flying guitar harmonies, while Dani and back-up singer Sarah Jezebel Deva traded shrill barks and operatic croons respectively during the chorus.
It's in this space – somewhere between black metal, melodeath and classic British metal – that Cradle continue to live to this day. Cradle's epic new sound was matched by its sonic sheen, courtesy of producer John Fryer, who had previously worked with Depeche Mode and Nine Inch Nails. It was a direct response to their last album, Cruelty And The Beast , the final mix of which was so awful that, upon hearing it, Sarah Jezebel Deva apparently ran out of the room in tears.
" Cruelty … was basically one member really wanting his drum kit to have a particular sound," says Dani, referencing former member Nick Barker. "And when you get a sound like that, you can't have massive guitars on top; it's like elephants walking over a rope bridge."
Also helping to make the number a standout was its opening narration, which sat somewhere between the poetic and the ridiculous. "The moon, she hangs like a cruel portrait," boomed actor Doug Bradley, aka Pinhead from the 1987 movie Hellraiser (itself directed by Clive Barker). "Soft winds whisper the bidding of trees / As this tragedy starts with a shattered glass heart."
It marked the start of a fruitful relationship between Cradle and Doug – the actor would later return on the Godspeed On The Devil's Thunder and Existence Is Futile albums. Yet Dani has no clue how the collaboration came about. "I think our manager at the time contacted him," he guesses. "I think the conversation started with, 'There isn't much money in the budget, but…' I remember he came down kind of early to the studio. They were still setting stuff up, so we just said: 'Pub?' Ha!"
As quintessential as Doug Bradley and the increasingly polished Cradle sound were, Dani believes the secret to Her Ghost In The Fog 's success was its video. The OAP-bothering Alex Chandon directed the clip, which cast the band against a snowy backdrop with jagged trees. It was reminiscent of classic silent-era German Expressionist horror movie The Cabinet Of Dr Caligari .
"It was at the end of that era where loads of big gothic horror movies were being made," Dani states. "We'd just had Sleepy Hollow and, before that, Bram Stoker's Dracula and Mary Shelley's Frankenstein . There were continental films like Dracula Rising ; Brendan Fraser's The Mummy had a huge gothic vibe to it. People were spending a lot of money on horror movies at that point and I think that sort of cinematic line filtered through."
Cradle's musical shift also coincided with the increasing eclecticism of some of black metal's other leading lights. Cradle's one-time touring partners Emperor had vastly expanded their sounding, Mayhem were making the Nietzsche-inspired Grand Declaration Of War , Enslaved were becoming more prog, and Ulver had embraced atmospheric experimentalim. As Dani puts it: "Black metal was being superseded by a more avant-garde form."
Her Ghost In The Fog may have failed to chart, but it became a regular staple on MTV. It also marked the beginning of Cradle's time as a genuine commercial force in metal, something that continued through the follow-up albums Damnation And A Day and Nymphetamine .
"As with most things, Her Ghost In The Fog was a case of the right place at the right time," Dani says. "You have a massive success with one thing and then the record company are like, 'That worked – replicate it!', but you can't. Her Ghost In The Fog was conjured up by the circumstances. You can't predict it, you can't replicate it."
Metal Hammer Newsletter
Sign up below to get the latest from Metal Hammer, plus exclusive special offers, direct to your inbox!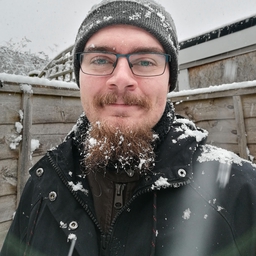 Louder's resident Cult Of Luna obsessive was still at uni when he joined the team in 2017. Since then, Matt's become a regular in Prog and Metal Hammer, at his happiest when interviewing the most forward-thinking artists heavy music can muster. He's got bylines in The Guardian, The Telegraph, NME, Guitar and many others, too. When he's not writing, you'll probably find him skydiving, scuba diving or coasteering.
"Someone said that they were in a Portaloo while we were on stage, and the bass rumbled some excrement out of them." Getting to know Wargasm, the genre-splicing, Fred Durst-approved duo making major waves in modern metal
Jack Black has been flying the heavy metal flag in the mainstream for nearly 30 years. It's time we gave him his flowers.
Watch Devin Townsend's relaunched new Podcast here
Most Popular
By Jonathan Selzer 15 October 2023
By Paul Brannigan 15 October 2023
By Matt Mills 15 October 2023
By Dave Everley 15 October 2023
By Niall Doherty 15 October 2023
By Ian Fortnam 15 October 2023
By Matt Mills 14 October 2023
By Eleanor Goodman 14 October 2023
By Paul Lester 14 October 2023
By Yasmine Summan 14 October 2023
By Niall Doherty 14 October 2023
Her Ghost in the Fog (2011)
Full cast & crew.
Directed by
Writing credits (in alphabetical order) , cast , produced by , cinematography by , editing by , casting by , costume design by , second unit director or assistant director , sound department , special effects by , camera and electrical department , editorial department , location management , script and continuity department .
Release Dates | Official Sites | Company Credits | Filming & Production | Technical Specs
Contribute to This Page
Recently Viewed
S m i l e R a t e
Doja Cat - Paint the Town Red
Tom Odell - Another Love
Sigrid - Strangers
Tate McRae - greedy
Eminem - Mockingbird
Sigrid - Everybody Knows
Rammstein - Sonne
Aqua - Barbie Girl
Rihanna - Diamonds
Foster The People - Pumped Up Kicks
Manu Chao - Me Gustas Tu
Michael Jackson - They Don't Care About Us
Wham! - Last Christmas
Jung Kook feat. Jack Harlow - 3D
Nirvana - Smells Like Teen Spirit
Eli & Fur - Broken Parts
Eli & Fur - Carbon
Eli & Fur - Come Back Around
Eli & Fur - Free Your Mind
Eli & Fur - Honest
Eli & Fur feat. Holly Martin - In Too Deep
Eli & Fur - Like the Way
Eli & Fur - Parfume
Eli & Fur - Something Was Real
Gucci Mane - Side EFX
Marvin Gaye - You're Wonderful
Nervosa - Behind the Wall
Nervosa - Gates to the Fall
Nervosa - Nail the Coffin
Nervosa - Pursued by Judgement
Nervosa - Sacrifice
Nervosa feat. Lena Scissorhands - Superstition Failed
Nervosa - Under Ruins
Nervosa feat. Gary Holt - When the Truth Is a Lie
Unantastbar - Südtirol
Bad Jokers - Wie Ein Eiserner Schild
Cynic - The Lion's Roar
Cynic - True Hallucination Speak
Eli & Fur - I Can't Move
Eli & Fur - My Shadow
Eli & Fur - Night Blooming Jasmine
Eli & Fur - Otherside
Eli & Fur - Skyway (Rewind Edit)
Eli & Fur - Temptation
Eli & Fur - Waiting (Eli & Fur's Found Version)
Eli & Fur - Where I Find My Mind
Hämatom - Gott Muss Ein Arschloch Sein
Jos & Eli, Eli & Fur - Riffs of the Night
Karsten Walter - Gib Mir Mehr
Karsten Walter - Perfetto
Karsten Walter - Verdammt, Ich Weiß
Karsten Walter & Marina Marx - Lass Die Anderen Reden
Kate Bush - This Woman's Work
Manntra - Sin
Mickie Krause - Schatzi, Schenk Mir Ein Foto
Nervosa - Jailbreak
Nervosa - Seed of Death
Nervosa - Suffocare
Nervosa - Ungrateful
Nico De Andrea, Eli & Fur - Start the Fire
Noel Terhorst - Dein Wahres Gesicht
Noel Terhorst - Ich Vermiss Dich
Noel Terhorst - Immer Für Dich
THE SCOTTS feat. Travis Scott, Kid Cudi - THE SCOTTS
Sonia Liebing - Hemmungslos
Sonia Liebing - Nur Weil Du Einsam Bist
Tate McRae - Chaotic
Booka Shade & Eli & Fur - To the Sea
BoyWithUke - Problematic
Cosmo Sheldrake - The Falcon
Danny Howard & Eli & Fur - Next to Me
Dawid Podsiadło & P.T. Adamczyk - Phantom Liberty*
Eli & Fur, Disciples - The Pressure
Eli & Fur feat. Camden Cox - Burning
Eli & Fur - Follow the Dark
Eli & Fur - Fuse
Eli & Fur - Talk to Me
Francis Bebey - The Coffee-Cola Song
Helado Negro - Lotta Love
Hozier - Whole Lotta Love
Meduza, Eli & Fur - Pegasus
Nervosa - Conflict
Nervosa - Fear, Violence and Massacre
Nervosa - Kill or Die
Nervosa - Selfish Battle
Varg - Ewige Wacht
Her Ghost In The Fog by Cradle of Filth
Songfacts®:
This is about a man who's love was raped and killed by five men as she picked herbs at night. The song talks about the men's lust for her ("By her taffeta lay of her hips that held sway") and his destined love for her. It eventually leads up to his killing of the men and his suicide ("I embrace where lovers rot"). He is haunted by her ghost in the fog. >> Suggestion credit : Tanen - Wurtsboro, NY
More songs from Cradle of Filth
More songs that describe a rape
More songs from 2000
Lyrics to Her Ghost In The Fog
Comments: 26
Sheila Andrea, you're my hero. I can die happy now.
Dan Gillespy from Courtenay Bc The best Cradle Of Filth song ever recorded.
Luis from Mexico "God's Men" have been well documented for rape and other crimes through the centuries and their latest scandals are rape and pedophilia even though it may be "frowned upon by the church" even with the same church trying to cover everything up. It's this kind of way of thinking that makes history repeat itself in a bad way over and over again
Andrea from Arkansas You guys should listen to their version of Mr. Crowley! It's a masterpiece!
Andrea from Arkansas I wouldn't read to far into the "meaning of the songs" any band whose tee shirt reads "Jesus is a c--t" is pretty self explanatory.
Andrea from Arkansas Ali... That line "oh no tears please" is definitely from hellraiser. Doug Bradly is the one who did all those parts. He has info online about what it was like to work with cradle of filth.
Matthew from Harties, South Africa I have to say, that lead riff in the chorus... O-R-G-A-S-M-I-C. Haha, I love when Cradle does a melodic song... It is a really sort of dark/tragic tale that the song puts forth, but at the same time... I love that bittersweet sense of loss. Danny's vocals are awesome, the cleans are awesome... This is the song you use to get people into Cradle Of Filth.
Nathan from Louisville, Tn Hmmm...imho this another one of CoFs songs about their obsession with making the bad Christians make ALL Christians look bad. But all the same, I'm gonna say she was indeed raped and killed (obviously) but whoever the hell it was didnt necessarily kill himself, just weeped for her. The songs purpose I already stated...it's meaning...well you guys are dead on :) But keep in mind a song can have a different meaning to anyone.
Nathan from Paoli, In Just another reason to hate "men of god" as all you hypocrites call
Mike from Matawan, Nj The singer sounds like he's either a helium addict or has his privates caught in haybailer while doing an impersonation of Donald Duck. Well done.
Quentin from Jackson, Ms cradle is the best band in the world by the way swansong for a raven is not as good as you may think it is check me out on myspace. i am SiHkKeD KlOwN!
Cody from Front Royal, Va its about a man whos love is picking herbs when she is suddenly raped by five church men who have a violent lust for her in the process they drop the church key. When the man finds his love dead he mourns her and sees the gleam from the key and uses it to lock the men in the church and burn it down as their judgement he then burys the girl later revealed to be named clarrissa (swansong for a raven)
Ali from Sterling, Ks I'm pretty sure that the line "Oh, no tears please" was from Hellraiser... not sure, but I just watched it and that sparked in my head because a person used that line
Micka from šèavnica, Other There are just 4 Cradle songs on this site?! MORE CRADLE!!!
Amanda from Walled Lake, Mi This song is fricken great!
Mitch from Ames, Ia these five people werent very good christians if they decide to rape her
Matt from Allentown, Pa I believe this song is about the Corruption of the various Churches in our world. It is playing on the fact that the churches teach chastity and purity, but most of the followers believe and do what they want, and use religion as a comfort. I always figured that the five men of god were people of a religious order or priests. Because, that would give the meaning of the song...more meaning. If the preachers don't practice what they preach, then that truely will show corruption in an organization.
Zack from Gun Barrel City, Tx In the song, he does not commit suicide in the end. "I embraced where lovers rot..." just implies his mourning for her in a graveyare (where lovers rot)
Elijah from Shoalhaven, Australia She was raped and killed by Church soldiers. "They raped and left, five men of God". This was because they thought she practiced witchcraft, but her beauty was such they felt the need to rape her. "For she's been a witch their men had longed to try..." He locked them in their church, and burnt it to the ground. Overall, it's a gnarly song, one of Cradle Of Filth's best works. And no, I don't believe he does commit suicide, for in Swansong For A Raven(the followup to this song), he mentions being behind bars, which gives an allusion that he was captured and imprisoned.
Adam from Halifax, Canada It should also be noted that the church (chapel) was burned to the ground.
Travis from Nashville, Tn lol the bible is silly not just the anti christ the song rules.
Max from New York, Ny You know, I thought this song was ridiculously similar to Anthony Burgusses Clockwork Orange. When Alex and his 4 droogs, violently rape and murder F. Scott Alexander's wife. Hey both Danny and Anthony are from England, u never know. Ok i'm just bs'ing here but just opening up the doors.
James from Brighton, England yeah, i'm not a religious man but i think rape may be frowned upon by the church...
Carlos from Oxnard, Ca They raped (five men of god) . . . No doubt that anti-christ that Danny "thinks is silly" is ever present in this song.
Tanen from Wurtsboro, Ny there is a little more ot it then what Ross said.. the song is about a man who's love was raped and killed by five men as she picked herbs at night. The song tlaks about the men's lust for her(by her taffeta lay of her hips that held sway) and his destined love for her it eventual leads up to his killing of the men and his suicide (i embrace where lovers rot)..He is haunted by her ghost in the fog
Abbes from Windsor, Canada Song rules :)
More Songfacts:
Woodstock Crosby, Stills, Nash & Young
Joni Mitchell wrote "Woodstock" - the most popular song about the festival - but didn't attend the event because she was booked on The Dick Cavett Show.
Do They Know It's Christmas? Band Aid
"Do They Know It's Christmas?" by Band-Aid was the first big group charity single. It was organized by Bob Geldof, who a year later put together "We Are The World" and Live Aid.
For Those About to Rock (We Salute You) AC/DC
AC/DC's "For Those About To Rock (We Salute You)" is titled after a phrase Roman gladiators said heading into battle: "We who are about to die salute you."
Cruise Florida Georgia Line
Florida Georgia Line's "Cruise" spent 24 weeks on top of the country chart- the most ever until Sam Hunt's "Body Like a Back Road" was #1 for 34 weeks. The record was previously held by Eddy Arnold's "I'll Hold You in My Heart (1947-48), Hank Snow's "I'm Moving On" (1950-51) and Webb Pierce's "In the Jailhouse Now" (1955), which each led for 21 weeks.
Electric Avenue Eddy Grant
The "Electric Avenue" in the Eddy Grant song is a real street. It got its name because it was the first street in London with electric lights.
Contagious The Isley Brothers
The Isley Brother's song, "Contagious," peaked at #19 on the Billboard Hot 100. This meant that the band of brothers became the first group to score a Top 50 hit in six consecutive decades on the chart.
Editor's Picks
Bill Medley of The Righteous Brothers Songwriter Interviews
Medley looks back on "Unchained Melody" and "You've Lost That Lovin' Feelin'" - his huge hits from the '60s that were later revived in movies.
Stan Ridgway Songwriter Interviews
Go beyond the Wall of Voodoo with this cinematic songwriter.
Curt Kirkwood of Meat Puppets Songwriter Interviews
The (Meat)puppetmaster takes us through songs like "Lake Of Fire" and "Backwater," and talks about performing with Kurt Cobain on MTV Unplugged .
Don Felder Songwriter Interviews
Don breaks down "Hotel California" and other songs he wrote as a member of the Eagles. Now we know where the "warm smell of colitas" came from.
Michelle Branch Songwriter Interviews
Michelle Branch talks about "Everywhere," "The Game Of Love," and her run-in with a Christian broadcasting network.
Name the Character in the Song Music Quiz
With a few clues (Works at a diner, dreams of running away), can you name the character in the song?
Songfacts® Newsletter
A monthly update on our latest interviews, stories and added songs
Information
Terms of Service
Our Privacy Policy
Google Privacy Policy
Songfacts API
Music History Calendar
Song Licensing
Affiliate Disclosure
X (Twitter)
Contribution
Message Boards
Songfacts Writers
©2023 Songfacts, LLC
Her Ghost In The Fog
145 Comments
Lyrics submitted by sean , edited by DeathImmortal
Her Ghost in the Fog Lyrics as written by Dani Davey Adrian Paul Erlandsson
Lyrics © Universal Music Publishing Group, Peermusic Publishing
Lyrics powered by LyricFind
Highest Rated
Most Recent
Oldest First
No Replies Log in to reply
3 Replies Log in to reply
1 Reply Log in to reply
Add your thoughts
Log in now to tell us what you think this song means.
Don't have an account? Create an account with SongMeanings to post comments, submit lyrics, and more. It's super easy, we promise!
Artists - C
Her Ghost In The Fog Lyrics
Artists - S
Speedy Ortiz
More Featured Meanings
Most popular lyric tags
More cradle of filth lyrics.
Nymphetamine Fix Lyrics
Satanic Mantra Lyrics
Lord Abortion Lyrics
Hallowed Be Thy Name (Iron Maiden cover) Lyrics
Born In A Burial Gown Lyrics