Halloween Outdoor Lighting Ideas: 25+ Spooky Ways To Light Your Yard
Looking for some ways to add spooky outdoor lighting to your Halloween decorations this year? These ideas are sure to make your yard the best one on the block!
If you're looking to amp up your yard this Halloween, you've come to the right place.
I've always believed that the right lighting can make or break a Halloween display.
Since I've been decking out my place for Halloween for years, I've learned a thing or two about making my home the go-to spooky spot on the block.
And lighting has always been my secret weapon.
So if you're ready to level up your Halloween game, this guide's got a ton of lighting tips and tricks to get you going.
From picking out the coolest colors to using floodlights, string lights and solar torches to set the mood, I'm sharing all of my favorite Halloween outdoor lighting ideas.
1 | Use colored flood lights for atmosphere
This post may contain affiliate links. We make a small commission if you buy the products from these links (at no extra cost to you). As an Amazon Associate, I earn from qualifying purchases. But we only recommend products we would use ourselves. For more information, click here to see our disclosures
If you only do one kind of outdoor Halloween lighting, colored flood lights should be it.
They can provide broad light across a scene, or highlight a specific feature depending on how you position them.
You can vary the color to provide a different feel for different sections of your yard. (We'll talk more about color later on).
Pointing the spot light at light-colored props like skeletons, tombstones and ghosts will make them look like they glow in the dark.
Try not to use too many black items as they absorb the light and don't show up as well at night.
For even more flexibility, you can buy LED spotlights that allow you to change the color. Then you can re-use them in all kinds of different lighting situations (like Christmas and garden lighting in addition to future Halloween displays).
These low watt LED flood lights that plug in and have a remote * are my favorites. They're inexpensive, stay on the same color you set them to after you have turned them off and provide enough light without being too bright.
I have also started to use these ones * that come with 4 spot lights spread along one light string.
They're similar to the originals in that you can still set the color. But they all have to be set to the same one. Some come with a remote and some use an app on your phone to control them. (Although both work, I prefer the remote. The app can be a little flaky at times).
The big benefit of them is that they only take up one electrical socket. So you don't need as many extension cords.
Because they are so versatile, I use these two options almost exclusively in my Halloween graveyard.
2 | Add String Lights For Accent Colors
These string lights are the same kind of lights that everyone uses for Christmas, but in Halloween colors.
I like to use them to outline trees, cover bushes and along the fence and walkway so everyone can see where to walk.
They're also great for stringing over arbors to make the outline show up better.
Or if you want to add a bit more spookiness to your arbor, drape some white creepy cloth over it and add a flood light to make it glow (in addition to the string lights).
Like the flood lights above, string lights also come in an LED version * with a remote to set the color.
They are quite a bit more expensive than the regular kind.
But they are cheaper to run (since they are LED) and you can use the same ones for all of the holidays.
After Halloween, I leave them up on the bushes and trees and just change the colors to Christmas ones.
Not having to take all the Halloween lights down and put up all the Christmas ones saves me a ton of time! So I have switched all of mine over.
To make the most of your lighting, be sure to choose the right colors.
Blue, green and purple lights tend to be eerie and ghostly. Which adds the perfect spooky atmosphere for a front yard Halloween cemetery .
While orange and red are more fiery, like pumpkins and flames.
I like to combine the orange and red lights as accent colors with the blue and green since the contrast really makes them stand out.
And they are usually bright enough that people can still see where they are walking.
Try to stay away from too much white light for Halloween as it tends to drown out the other colors.
3 | Replace porch lights with colored bulbs
Change out the bulbs in your porch and garage lights with colored light bulbs.
This still provides light for guests coming and going from your house, but doesn't overwhelm the rest of the yard with white light.
You can also use it as back lighting for a Halloween banner which makes the sign really stand out.
4 | Make A Cauldron Boil
If you're going with a witch theme, you can also use Halloween outdoor lighting to make a cauldron * look like it's boiling using a mister *.
Put a shallow dish with water in the cauldron and add the mister.
The water should cover the top of the mister by about ¼" for the best mist effect. (If it's too deep you won't get any mist).
Add some coiled up orange string lights under the cauldron to make it look like it's simmering on coals.
Then add some witches and you have a whole scene.
The light from the mister will also help to draw attention to the cauldron.
5 | Set Out Luminaries
Luminaries are bags with words or designs printed on the front of them that are lit from within.
You can buy them pre-made from the store (I got the Enter If You Dare ones from grandinroad.com *…they are usually available for the couple of months before Halloween).
Or if you are interested in making your own, this video from Southern Living shows you how .
6 | Use Halloween Path Lights
Halloween path lights perform 2 important functions in your Halloween outdoor lighting scheme:
looking spooky (obviously)
putting some light on the ground so people can see where they are walking.
This will prevent anyone from tripping over your decorations or cords.
7 | Add solar Torches
These solar torch lights * that look like they have flames inside are perfect for a Halloween graveyard.
I like to use them like path lights, so they outline where people are supposed to walk.
To make them taller, I stuck the end of them in a PVC pipe that I painted black and made into a fence with some chain.
When Halloween is over, I put them out in the backyard as real path lights. So they're functional all year round.
And since you don't have to plug them in, you can put them anywhere.
8 | Or solar lanterns
Or if you're looking for something smaller, these old-fashioned lanterns * are also solar powered.
So you can put them where you want them and don't have to turn them on manually or use up another electrical outlet.
9 | Put Out Pumpkins
Whether you use a real carved pumpkin or plastic ones that you plug in, no Halloween scene is complete without at least one pumpkin.
I try to place them in unlikely places so they are a bit of a surprise.
But they also look good in front of tombstones as part of your graveyard display.
10 | Add Strobe Lights
Buy some inexpensive mini strobe lights to add a spooky blinking effect.
I prefer the ones with plugs for my outdoor display because they can be turned on and off at the outlet (at the same time as all of the other lights).
However, you can also get these strobe lights * that are specific for Halloween which come with spooky Halloween sounds and are usually battery operated. Since there is no cord, you have a little more flexibility on where you can place them.
In either case, I like to put them in bushes so that the strobe creates spooky lighting effects with the branch shadows.
11 | Add Eyes To The Bushes
Make it look like people are peeping out of your bushes by installing these flashing light-up eyes *.
These lights are easy to install and add the creepy factor to any of the bushes in your yard.
12 | Hang neon signs
Neon signs are another way to add some spooky lighting to your yard haunt.
Especially if you can find one that matches your theme, like the "No Vacancy" sign from my haunted hotel graveyard .
13 | Use Moving Light
A kaleidoscope spot light * creates this really cool-looking orange and purple mixture of lighting.
Reflecting it off some white creepy cloth * over an arbor makes your entry way glow.
Or project it through some tree branches to get a spooky shadow pattern behind it.
These spot lights are similar to regular flood lights except the light rotates like a kaleidoscope and it often has a mixture of colors.
The lights create a wave effect that makes the shadows look like they are moving.
14 | Add a Lightning Machine
The next one of my Halloween outdoor lighting ideas is to plug your lights into a lightning machine *.
A lightning machine doesn't really create lightning, but it does cause all of your lights to flicker on and off to sound. Which gives your yard the look of lightning.
So if you're planning on adding spooky music or sound effects to your outdoor decor, consider plugging all of your lights into a lightning machine for added drama. (It works really well with thunder sounds.)
Place the lightning machine near a speaker and make sure that the sound is loud enough that the machine can pick up the beat (otherwise it will look like it's not working).
15 | Project holographic Ghosts In Your Windows
Next on the list of Halloween outdoor lighting ideas is to add some holographic images to your Halloween decor.
To make Halloween spirits come to life, try projecting a phantom video in your window. This one is behind my Halloween cemetery and looks very realistic!
I use a Halloween holographic video * and a video projector * to create ghosts that float in and out of view in my window.
To set it up, hang a semi-transparent piece of fabric (like this one *) on the inside of a window and project one of the videos onto it from inside the house.
The video comes with 8 Halloween holographic videos so you can play different ones for different years. (You can see what they look like on the linked page above).
The projector is really inexpensive and works great for these Halloween videos.
But if you want something that you can use for other things (like outdoor movie nights), you might want to consider a slightly more expensive one (like this one * that I use now).
16 | Make ghost props glow
If you prefer to use ghost props, lighting them properly will make them glow and look like they are floating.
Uplighting is the best way to do this.
Position a spotlight at the bottom of the ghosts that is pointed directly up at them. Blue or green usually gives the eeriest effect.
Yep…I use those same LED spot lights * for this, too.
17 | Use lighted props
These days there are a ton of Halloween props available, and a lot of them come with their own lights.
Like this carriage that I got from Home Depot (which unfortunately they no longer carry).
The problem with most of them is that they're battery operated, which used to be a bit of a show stopper for me. (I'm not running outside every night to turn them on and them turn them off again.)
But then I found these gadgets that replace the batteries with a plug-in version. And they come in different sizes so you can get the one you need:
replacement for up to 4 AA batteries *
replacement for 2 AAA batteries *
18 | Or add lighted inflatables
Similarly, there are many inflatable Halloween decorations that are lit internally to make them stand out.
Like this inflatable sandworm * that I used as part of my Beetlejuice decorations.
19 | Uplight Some Dead Branches
Just like in regular landscape lighting, uplighting is a great way to add atmosphere to your yard. And atmosphere is definitely what you want for your Halloween yard haunt!
Place a spotlight at the bottom of whatever you want to light, and then point the light up to highlight your object.
In this case, I stuck some dead branches in a large tub and hung some white creepy cloth * from them. The blue flood light * makes them glow.
If you can place your light so that it hits the leaves of a tree as well, that will give your yard even more of a spooky factor.
As I have mentioned before, I use these low wattage LED Flood Lights * for all of my Halloween spot light needs.
They are relatively inexpensive. You can change the color of the light any time you want with the remote control. And they can be re-used for other events throughout the year.
20 | Create Silhouettes
Backlighting is another traditional landscape lighting method that works for Halloween too.
It's fairly easy to create a fence silhouette just by putting most of your spot lights inside the fence.
If you have props that work well as silhouettes (like these crows), lighting the scene behind them will make them stand out.
21 | Add Misters to an Outdoor Bird Bath Or Fountain
If you have (or can add) an outdoor water feature, misters * give you two-for-one spookiness.
They add light to the scene as well as providing mist.
I like to put a couple in the birdbath to transform it into a spooky Halloween misting cauldron.
Just make sure they are only covered by about a quarter of an inch of water. Otherwise they probably won't create any mist.
22 | Use Creepy Cloth To Reflect The Light
The next entry on my list of Halloween outdoor lighting ideas is white creepy cloth *, which isn't actually lighting at all. But it definitely makes the lighting show up much better in the yard.
And in case you haven't noticed, I use it A LOT in my Halloween yard haunt.
Part of the reason is because it looks…well…creepy.
But the other part is that creepy cloth is great for reflecting light.
It looks like it is glowing in the dark, even though there aren't any black lights in my yard.
This arbor effect was created with a blue spotlight in the front, orange string lights over the arbor and a kaleidoscope spot light * behind the arbor.
It doesn't matter what color of light, you are using, it will show up better when it is being reflected by a surface that adds texture and spookiness to the scene.
And creepy cloth * adds both of those qualities!
Make sure to get the white kind, since the grey and black ones don't reflect the light nearly as well.
Creepy cloth can be re-used every year, so it's a good Halloween decorating investment.
23 | Lay Net Lights On The Ground
To really make a Halloween graveyard stand out, try laying down some net lights.
I used blue lights to make it look spooky. Green or purple would have a similar effect.
If you can find dim white ones, they could also work. Especially if you have fog floating over the top.
Combining them with spot lights really makes your Halloween props (like this skeleton) stand out.
24 | Light An Underground Crypt
Okay, so this isn't really underground. But it gives the illusion that it is.
I created this by wrapping the outside of a palette with this brick scene setter *.
Then put an LED spotlight * on the inside.
And positioned a few skeleton hands to make it look like they were trying to escape.
25 | Put Everything On A Timer
As much as possible, I try to use plug-in lights and accessories for my Halloween outdoor lighting.
Then I can put them all on an outdoor timer * and don't have to worry about making sure everything is turned on every night.
You can also get a stake version that has 6 outlets * which gives you even more outlets for all the extension cords.
26 | Buy Lots Of Extension Cords
Speaking of extension cords, if you're using a lot of lights (like I do), you're going to need some multi-outlet outdoor extension cords.
This multi-directional one * is one of my favorites.
The other great thing about the timers and extension cords, is that you can use them again for Christmas or any other time you want to have lights on a timer.
Hopefully you've found some Halloween lighting inspiration that you can use in your own yard.
27 | Waterproof the connections
Nothing is worse than getting all of your Halloween lights set up perfectly, only to have them all go out because some water got in one of the plugs and tripped the breaker.
Especially on Halloween night. (Ask me how I know!)
So if you have problems with this, you'll probably want to invest in some extension cord covers.
They come in different sizes: This one for small plugs * (like the two-prong plugs of regular string lights) and this one for larger plugs * (like the three-prong plugs on extension cords.
If you have a whole bunch of connections to make in one spot, you might also want to invest in a couple of these boxes * that can keep a multi-plug extension cord dry.
Well, that's it for my Halloween outdoor lighting ideas. Hopefully, you've found some inspiration to set up your own spooky display.
Click the images below to buy the products:
Other Halloween Outdoor Decorating Ideas You Might Like
Halloween Fog Machine Ideas: How To Make Low Lying Fog
How to Create a Spooky Halloween Graveyard
How to Create Spooky Halloween Planters
Beetlejuice Halloween outdoor decor ideas
Or browse all of our Halloween outdoor decor ideas .
Have comments or questions on ways to create spooky Halloween outdoor lighting? Tell us in the section below.
Pin it so you don't forget it.
This post was originally published on October 20, 2016 but was updated with new content on November 1, 2023.
Sharing is caring!
Leave a Reply Cancel reply
Your email address will not be published. Required fields are marked *
Notify me via e-mail if anyone answers my comment.
This site uses Akismet to reduce spam. Learn how your comment data is processed .
30 Comments
Hello – How many 10W LED Flood Lights do you typically use to achieve the look you desire?
Hi Brie…I use 7 of the flood lights for my front yard…2 at the front, 2 at the sides and 3 to uplight bushes, tombstones or other Halloween decor. But it will depend on how big of a space you are trying to light. My Halloween display area is about 15′ x 25′ if that helps.
Hi Wanda – Thank you so much! Appreciate your insight. I love your display and have been inspired to focus on the outside of my house this year. All the best! Brie
Love, love, love Halloween! I even went as far as marrying a guy whose birthday is Halloween!HA!HA! I have accumulated quite a bit of Halloween "stuff" in the past few years and usually start decorating around the middle of September. I really like all the new battery operated, automatic shut-off lighting and solar lighting. I don't do the gory stuff that's out there…that's not my idea of Halloween. Witches, ghosts, bats, cats, etc. is my theme. I usually buy a few new things each year. When I saw your lighting effects and the spotlights that you used, I immediately went to Amazon and bought 3 of them. 🙂 This year I want to create a haunted "photo booth" in my garage…that should be fun. We live in the country, so we always have a bonfire/weeny roast and I have a walk out basement; soooo, I "spook" it up. Thanks for the idea with the spotlights…Halloween lovers unite.:)
That's awesome, Pat! Your Halloween display sounds fabulous! I also love all of the new Halloween gadgets that come out every year, and can't help buying a few even though I already have a shed full of them. And I'm with you on leaving out the gory props…I just do the spooky ones 🙂 Have a great Halloween haunt!!
Hey pat where do you live? I'm in Long Island NY and if you love Halloween and your close come by I do a great display.
Hi Frank! I have some great props for a large cemetery. Do you set up professionally? I'm in New York also.
Can you tell me what color those flamingos are before being lit. I have some black ones I collected but then was disappointed in how they looked. What color lighting would I use to make them look like yours?
Hi Susan…my flamingos are mostly gray with some black markings on them. I lit them with a blue spot light, but I think the gray reflects the light better than black would. You could try painting yours a lighter color and see if that would help make them stand out more.
Your Halloween Decor is absolutely amazing! I love Halloween Decor and you definitely speak to my soul with your creations. Do you offer services to decorate events?
Thank you for sharing!
Thanks, Jorge! I am always happy to hear from a fellow Halloween lover! I am not offering any event decorating services at this time. Sorry!
I love your Halloween display!! I've been trying to work out decent prop and backdrop lighting for a couple of years, but am having some issues. The main issue is that flood lights tend to be too bright from certain angles. I'm worried that they'll be too distracting to drivers coming down our street. Do you have any tricks that help with this?
Thanks for sharing your amazing work!
Thanks Andrea! Yes, I worry about the flood lights being too bright also. I usually try to angle them so they are not pointing in the direction that cars will be coming from. But if they're still too bright and you have LED flood lights (ie. that don't get too hot), you could try taping parchment paper or wax paper across the front of them which will cut down on the glare. Or sometimes I put black creepy cloth in front of the lights which helps some.
LOVE, LOVE, LOVE, all your ideas. I have been doing yard haunts for years (as well as a Christmas one) and always struggle with lighting. One huge problem I have is a corner streetlight, it lights up a corner of my yard that Kinda ruins lighting i try. Ideas? Thanks
Thanks, Cheryl! I have a streetlight close to my house, too…and it is hard to work around. I usually try to block the light by hanging some creepy cloth on a tall prop on that side of the yard (like large branches stuck in big tubs to look like dead trees). It doesn't completely block out the street light but it does help to filter it a bit so that the rest of my lights show up better.
Oh my, it looks absolutely amazing. The level of dedication and the pieces and accents you've chosen is top notch, your house looks like it's pretty popular during Halloween. It would be pretty wild if your whole neighborhood had a design contest, that would be such a treat for the kids.
I was wondering if you might have any ideas on how we can cover our outdoor decorations. We don't have a covered porch and alot of our stuff could get ruined if left exposed. Any ideas are greatly appreciated.
Hi Lenore…I don't have a covered porch either and it does make it tricky. Unfortunately, I don't have any good solutions for that. I just take in the stuff that could get wrecked when bad weather is forecast.
I absolutely love this! Where did you get those walkway lanterns? I cannot seem to find anything even close to them. Thank you for all your brilliant ideas!
Thanks, Brittany! I got those walkway lanterns at Target a few years ago. I think they still had them last year so hopefully you'll still be able to find them this year, too.
hi i m from india and you have given some links too from amazon but some items from them are not available for india please help
Hi Shreya…I am not familiar with the best stores for India. I would try doing a google search for the name of the item you are looking for and see what comes up. Sorry I'm not much help!
Hi Wanda, Awesome lighting. I was wondering how you connect all these spotlights and individual plugs together into 1 timer? I can't figure out how to the right extension cords either for outdoor. Please help.
Hi Nadine…I use a lot of extension cords that have more than one outlet on the end 🙂 If you do a search for "outdoor extension cords", you should be able to find some that have multi-outlets. You can also get timers that have more than one outlet (like this one from Home Depot) which helps.
Hi Wanda, I was wondering where you get your blue string lights from ? And the brand Thank you !
Hi Megan…I'm assuming you're asking about the ones on the ground? (If not let me know which picture you mean). They were net lights that I bought from the Tablecloths Factory. Here's the link: https://tableclothsfactory.com/products/20ft-x-10ft-600-bright-blue-led-net-lights-fishing-string-with-8-lighting-modes . (FYI…I did have a problem with the order…1 out of the 3 nets that I ordered didn't work when I received it. They did ship me a new one free of charge, but I thought I would let you know just in case.)
Thank you 😊!!!
Hi Wanda, I was thinking of doing a "Creepy Graveyard" in the side yard this year, but didn't know how to light it. I was going to try the floodlights, but the link provided brings me to white. How do you make them blue and purple? Thank you, Chris
Sorry about that Chris…it looks like they sold out of the colored LED lights I had linked on there. I updated the links with a different version that is still in stock. They come with a remote that lets you pick which color you want them to be (which is why I like them so much because you can change it if you want something different next year).
Thank you for all your awesome decorating ideas! I used several of your lighting techniques to create a spooky cemetery for Halloween in my front yard. Your lighting and fog ideas made a huge difference! Great website with amazing ideas! Thank you!
(Advanced Search)
Loading video...

Spooky Town /
Accessories /
Halloween Purple Light, Set Of 2

New This Year
Sights and Sounds
Lighted Buildings
Table Pieces
Landscaping
Accessories
Spooky Town - Accessories
Product Details
Approx. size (H x W x D) 1.18 x 0.00 x 0.00 inches 3 x 0 x 0 cm
Year Released: 2003
Made of: Electronic Components
Product type: Accessory
Control switch: On/Off switch
Batteries: Uses three AA size 1.5V batteries - batteries not included
Electrical: A/C adaptable by using a Lemax Power Adaptor. Adaptor not included.
Current: This unit will draw approx 130mA
Village: Spooky Town
ProductType : Accessory
MadeOf : Electronic Components
Product Group : Spooky Town
ObjectTag : text electronics display television
LengthR : 0
Individual Pack : Clam shell
Inner Pack : 12
MSRP : 11.99
YearReleased : 2003
ControlSwitch : On/Off switch
ProductURL : #
B2B : False
NumberOfImages : 4
HeightR : 3
Batteries : Uses three AA size 1.5V batteries - batteries not included
Category : Accessories
Current : 130mA
Master Pack : 24
ACAdapter : A/C adaptable by using a Lemax Power Adaptor. Adaptor not included.
YearRetired : 0
Easy Halloween Lighting Ideas for a Spooky Yard
Posted on Last updated: October 25, 2023
Home » Holidays » Halloween » Easy Halloween Lighting Ideas for a Spooky Yard
Sharing is caring!
Are you starting to get really excited for Halloween and want to create some spooky Halloween yard lighting effects? Find out some of the best Halloween lighting ideas you should totally steal. Scroll down to read more!
This list of spooky halloween lighting ideas contains affiliate links which means if you purchase something from one of my affiliate links, i may earn a small commission that goes back into maintaining this blog..
Looking for cool ideas to light up your yard this Halloween?
You're in luck! We have a list of some of the most awesome Halloween light ideas to make your yard look like it came straight out of a horror movie.
From spooky trees to eerie glowing pumpkins, we've got all the inspiration you need to create an unforgettable display this year.
Whether you want something simple or more complex, there are plenty of options here that can be done with minimal effort and cost so everyone can join in on the fun!
Lighting can pretty much make or break your Halloween display, so making sure you get the most out of this year is essential in order to make the rest of your decoration efforts count.
Whether you're throwing an outdoor party or simply want to bring the Halloween spirit to your neighborhood, here are some super cool ways to add light to your yard for Halloween that is guaranteed to spook your neighbors!
Cool Halloween Lighting Ideas
Below, I'm offering some of the coolest Halloween decorations with lights worth adding to your yard this year.
Simple Halloween Outdoor Lights
If this is your first year, or you are looking for Halloween light decorations on a budget, just hang up some string lights.
These are the best Halloween outside lights worth buying:
Halloween purple lights
Orange Halloween lights
Purple and orange Halloween lights
Halloween pumpkin lights
Pumpkin and ghost lights
Create a Path Using Lighted Candle Sticks
These lighted candlesticks not only look super spooky, but they're also functional as putting some light on the ground.
These Halloween pathway lights help trick-or-treaters see where they're walking when they head to your front door. Check prices here .
Create a Party of Jack-o-Lanterns
Few things look as traditional as an assembly of jack-o-lanterns spread all over your front yard.
Depending on how much time you have, you can either carve out your own pumpkins and place lights inside them, or you can buy plastic ones in order to save time.
Either way, your front yard lighting scheme is not really complete without a few jack-o-lanterns to welcome guests!
Hanging Witch Hats
If you have trees in your yard, make sure you use them well.
This set of hanging witch hats is the perfect way to create a unique and colorful display of lights in your yard. Check latest prices .
Add Eyes to the Bushes
Every single haunted forest comes with eyes peeping out, and you can create your very own spooky scene by adding these flashing eyes to your bushes or trees. Check latest prices .
Halloween Inflatables
I think one of the easiest ways to set up Halloween decor outside is by using Halloween inflatables. Plus, they usually come pre-lit!
There are a ton of fun options on Amazon. Plus, they don't take up much space in your garage.
Here are some of my top picks:
Oogie Boogie Nightmare Before Christmas Scene
Ghosts and Pumpkins
Terrifying Halloween Ghost
Dinosaur Skeleton
Mickey & Minnie Mouse with Pumpkin
Project a spooky scene from your window
Have a projector at home? Use it to project a ghastly scene or phantom video that your neighbors can see from outside your window.
Or alternatively, get a Halloween projector with spooky images to display on your garage door or house. Check latest prices .
Create a graveyard and light it up
Buy a few plastic tombstones , place them in your yard, and light them up by laying down net lights (blue, orange, or purple) around them.
This will make your at-home graveyard the show's spotlight while also adding some lighting to the ground. Check latest prices .
Glowing Spiders
Be it on your front door or a tree, these spider-shaped string lights are sure to create a haunted atmosphere.
If you want to go all-in, cover up the scene with fake spiderwebs and intertwine it with spiders.
Not only will this make things look super spooky, but the white of the spider webs will reflect the light and create an eerie atmosphere all over the place. Check latest prices .
Halloween Lighting Tips
As a bonus tip, I recommend using Halloween-y colors like orange, purple, and blue in order to give your yard lighting that spooky vibe. Keep this in mind when purchasing lights for Halloween.
Avoid using white lights as they'll be too bright and take away from the atmosphere rather than help the goal.
You can also set your outdoor Halloween lights to flicker, which adds another spooky element.
And remember to turn off all unnecessary lights inside the house. That will make it seem darker outside.
Halloween Decorations FAQs
You don't have to spend an arm and a leg to create a Halloween yard. Make a few ghosts out of white garbage bags and hang them in your trees. Or write spooky signs on cardboard. You could even hang doll heads or other items from trees or your porch. Look around your house and the possibilities are endless!
Usually, people start decorating at the beginning of October. However, if you have a lot of decorations you want to put up, you can start in late September. And be sure to pull them down soon after Halloween.
We tend to use zip ties for just about any Halloween decoration. You can also use light clips, duct tape, and even double-sided tape (depending on the decoration).
Easy Halloween lighting effects include using orange and purple string lights, placing flickering flameless candles in windows, and utilizing black lights or strobe lights for a spooky ambiance.
Popular light-up Halloween decorations include illuminated jack-o'-lanterns, LED-lit ghost and skeleton figures, and glowing witch hats or cauldrons.
For outdoor Halloween parties, consider hanging lanterns with LED tea lights, arranging a pathway with glow-in-the-dark pebbles, and setting up tiki torches or fire pits for a warm, eerie glow.
Halloween Lighting Ideas Wrap-Up
Whether you want to give your yard a spooky feeling with an easy DIY project or go all out this year, we hope our list of ideas inspired you.
Keep in mind that there are lots of ways to light up your house for Halloween. So don't be afraid to get creative!
Looking for more Halloween content? Find out the best ways to celebrate Halloween at home , top non-candy Halloween treats , cutest Hocus Pocus apparel , get my free Nightmare Before Christmas guessing game , and this Hocus Pocus bingo game .
This site uses Akismet to reduce spam. Learn how your comment data is processed .
For full functionality of this site it is necessary to enable JavaScript. Click here for instructions on how to enable JavaScript in your web browser.

Gemmy Lightshow Fire & Ice Spot Light (58453)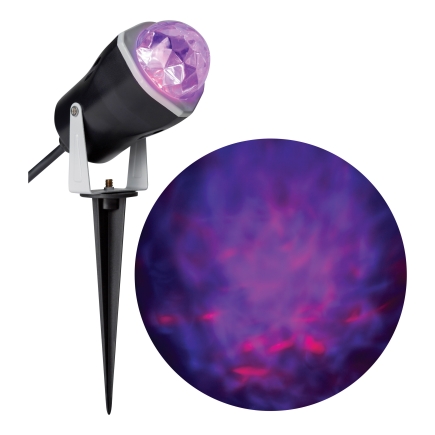 ALLERDICE SKU #: 9364894
Catalog Number: 58453
Gemmy Lightshow Fire & Ice Spot Light (58453)
Current availability.
Lighted: Yes
Halloween Theme: Spooky Purple Light Show Spotlight
Product Type: Halloween Lights
Color Family: Black
Width: 5.32 in.
Length: 2.95 in.
Indoor Outdoor: Indoor and Outdoor
Projects fire and ice effect up to 15 ft. with an energy efficient LED
Stakes easily into the ground and swivels into any position.
 Please fill out the required fields.

1,747 Spooky Background Purple Stock Photos & High-Res Pictures
Browse 1,747 spooky background purple photos and images available, or start a new search to explore more photos and images..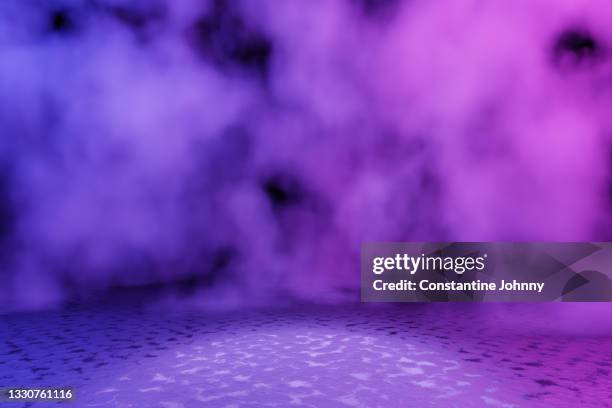 Entertainment
Photography
Press Releases
Israel-Hamas War
Russia-Ukraine War
Latin America
Middle East
Asia Pacific
Election 2024
AP Top 25 College Football Poll
Movie reviews
Book reviews
Financial Markets
Business Highlights
Financial wellness
Artificial Intelligence
Social Media
Russia says drones lightly damage Moscow buildings before dawn, while Ukraine's capital bombarded
Moscow attacked by drones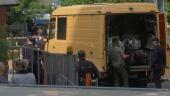 Russia launched a pre-dawn attack on Ukraine's capital Tuesday as its air defense worked to stop drones in what has been a relentless wave of daylight and nighttime bombardments targeting Kyiv. (AP video: Vasilisa Stepanenko)
In this image taken from video, investigators inspect the building after a Ukrainian drone damaged an apartment building in Moscow, Russia, Tuesday, May 30, 2023. In Moscow, residents reported hearing explosions and Mayor Sergei Sobyanin later confirmed there had been a drone attack that he said caused "insignificant" damage. (AP Photo)
This photo shows a part of an apartment building which was reportedly damaged by Ukrainian drone in Moscow, Russia, Tuesday, May 30, 2023. In Moscow, residents reported hearing explosions and Mayor Sergei Sobyanin later confirmed there had been a drone attack that he said caused "insignificant" damage. (AP Photo)
Police officers and investigators collect parts of a Ukrainian drone which reportedly damaged an apartment building in Moscow, Russia, Tuesday, May 30, 2023. In Moscow, residents reported hearing explosions and Mayor Sergei Sobyanin later confirmed there had been a drone attack that he said caused "insignificant" damage. (AP Photo)
Ukrainian air defense intercepts a Shahed drone mid-air in the third Russia aerial attack on the capital in the last 24 hours in Kyiv, Ukraine, Tuesday, May 30, 2023. (AP Photo/Evgeniy Maloletka)
Damaged cars are parked in the yard of a multi-story apartment building which was damaged in a relentless wave of bombardments targeting in Kyiv, Ukraine, Tuesday, May 30, 2023. (AP Photo/Alex Babenko)
Evacuated residents look at their multi-story apartment building which was damaged during Russian attack in Kyiv, Ukraine, Tuesday, May 30, 2023. (AP Photo/Roman Hrytsyna)
A police officer walks at the parking with damaged cars in front of a multi-story apartment building which was damaged during Russian attack in Kyiv, Ukraine, Tuesday, May 30, 2023. (AP Photo/Roman Hrytsyna)
Police officers help an injured man evacuate from a multi-story apartment building to an ambulance during a wave of bombardments targeting in Kyiv, Ukraine, Tuesday, May 30, 2023. (AP Photo/Alex Babenko)
A woman clears broken glass from the window of multi-story apartment building which was damaged during Russian attack in Kyiv, Ukraine, Tuesday, May 30, 2023. (AP Photo/Roman Hrytsyna)
Residents warm themselves under the blanket as they evacuated from their multi-story apartment building which was damaged during Russian attack in Kyiv, Ukraine, Tuesday, May 30, 2023. (AP Photo/Roman Hrytsyna)
The photo shows a multi-story apartment building which was damaged during Russian attack in Kyiv, Ukraine, Tuesday, May 30, 2023. (AP Photo/Roman Hrytsyna)
Evacuated residents hug outside of their multi-story apartment building which was damaged during Russian attack in Kyiv, Ukraine, Tuesday, May 30, 2023. (AP Photo/Roman Hrytsyna)
This photo shows a part of a Ukrainian drone which reportedly damaged an apartment building in Moscow, Russia, Tuesday, May 30, 2023. In Moscow, residents reported hearing explosions and Mayor Sergei Sobyanin later confirmed there had been a drone attack that he said caused "insignificant" damage. (AP Photo)
Police block an area where investigators collect parts of a Ukrainian drone which reportedly damaged an apartment building in Moscow, Russia, Tuesday, May 30, 2023. In Moscow, residents reported hearing explosions and Mayor Sergei Sobyanin later confirmed there had been a drone attack that he said caused "insignificant" damage. (AP Photo)
Police officers guard an area where a Ukrainian drone damaged an apartment building in Moscow, Russia, Tuesday, May 30, 2023. In Moscow, residents reported hearing explosions and Mayor Sergei Sobyanin later confirmed there had been a drone attack that he said caused "insignificant" damage. (AP Photo)
People look at a the apartment building in Moscow, Russia, damaged by a drone in an attack that authorities blamed on Ukraine, Tuesday, May 30, 2023. In Moscow, residents reported hearing explosions and Mayor Sergei Sobyanin later confirmed there had been a drone attack that he said caused "insignificant" damage. (AP Photo)
A Ukrainian soldier covers his ears while firing a mortar at Russian positions on the frontline near Bakhmut, Donetsk region, Ukraine, Monday, May 29, 2023. (AP Photo/Efrem Lukatsky)
KYIV, Ukraine (AP) — A rare drone attack jolted Moscow early Tuesday, causing only light damage but forcing evacuations as residential buildings were struck in the Russian capital for the first time in the war against Ukraine . The Kremlin, meanwhile, pursued its relentless bombardment of Kyiv with a third assault on the city in 24 hours.
The Russian Defense Ministry said five drones were shot down in Moscow and the systems of three others were jammed, causing them to veer off course. President Vladimir Putin called it a "terrorist" act by Kyiv.
The attack, while causing only what Moscow Mayor Sergei Sobyanin said was "insignificant damage" to several buildings, brought the war home to civilians in Russia's capital. Two people received treatment for unspecified injuries but did not need hospitalization, Sobyanin said, adding that residents of two high-rise buildings damaged in the attack were evacuated.
Andrei Vorobyov, governor of the wider Moscow region, said some of the drones were "shot down on the approach to Moscow."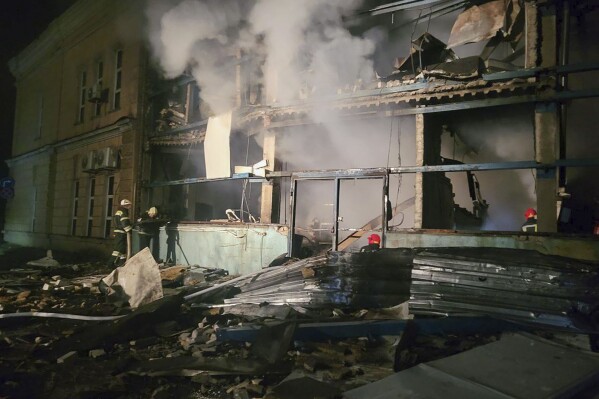 Ukraine made no direct comment on the attack, which would be one of its deepest and most daring strikes into Russia since the Kremlin launched its full-scale invasion of Ukraine more than 15 months ago.
Putin said Moscow's air defense "worked in a satisfactory way," but added it was "clear what we need to do to plug the gaps" in the system.
"The Kyiv regime ... attempts to intimidate Russia, Russian citizens and strikes at civilian buildings," he said during a public event. "It is, of course, a clear indication of terrorist activity."
Putin charged that Ukraine launched Tuesday's attack in response to Russia striking Ukraine's military intelligence headquarters in Kyiv over the weekend. But Andrii Cherniak, a Ukrainian intelligence representative, said the Kremlin's forces failed to hit the building because its missiles were shot down.
Asked by The Associated Press whether there was high-level concern that the invasion of Ukraine was endangering Russian civilians, Putin's spokesman Dmitry Peskov said only that attacks on Russia reinforced the need to prosecute what the Kremlin calls the "special military operation."
Tatiana Stanovaya of the Carnegie Endowment said the Kremlin's policy is to play down the attacks, reflecting Putin's belief voiced more than once that the Russian people were patient enough to "understand everything and endure everything."
Moscow residents reported hearing explosions before dawn. At one site of a crashed drone in Moscow southwest, police fenced off an area near a residential building and put the drone debris in a cardboard box before carrying it away.
At another site, apartment windows were shattered and there were scorch marks on the building's front.
It was the second reported strike on Moscow since May 3, when Russian authorities said two drones targeted the Kremlin in what they portrayed as an attempt on Putin's life . Ukraine denied it was behind that attack.
Last week, the Russian border region of Belgorod was the target of one of the most serious cross-border raids since the war began, with two far-right pro-Ukrainian paramilitary groups claiming responsibility. Belgorod Gov. Vyacheslav Gladkov said a man was killed and two others were seriously wounded Tuesday by the Ukrainian shelling of a building hosting temporarily displaced residents of the region.
Officials in the southern Russian city of Krasnodar near annexed Crimea said two drones struck there on Friday, damaging residential buildings.
Other drones have reportedly flown deep into Russia multiple times. In December, Moscow claimed it had shot down drones that targeted military air bases in the Saratov and Ryazan regions in western Russia.
Ukrainian military analysts, though unable to confirm Kyiv had launched the drones against Moscow, said the attack may have involved UJ-22 drones, which are produced in Ukraine and have a maximum range of about 1,000 kilometers (620 miles).
Analyst Oleh Zhdanov said some UJ-22s are capable of reaching "Moscow and beyond," although he noted they can fly only half as far and carry half the payload of the Iranian-made Shahed drones used in the war by Russia.
Even so, Zhdanov told AP that "the myth has been dispelled" of the Russian capital's invulnerability.
Since February, when a UJ-22 crashed 100 kilometers (60 miles) from Moscow, Ukrainian drones have repeatedly approached the Russian capital.
White House press secretary Karine Jean-Pierre said Tuesday the U.S. was still gathering information about the drone strike but reiterated that "as a general matter" the U.S. administration does not support Ukraine using American weaponry in Russian territory.
"We do not support the use of U.S.-made equipment being used for attacks inside of Russia," she said. "We've been very clear about that, and we'll continue to do that. And we have been clear not just publicly but privately clear with the Ukrainians."
She declined to comment on whether administration officials have spoken to Ukraine officials about the Moscow incident.
Jean-Pierre also noted that Russia on Tuesday launched its 17th round of airstrikes on the capital of Kyiv this month, noting that "Russia started this unprovoked aggression, this unprovoked war against Ukraine."
A U.S. defense official said the drone strikes would not not affect the weapons aid packages the U.S. is providing Ukraine to include drone ammunition. The official said the U.S. has committed to supporting Ukraine in its effort to defend the country and Ukraine had committed to not using the systems inside Russia, so the aid would likely continue unchanged. The official spoke on the condition of anonymity to discuss sensitive matters.
Ukrainian officials said Tuesday's pre-dawn air raid on Kyiv killed at least one person, wounded 11 others and sent residents scrambling into shelters again.
At least 20 Shahed drones were destroyed by air defense forces in Kyiv in the latest attack. Overall, Ukraine shot down 29 of 31 drones, mostly in the Kyiv area, the air force said.
Before daylight, buzzing drones could be heard in the city, followed by loud explosions as they were taken down by air defense systems.
The heavy destruction in Kyiv contrasted with what was seen in Moscow. In the Ukrainian capital, burned-out cars, glass and debris littered the street outside a building where apartments were wrecked; in Moscow, only a few broken windows and scorched outer walls were evident, with repairs and repainting being done quickly to affected buildings.
A woman in Kyiv's Holosiiv district was killed when she went onto her balcony "to look at drones being shot down," Mayor Vitali Klitschko said in a Telegram post.
A high-rise in the same district caught fire after being hit by debris either from drones or interceptor missiles. The building's upper two floors were destroyed, and people were feared buried in the rubble, the Kyiv Military Administration said. More than 20 people were evacuated.
Resident Valeriya Oreshko told AP that even though the immediate threat was over, the attacks had everyone on edge.
"You are happy that you are alive, but think about what will happen next," the 39-year-old said.
A resident who gave only her first name, Oksana, said the whole building shook when it was hit, advising others: "Go to shelters, because you really do not know where (the drone) will fly."
Associated Press writers Vasilisa Stepanenko in Kyiv, Ukraine; David Rising in Bangkok; Tara Copp in Washington and Yuras Karmanau in Tallinn, Estonia, contributed. Kozlowska reported from Tallinn.
Follow AP's coverage of the war at https://apnews.com/hub/russia-ukraine
International edition
Australia edition
Europe edition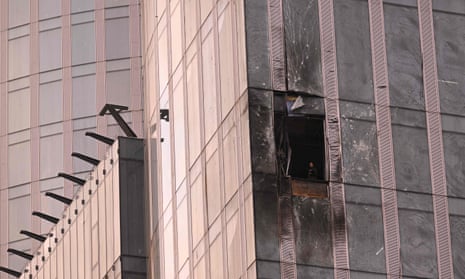 Drone strikes Moscow building as region hit by sixth successive night of attacks
Building under construction in capital's financial district damaged as three people killed in Belgorod region, governor says
See all our Ukraine war coverage
A drone hit a building under construction in Moscow's financial district early on Wednesday in the sixth straight night of aerial attacks on Russia's capital region.
A loud explosion was heard in Moscow's business district on Wednesday morning, a short time after flights were suspended at the city's airports, Russia's RIA news agency reported. Russian media published videos showing the moment of the explosion that left charred holes in the side of the buildings.
The central district is less than three miles from the Kremlin.
The mayor of Moscow, Sergei Sobyanin, said the Russian military downed two more drones over the western part of the Moscow region.
Ukraine has launched a campaign of drone strikes targeting the Russian capital in recent days as Kyiv seeks to demonstrate its ability to hit Moscow and to keep the Kremlin's war in the hearts and minds of the Russian elites and others seeking to ignore the invasion of Ukraine .
Earlier waves of drone strikes have hit the Moscow city financial centre, other residential buildings, or targeted areas in the wealthy western suburbs of the Rublyovka district , a few miles from Vladimir Putin's Novo-Ogaryovo residence. Though the drone attacks on Moscow have occurred almost daily in recent weeks, they have caused little damage and no casualties.
They have, however, triggered travel chaos, with big airports around the Russian capital forced to repeatedly close for departing and arriving flights.
Also on Wednesday, the governor of the Belgorod region, which borders Ukraine , said a Ukrainian drone had hit a sanatorium in a village. He said two people had died on the spot and doctors had been unable to save a third. If confirmed, the drone attack would mark the first known incident involving civilian deaths on Russian territory.
Ukraine typically declines to claim responsibility for attacks on Russian territory, although Kyiv officials have frequently celebrated such attacks with cryptic or mocking remarks. Last month, Ukraine's president, Volodymyr Zelenskiy, said that attacks on Russian territory were an "inevitable, natural and absolutely fair process" of the war between the two countries.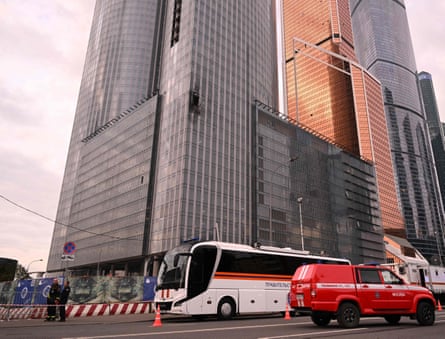 In response to reports of recent drone attacks, the US state department said Washington did not encourage or enable the strikes on Russian territory. "It is up to Ukraine to decide how it chooses to defend itself from the Russian invasion," the US spokesperson said.
On Tuesday, British military intelligence said a Ukrainian drone attack appeared to have destroyed a supersonic Russian bomber on the Soltsy-2 airbase, 400 miles (650km) from the border with Ukraine.
after newsletter promotion
Social media images showed an aircraft that resembled the Tu-22M3 in flames on a runway. The planes have been used regularly in campaigns that killed civilians in Ukraine.
Ukraine on Wednesday also said it had destroyed a Russian S-400 anti-aircraft system on the Russian-occupied Crimean peninsula.
"At about 10am (0700 GMT) an explosion occurred … destroying a Russian long- and medium-range S-400 Triumph air defence system," the Ukrainian defence ministry said on social media.
The ministry published a video of a large explosion with a huge column of smoke billowing into the sky. "This is a painful blow to the occupiers' air defence system," the ministry said.
Russia's defence ministry did not comment but several pro-Moscow bloggers said the destruction of the anti-aircraft system exposed vulnerabilities in Russian defences.
Most viewed