10 Of The Best Ghost Tours In London To Spook You Senseless
Unearth the capital's most terrifying nooks and crannies and discover various spectres and ghouls on these spooky ghost tours this Halloween.
In a city as old as London, there's more than enough stories of blood-curdling crime, murder most horrid and spooky spectres. From shadowy graveyards to ancient boozers, our beloved capital has more than enough spots that put the 'creep' in creepy, and these tours listed below will take you to the very haunted heart of many of them. So, without further ado, here's our roundup of 11 of the best ghost tours in London to spook you senseless this Autumn. If you can brave them of course…
1. Ghosts, Ghouls & Gallows With Added Boat Tour
Discover London's darkest and spookiest tales during this thrilling two-hour ghost tour, which will take you through dark and spooky Royal Parks, past haunted houses, and well and truly into the unknown. Soak in the panoramic views of London Town at night by foot and from the comfort of a luxury boat cruise – which has an added bar too. 
You'll get the opportunity to hear scary stories and mysterious legends from your expert guide throughout the duration of the tour, and will visit sites including the Grade I-listed Bridgewater House and the infamous Tower of London. You can grab your tickets here .
2. Ghastly Ghost Tour of London Bridge
View this post on Instagram A post shared by Sammy Paloma (@sammypaloma_)
The shadowy alleyways surrounding London Bridge have been home to ma ny criminals, vicious killers and other lawless folk over the years gone by – many of whom have left their wicked stories behind them. This thrilling tour will give you an insight into many of these tales, so be prepared to hear about decapitated heads on spikes, torture by rats, ghost-filled prisons and much more besides.
Along the way, you'll visit the Cross Bones Graveyard – which is the final resting place for many Medieval sex workers known as the 'Winchester Geese' – St. Paul's Cathedral , London Bridge and more. You'll also start at one of our favourite boozers, the 'Bunch of Grapes', which is well worth whetting your whistle at pre- or post-walk. Get a hold of your tickets here .
3. Ghoulish Greenwich Ghost Tour
Another one of the best ghost tours in London here, this adventure will give you the chance to discover the darker side of Greenwich over the course of 90 minutes. Along the way, you'll search for the ghosts of jilted lovers, find out which members of the Royal Family dabbled with the occult, and will also hear the tales of the Cutty Sark – the fastest ship of its time.
Your guide will take you past London's oldest enclosed park, down creepy tunnels and near spook-filled boozers. Cop your tickets here .
4. Petrifying London Ghost Tour
View this post on Instagram A post shared by Ray Bennison (@roystongeezer)
On the Petrifying London Ghost Tour, you'll sneak through the dark streets of hidden London and hear scary stories of all the ghosts, ghouls and spectres that are rumoured to stalk through the capital's back alleyways.
You'll visit landmark sites including All Hallows By The Tower, the oldest church in the city, the Monument to the Great Fire of London and St. Dunstan in the East – a bombed-out church which is now one of London's most enchanting public parks. You'll be guided throughout by George – a fun and friendly historian who will give you a fantastic insight into the dark side of our beloved capital. Grab your tickets here .
5. Paranormal Activity Tour
Take a walk into the unknown and step into the supernatural on this two-hour Paranormal Activity Tour, where you'll hunt for ghosts and poltergeists using the tools of the trade while learning about some of the city's grisliest history! 
This walk of the weird will take you over mass graves that lie hidden beneath commuters' feet via London's largest execution site, a gin palace and jail cells that housed ' one of the world's worst serial killers '. You'll also attempt to make contact with the other side and get to grips with an ouija board or two. Spooky stuff! Come and uncover stories of murder, plague pits, and the ghosts that linger deep within London's walls… if you dare. Find out more here .
6. The Ghost Bus Tours
A London ghost tour with a difference, this one bills itself as the ' world's only comedy-horror theatre show on wheels ', and throughout the duration of the 75-minute tour, you'll pass by some of the capital's most signature attractions. 
You'll enjoy your ride on an elegantly-refurbished 1960's Routemaster bus – billed as the 'necrobus' – and actors and on-board technical trickery will conjure up intriguing tales of murder, execution and hauntings throughout. Prepare to get pretty spooked with this one, which also runs in Edinburgh and York too.
7. Jack the Ripper Walking Tour
This fascinating tour will give you the opportunity to follow in the footsteps of one of the world's most infamous serial killers, Jack the Ripper. Starting from outside Aldgate tube station, you'll see the sites where Jack performed all of his grisly murders, and will walk the same streets as his unfortunate victims. Throughout, you'll also hear about the salacious side of Victorian life and learn all about the background of Whitechapel during the 1880s.
You'll end up near The Ten Bells – a Grade II-listed spot in Spitalfields which, dating all the way back to 1666, is awash with history. Rumoured to be haunted, it's also where two of the victims of the Ripper, Mary Jane Kelly and Annie Chapman, were rumoured to have drunk gin before they sadly met their tragic fate. What better spot to end up? Get involved here .
8. The Cloak and Dagger Tour
View this post on Instagram A post shared by Tara J Griffin (@tara_thecurator)
This interactive walking tour will take you through the backstreets of London and will give you the chance to delve into the capital's grisly past. One of the best ghost tours in London, you'll amble along the scenic South Bank and will discover secrets you never knew – and given the tour's name are you surprised? 
You'll also explore famous London landmarks like Borough Market and Southwark Cathedral , before you end up at the historic The George pub – a 17th century coaching inn which was mentioned in the Charles Dickens' novel Little Dorrit . While you're here, you'll be able to savour a pint or two while being regaled with a tale of murder – in the very room you're sat in!
9. Darkside London: Death, Fire & Executions
Aren't we just full of joy! Another pretty dark one here from Darkside London – this time to see the ominous sounding 'Temple of the Occult' and a whole host of different graveyards. You'll hear tales of pantomime clowns, dancing on graves and Queen Elizabeth I's first death warrant – pretty spooky stuff. 
You'll also see a whole host of dissected moles in the Grant Museum of Zoology and will visit other haunted spots – yeah, this one's pretty interesting to say the least. Get a hold of your tickets here .
10. Serial Killers: The Blood & Tears Walk
As the name would suggest, this one is all about murder, so get prepared to hear some gruesome details. You'll kick off with a visit to the Church of St. Bartholomew the Great, where you'll hear the distressing story of an uncaught serial killer who murdered two children inside Barbican station. You'll then head to The Old Bailey court, which is where two serial killers were tried for their gruesome crimes.
Continuing to Fleet Street, you'll see where one of the suspects of the Jack the Ripper serial murders lived, before you experience a psychic reading at a real-life murder site. You'll end up at the Princess Louise pub in Holborn, where you'll no doubt need a pint or two to decompress!
So there you have it – a roundup of the best ghost tours in London. So get ready to meet the ghosts and ghouls of years gone by and unearth some of the spookiest stories around. If you dare of course…
TYPE IN YOUR SEARCH AND PRESS ENTER
You are using an outdated browser. Please upgrade your browser .

LONDON GHOST WALKS
Frightfully good tours of haunted london, guided by the city's master of the macabre - richard jones, london's longest established ghost walks guide.
VISIT LONDON'S ACTIVE PARANORMAL LOCATIONS
If you want to encounter the darker recesses of haunted London, then be sure to join the only Ghost Walks to be led by Richard Jones - an internationally renowned authority on the ghosts of London who has written 22 books on the supernatural and who has been conducting walks around the Capital's most haunted places since 1982.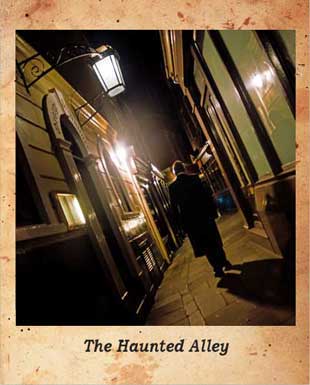 In Richard's company you will visit more of London's paranormally active locations and get to hear the most up to date and recent ghost stories drawn from Richard's extensive files on the Capital's paranormal happenings.
In fact, with Richard as your guide you are guaranteed a fascinating journey through the streets, graveyards and alleyways of old London, where a legion of lost souls have been just dying to make your acquaintance.
And, since Richard is widely regarded as London's premier expert on all things spooky and spectral, he is able to take you to places that other ghost walks never visit, places where those who have joined him on his haunted London tours have frequently encountered possible supernatural activity.
As London's Evening Standard put it:-
"...[ghost tours] of London are now a crowded market, but Richard Jones keeps ahead of the pack with impeccable research, and having honed his performance on more than 5,000 guided tours..."
LONDON'S LONGEST ESTABLISHED GHOST WALK GUIDE
Richard has been devising and conducting haunted tours since 1982, giving him the distinction of being the Capital's longest established ghost walk guide.
This track record means that, when you join him for a tour, you are being taken round by a guide who has both the knowledge and the experience to provide you with a quality tour.
However, Richard is not one of those dry-as-dust type of guides who drones on in a dull monotone about dry dates and dusty facts; his tours are dramatic performances that are as entertaining as they are enlightening and his dramatic style of presentation will breathe life into the history that surrounds you.
As The Orange County Register put it:-
"Richard Jones, a delightfully animated guide, takes his captivated audience past some parts of London it is a sure bet they would never see otherwise. It's hard not to shiver a few times, but it certainly adds an eerie, realistic air to the adventure..."
YOU'LL VISIT HAUNTED AND CREEPY LOCATIONS
Richard is up to date on all the most recent paranormal happenings in London and he knows the places to take you to where ghosts are seen and supernatural activity is experienced.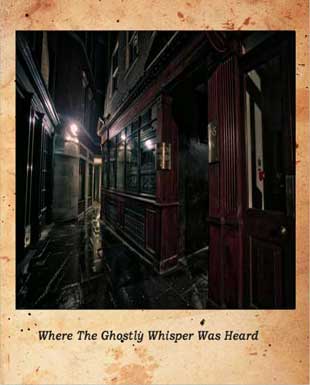 In these time-frozen places you will rub shoulders (so to speak) with the ghosts of Kings and Queens; the noble and the ignoble; the famous and the long forgotten.
The lost souls who have been biding their time throughout the daylight hours, just waiting for the moment when the shadows descend and every footstep echoes eerily through the darkness.
Then, and only then, can these restless revenants venture by moonlight into the courtyards and passageways of their city - the City of the Dead.
Are you fearless enough to follow in their footsteps?
Dare you walk the shadows to absorb the ambience of their night time haunts?
Do you have the resolve to listen to their stories in the darkness of this haunted hinterland?
A SPOOKY MIX OF THRILLS AND CHILLS
In the course of these ghost walks you'll enjoy a delightfully entertaining mix of thrills, chills, fun and fear as you make your way through atmospheric old byways where you will find yourself looking nervously over your shoulder, ever wary of who, or what, might be waiting around the next corner or lurking just a few graves along.
And, because the locations you visit are genuine haunted hotspots, you might even be fortunate enough (or some might say unfortunate enough) to acquire evidence of their existence.
Indeed, you might even take away your very own souvenir of a paranormal encounter. It has been known to happen on Richard's London ghost walks.
DON'T JOIN A GUIDE WHO'S READ A BOOK JOIN THE GUIDE THAT WROTE THE BOOK
When you take a London ghost walk with Richard Jones you are not joining a guide who has simply read a few ghost stories in a book.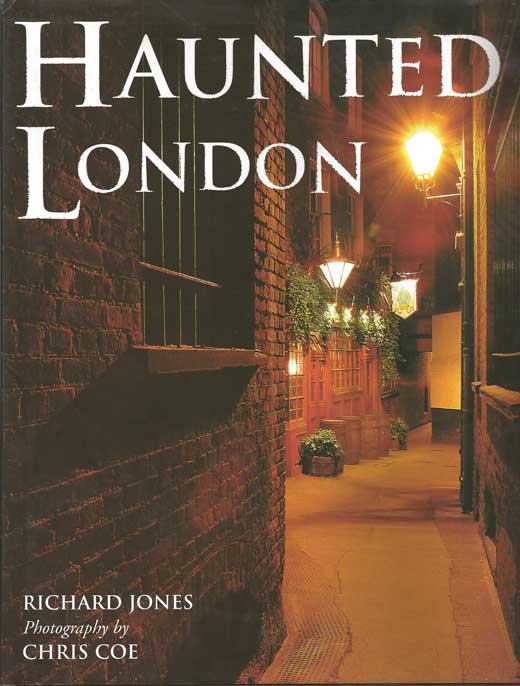 With Richard's tours you are locating the source, the man who wrote the best-selling and definitive guides to the capital's sinister and supernatural history Walking Haunted London, Jack the Ripper - The Casebook, Haunted London, Uncovering Jack the Ripper's London, and History and Mystery Walks in London.
Richard's books are often used by other guides to plan and research their own haunted London tours.
But, why join a guide who has read a book when you can join the guide who wrote the book?
The guide who has spent almost 40 years travelling the length and breadth of Britain's spectral landscape collecting the spookiest ghost stories and honing his abilities as a storyteller in order to present those tales in a manner that is both gripping and chilling.
As The Independent newspaper put it:-
"...This is among the most reliable of the many London Ghost walks. Richard Jones is a committed story teller...who shares his enthusiasm in the alleyways and hidden courtyards of the City."
CUSTOMER TESTIMONIALS FOR RICHARD'S GHOST WALK
Those who have joined Richard's ghost tours have often commented on his spot-on timing and his superlative storytelling ability and many have written to say how much they enjoyed the experience.
Many of them have commented on just how contagious they have found Richard's passion for the subject and the sheer exuberance of his delivery.
Others have mentioned how his extensive knowledge of haunted and historic London shone through in the course of the tour.
Some have even written in to tell of strange occurrences that they themselves witnessed during a walk.
But, the one thing that they all feel compelled to comment upon is how much fun they had and how impressed they were by how much they learnt on their haunted tour.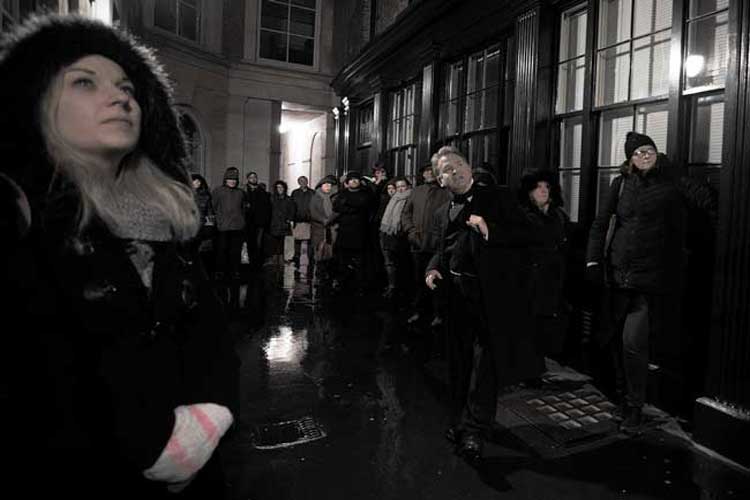 "TRULY WHAT A FUN, FUN EXPERIENCE"
Dan Neidermyer took Richard's ghost tour on June 7th 1998. He later sent a letter applauding what he considered to be the "best" walk in London.
Dan is something of an expert on guided walks since he has "sounded out" and experienced Richard's competition over many years, making him ideally placed to make an informed decision on how they compare.
This is what he wrote:-
"...I had the privilege of being a member of that very-fortunate-for-choosing "THE-LONDON-GHOST-WALK" audience. Truly what a fun, fun experience! What an entertainer you are! I've been coming to England - and London in particular for many years. Over the years, I've done almost all "The Original London walks." In all honesty you are truly the "BEST." What a great evening. You gave so much to your group. You are a truly talented performer and what a privilege to watch you work. Thanks for caring so much about a Sunday night group...for truly enjoying performing so much and letting your tour group see your enjoyment...and for giving us a great evening in London, now and in its past!..." Dan Neidermyer Maranatha Productions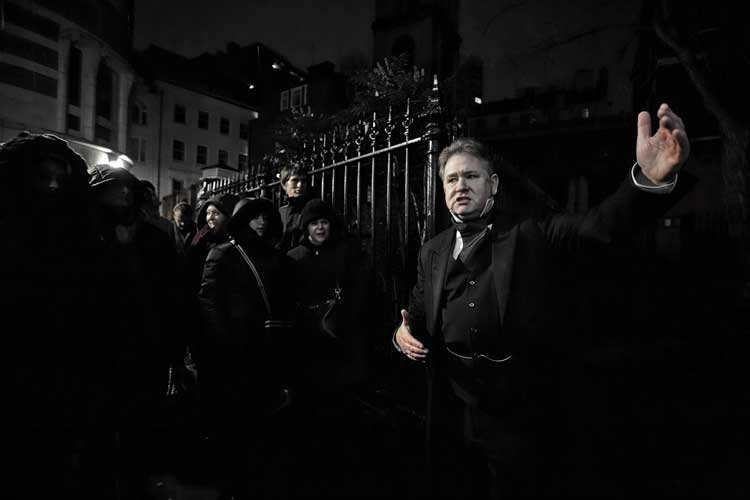 "THE BEST I HAVE COME ACROSS"
Andy Vine of Eastbourne Coaches organised a night time tour with Richard and brought a coach load of participants into London.
He later wrote to say what a great night his clients had had.
Again, Andy is in a position to give an informed opinion on the standard and the quality of a tour since he operates coach tours all over the country and so is able to make genuine comparisons. Concerning Richard's guiding and storytelling ability, Andy had this to say:-
"...Thanks for a great tour. As a coach operator we organize quite a few events that include guides and I must say yours was the best I have come across...thanks for your great work..." Andy Vine Eastbourne Coaches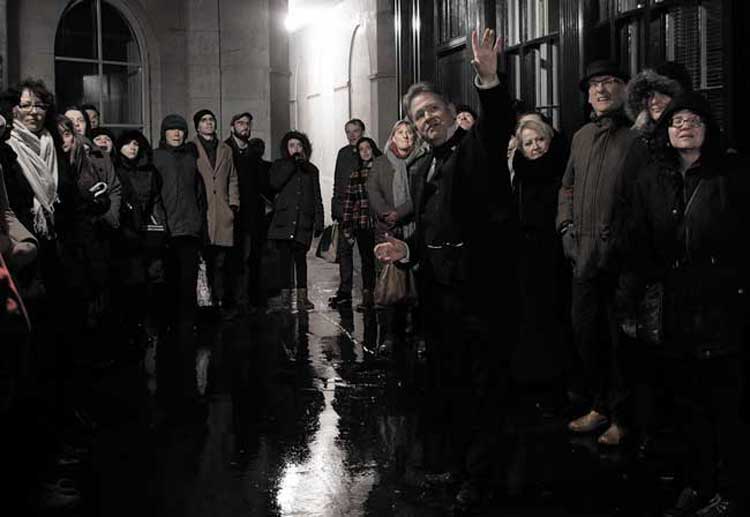 "ODD. HISTORICAL. EXERCISING. SPOOKY . FUN!"
Annabel, a student at Imperial College in London, joined Richard on his Friday night Hidden Horrors Ghost Walk. She enjoyed it enough to make it the subject of her student blog on the college website.
This is what she had to say:-
"Our tour guide, Richard Jones, who possesses a superbly oratory and expressive voice, guided us from place to place in the local area. The guide put in neat bits of acting, stuttering or pausing to flinch as his delivery was distracted by unseen flickers in the background, throwing cautious glances, askance, and making all of us jump with perfectly timed volume changes in his storytelling. "BANG!" he screamed at one point, and "AAAAAARRGGH!!!!" at another, into the face of a poor girl who instinctively replied "AAAARRRRGGGHH!!!!!!!" right back. Odd. Historical. Exercising. Spooky. Fun!" Annabel's Student Blog Imperial College, London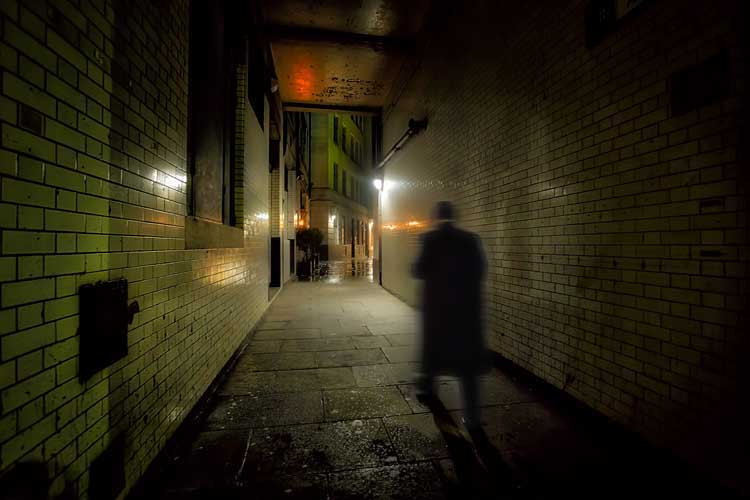 "THIS MAN WAS A STAR"
The staff social club from the department store Caleys in Windsor booked their own private London Ghost Tour with Richard.
As it transpired the skies opened that night and the rain came hurtling down.
However, this didn't detract from their enjoyment and one of the participants published the following report in the staff newsletter:-
"Onwards and we find ourselves on the night in question being battered about by horrendous high winds and torrential rain. I was surprised to see the coach was full. If anything can get this amount of people out on a night like this it must be something special. On stepping out of the coach it came as a bit of a shock to be confronted by a man all dressed in black, who turned out to be our guide. Now, why was I with umpteen layers and coats on shivering on this vicious night and our guide was in just an old fashioned suit and looked perfectly warm. The guide's name was Richard, and what a clever dick he turned out to be! I mean that in the nicest possible way, as this man was a STAR. Not only was he a great orator, but he was also a first rate magician. A great evening out enjoyed by everyone I am sure..." Staff Newsletter Caleys, Windsor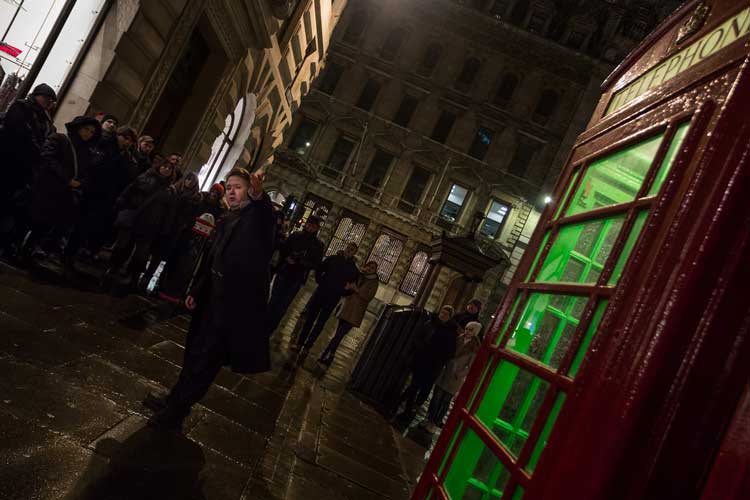 "WE WERE AFRAID WHAT WAS AROUND THE CORNER"
On a dark and wet Saturday night, Michelle Armstrong joined Richard's Alleyways and Shadows Old City Ghost Walk.
Sheltering in one of the old covered alleyways that the tour ventures in to, she experienced something that proved somewhat distracting, not to say disturbing.
Now, it must be said that this particular alleyway is one of those aforementioned hotspots when it comes to paranormal occurrences, and many people sense a certain something when passing through it. So Michelle's experience was very much business as usual at this decidedly creepy location.
Here is how Michelle put it in her subsequent email:-
"I just wanted to mail you to tell you about something that happened to us whilst we were on your tour of the alleyways and shadows last night. Whilst you were talking, some of us had taken shelter in a covered alleyway. You were talking in front of the alleyway in front of a window above was some particularly spectacular Victorian decorative works on the building. I cannot recall what you were talking about because from the other end of that alley way there seemed to be a commotion. We (there were 4 of us) could all hear, whilst you were still talking there was a woman's scream. Then it went quiet apart from the sounds of some keys jangling. When it came time to pass through, we all stopped and let you go ahead, actually for fear of what was around the corner. Once around the corner, and to my surprise, there was not a street as expected, where revelers may have been, just an entrance to a restaurant. Absolutely no one around...Just thought I would share that... Hope to see you again sometime! Had a really enjoyable evening. Thank you" Michelle Armstrong Tour Participant
EXPERIENCE THE TRUE THRILL OF HAUNTED LONDON
So, if you really want to explore haunted London on a ghost walk, be sure to do so with London's premier ghost walk guide and enjoy an unrivalled opportunity to uncover the creepy alleyways and old graveyards that lie scattered about the darker recesses of the hidden city.
In his company you will see and experience more of the paranormally active locations of old London.
In short, you won't just visit places where ghosts have been known to appear, but you will also encounter the places where they are still known to appear.
Which, if you think about it, is exactly what you should expect from a ghost walk!
WHAT RICHARD'S WALKERS SAY Feedback from some of those who have taken Richard's Ghost Walks
"I have done a lot of guided walks with different guides and walking companies in London and I can honestly say the guided London ghost walk I did with Richard was the most fun guided walk I have ever been on and was also very informative"
John Scovell Posted On Richard's Facebook Page
"It would be very hard work for some orators to keep the attention of such a large crowd in such foul weather. You carried it out effortlessly and with apparent ease. Your attention to detail - demonstrated in one instance by the simple task of picking up a cold, wet cobblestone and bringing it to life - was evident throughout the evening.
Fond Regards
Thanking you again."
Paul and Maureen Lycett
"...I've been on several of the London walks ghost walks. While they have been good, my favorite is actually not a London walks but Richard Jones...."
Destination Expert Tripadvisor Forum
"I just wanted Richard to know that we had an absolutely fantastic time.
His passion and enthusiasm is what makes the walk so pleasurable. His historical knowledge of London and the buildings themselves add to the excitement of the stories."
Scott & Brittany Ferrara
"Good morning
Just a quick thanks for the entertaining ghost tour that my fiancé and I went on last night at 1900hrs, we thought Richard was very informative and had a great voice to listen too.
Thanks once again"
"Hi Richard,
I hope you're well?
I just wanted to email to say a massive thank you for the tour last night...it was really interesting and you're a very captivating tour guide.
All the best"
Zeina Samaha
"I thoroughly enjoyed my tour with you Richard. You are a gifted story teller. And I will be sure to recommend this to any friends visiting in the future."
Lynn Yarndon
"Just wanted to thank you for the excellent Haunted London tour we went on in August.
I have been a fan since I purchased your Haunted Britain and Ireland book years ago."
Carol Murray, St Germain, Wisconsin
Awesome, you're subscribed!
Thanks for subscribing! Look out for your first newsletter in your inbox soon!
The best of London for free.
Sign up for our email to enjoy London without spending a thing (as well as some options when you're feeling flush).
Déjà vu! We already have this email. Try another?
By entering your email address you agree to our Terms of Use and Privacy Policy and consent to receive emails from Time Out about news, events, offers and partner promotions.
Love the mag?
Our newsletter hand-delivers the best bits to your inbox. Sign up to unlock our digital magazines and also receive the latest news, events, offers and partner promotions.
Things to Do
Food & Drink
Attractions
Los Angeles
Get us in your inbox
🙌 Awesome, you're subscribed!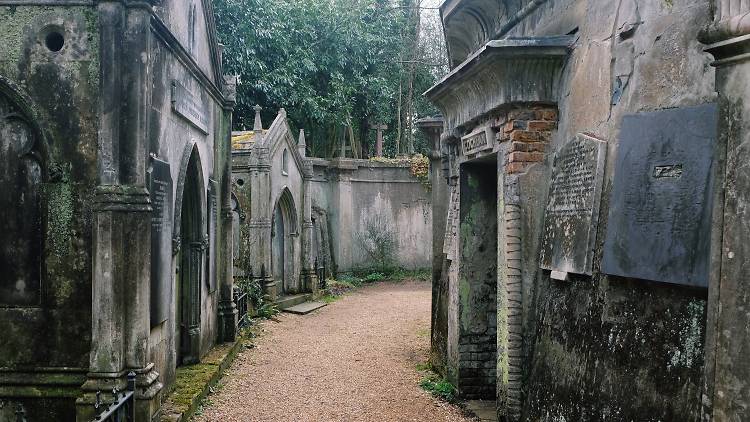 Ghost hunts and ghost tours in London
Do you believe in ghosts? Go searching for spirits on these seriously scary ghost tours in London
Feeling brave? It's almost Halloween, so grab your ghost detector and gear up for these genuinely terrifying ghost tours in London. Whether you're up for lurking in an eerie theatre or creeping around the most haunted places in London , we're here to hold your hand.
RECOMMENDED:
Fancy a spooky pint? These are the most haunted pubs in London.
The best cemeteries in London.
An email you'll actually love
The creepiest ghost tours in London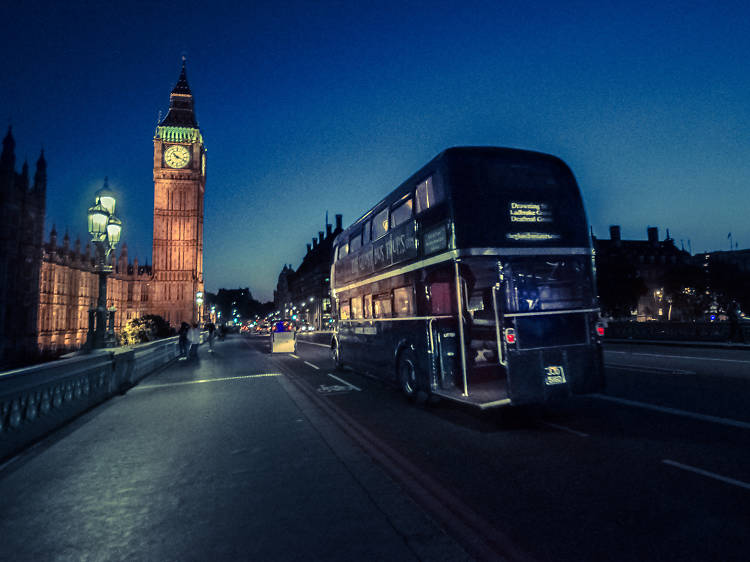 Ghost Bus Tours
All aboard the bus of nightmares for a journey to hel… er, we mean Houses of Parliament and other well known London landmarks. With a lick of black paint, an old-school Routemaster has been given a suitably ghoulish makeover for the Ghost Bus Tour, which will whisk you around the capital on a whistle-stop adventure of London's most malevolent spots.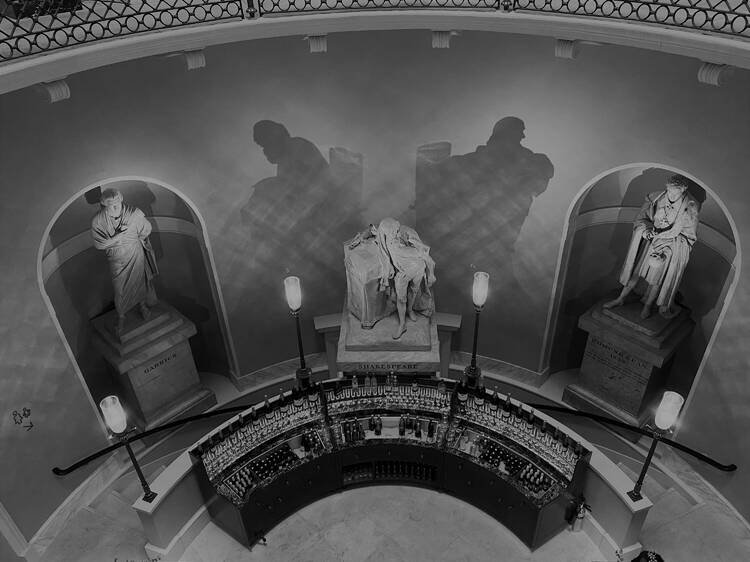 Theatre Royal Drury Lane halloween afternoon tea and theatre tour
We know that theatre people are very superstitious, but the Lane is genuinely said to be one of the most haunted buildings in Britain. On the tour, you'll learn about some of London's ghostliest thespians and playwrights, including Billy Shakespeare, David Garrick and Richard Sheridan. The whole shebang ends with actors sharing their own ghost stories that'll leave you quaking in your boots, and guests will be invited to share too.
The Cloak and Dagger Tour
This is not for the weak of stomach, as this immersive play meets walking tour promises to be London's most disgusting excursion. Kicking off at arguably Borough's best pub, The George, you'll be led around south London by professional actors who'll act out the most grisly and gruesome parts of London history.
Jack the Ripper Tour
We're not short of walking tours documenting the ghastly crimes of east London's most famous serial killer, but this is one the longest ones going, and it promises to be led by published authors and historians who really know their stuff. Winding through Whitechapel's sinister back alleys, you'll encounter police, sift through evidence, and play along on the quest to catch the Victorian killer.
Haunted Happenings Ghost Hunts
Ever wanted to attend a séance in a haunted mansion? A ghost hunt at one of Haunted Happenings venues gives the chance to dabble in divination and communicate with ghouls and lost souls. Taking place at various eerie locations in the city, you'll be kitted out with ghost hunting tools like EMF Meters and K2 Meters, where you'll stay through the night being scared out of your wits with paranormal activity.
Hunt for more Halloween events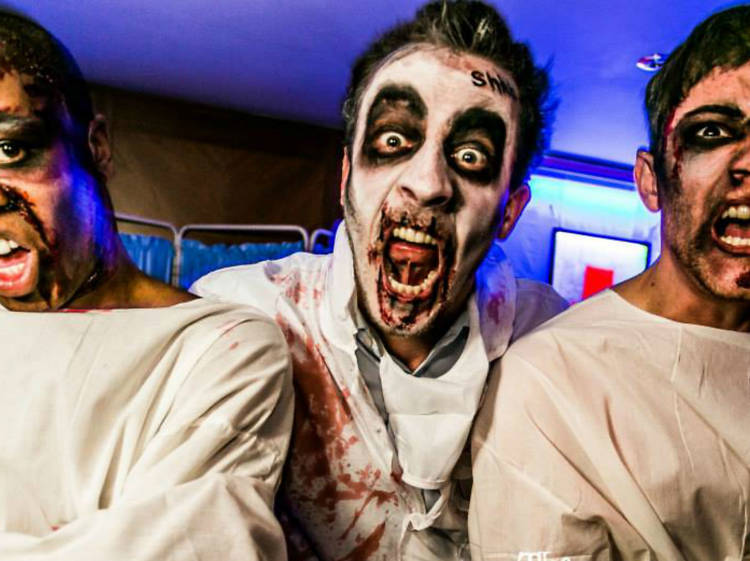 Top 10 Halloween events in London
You might be too old for trick or treating these days but trust us, there's still a lot of fun to be had on and around Halloween.
Support Time Out
We see you're using an ad-blocker. Ad revenue is Time Out's main source of income. The content you're reading is made by independent, expert local journalists.
Support Time Out directly today and help us champion the people and places which make the city tick. Cheers!
[image] [title]
More on Halloween
Discover Time Out original video
Press office
Investor relations
Work for Time Out
Editorial guidelines
Privacy notice
Do not sell my information
Cookie policy
Accessibility statement
Terms of use
Modern slavery statement
Manage cookies
Claim your listing
Time Out Offers FAQ
Local Marketing Solutions
Advertising
Time Out Market
Time Out products
Time Out Offers
Time Out Worldwide

WALK THE STREETS OF HAUNTED LONDON
With paranormal author richard jones london's longest established ghost walk guide (walking the shadows since 1982), chilling encounters in the city of the dead.
Twilight creeps its weary way through the narrow alleyways and hidden courtyards that snake their way through the historic heart of the City of London.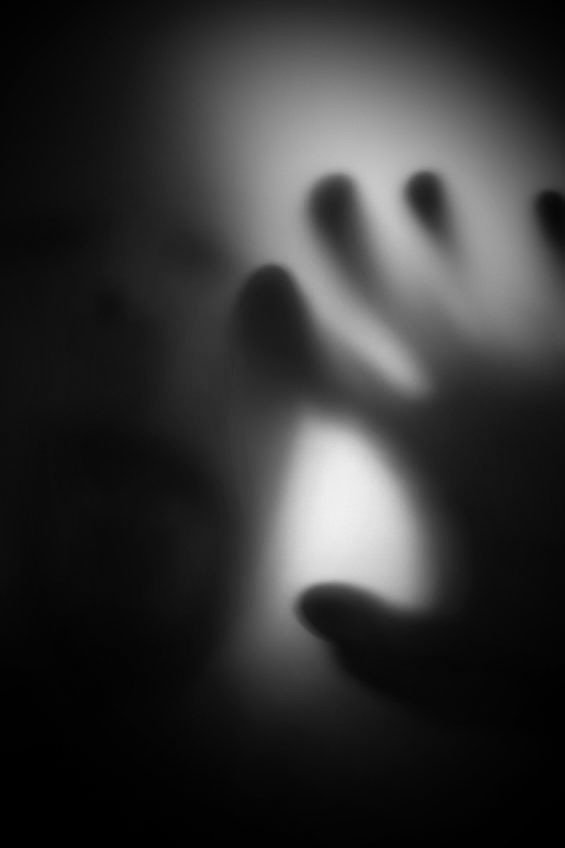 Its gnarled fingers unlock ancient secrets of dark deeds that lie entombed behind the time-encrusted walls of the old churches and tumbledown graveyards.
Its rasping whisper echoes into the shadowy recesses of the forgotten nooks and corners of the City of dreadful night.
Long departed residents hear its call, and London's ghostly populace awakes from its slumbers and the spirits of the past cross the divide and begin to walk the streets as ghosts.
And now, in the company of paranormal author and renowned ghost hunter, Richard Jones, you have the opportunity to explore the City of the Dead and to, possibly, come face to face with London's eternal inhabitants.
"AHEAD OF THE PACK"
Richard's tours are widely regarded as being the best ghost walks on offer in London.
He is, after all, the author of 18 books on London and the paranormal, and he has the distinction of being London's longest established ghost walk guide.
As the Evening Standard put it:-
"Richard Jones keeps ahead of the pack with impeccable research, and having honed his performance in more than 5,000 guided tours...."
As a result of his "impeccable" - and ongoing - research, he knows the places to take you to where ghosts are known to lurk.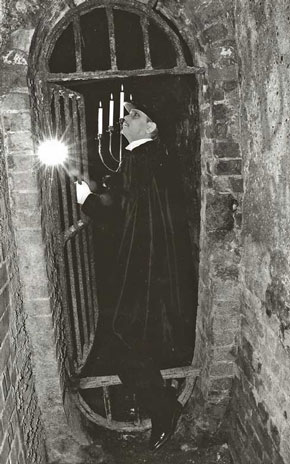 Indeed, having devoted 33 years to introducing residents and visitors alike to the darker and more sinister side of London's history, he can offer you more experience in the field than any other London guide.
In fact, many of the guides who conduct tours of haunted London use Richard's books - such as Walking Haunted London and Haunted Britain and Ireland - as the source for their material, which is all well and good and, in many ways, rather flattering, as it attests to the depth and thoroughness of his research.
But for you, the participant, wouldn't you rather be taken around by the source, the author of the books, as opposed to someone whose just read the stories in the books?
SEE THE PLACES WHERE GHOSTS LURK
On a Richard Jones ghost tour you don't just get the traditional ghost stories that you will hear on other London walks, you get to know about the most recent ghostly activity in London.
These are up to date hauntings that occurred, not on some unspecified date at some stage in London's distant past, but rather they are hauntings that happened last week, or last month and, in some cases, just the other day.
And, let's be perfectly honest about this, wouldn't you rather enjoy a ghost walk with a guide who knows the places to take you to where ghosts are still seen, as opposed to locations where they might have been seen a hundred or more years ago?
GHOSTS ON FILM
It is quite common for people to catch inexplicable images on photos that they take on the ghost walk.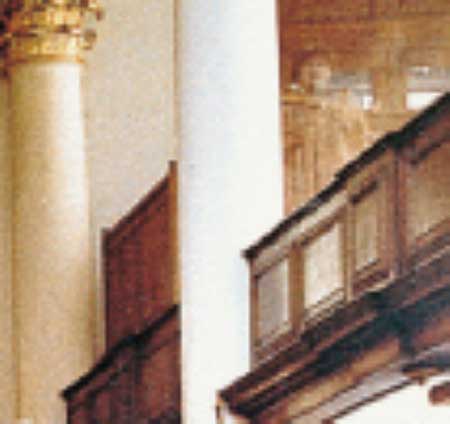 A spectral girl who looks down from a time-smeared window pane is one of the regulars. The hooded figure that appears by a section of the old Roman wall is another.
Then there are the ubiquitous orbs that frequently appear on photographs taken in the course of the London ghost walk.
Whether these mysterious figures offer actual proof of paranormal activity is open to debate. But, when they do honour us with an appearance, their presence certainly makes for a great talking point amongst tour participants!
STORYTELLING AT ITS MARROW CHILLING BEST
It goes without saying that the most important part of a haunted tour is the ability of the guide to tell ghost stories in a way that can keep you gripped and on edge for the entire duration of the walk and, in this respect, Richard Jones is in a league of his own.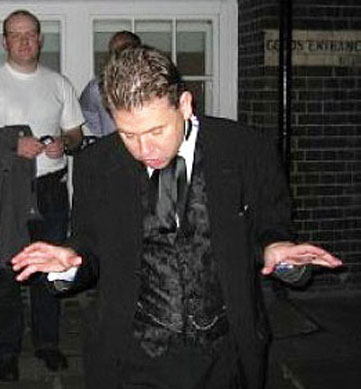 He has spent 33 years honing his performance to ensure that his tours achieve just the right mix of historical fact, creepy happenings and spine-tingling tales.
However, he doesn't just recite the facts and stories, as so many guides do, but rather, he tells the stories, acting them out in front of you against the backcloths of the locations where the events of each story occurred.
Dressed in his trademark outfit - that of an esteemed Victorian undertaker - he possesses the presence and panache of a seasoned trouper, coupled with the vocal range of a skilled orator.
As the Orange County Register put it in a review of his tour "...It's hard not to shiver, but it certainly adds an eerie, realistic air to the adventure..."
JOIN THE DOYEN OF THE DARKNESS
So, if you really want to see and experience the streets of haunted London on a ghost tour that is as spooky as it is fascinating, then be sure to join the only London ghost walks that are led by the undisputed doyen of the darkness and prepare to enter a twilight world of mists and miasmas where, to quote the Mandatory Travelogue, "even the strongest and stoutest laugh nervously..."
Copyright 2022 © The Original London Ghost Walk
Bournemouth
My Bookings
My Email Preferences
Edit this page
Access admin
Back to search
Ghost Tours In London
The history of London is littered with plenty of nastiness, so it's no surprise that this changing city has left behind a few ghosts in its wake. For those of a morbid disposition who would like to discover more about the spirits and spectres that stalk the streets of our nation's capital, then look no further than this handy round up of the scariest, spookiest and silliest ghost tours in London. Please note that this list is not recommended for those of a nervous disposition.
Last updated on 18th September 2023
London Dreamtime
London Daydream is bringing you a ghost tour right in Wapping and horror fans will absolutely love it. The dark and chilly walk features a collection of scary stories all based on the haunted areas you explore in the city.
Royal Maritime Greenwich Ghost Tour
@ Outside the Entrance to Cutty Sark Tall Ship (Closest Entrance to The Gypsy Moth Pub) on Saturday 14th October 2023 and 11 other Saturdays
Ever wanted to know more about the darker side of Greenwich World Heritage Site? From drunken sailors sent to "Shanghai" to the Cutty Sark Curse and ghosts of jilted lovers, this creepy walking tour will take you through hidden laneways, London's oldest park and a haunted pub.
Walks & Tours ⋅ Something A Little Different
Tickets from £16.00 - £40.00
Haunted London Pub Tour
@ Temple Underground Station on Various dates from Saturday 7th October 2023
Take a trip around some of the city's most haunted pubs on this fun London ghost tour. Learn the stories behind these historic drinking dens, and discover how they came to be haunted and what continues to haunt them. To steady you nerves, there will of course be an opportunity to sample a glass or two of the good stuff at each of these spooky establishments.
Something A Little Different ⋅ Walks & Tours
Tickets from £16.00
Singles Haunted Ghost Walk In London
@ Barbican Station on Tuesday 31st October 2023
On the 31st of October, the spookiest night of the year, you can head on a Singles Haunted Ghost Walk in London. Not only will you hear grisly tales centred around body snatchers, the plague and more, but there will be fun icebreaker games so you can meet new people.
Bar Crawl ⋅ Dating ⋅ Walks & Tours
Tickets from £15.00
London Bridge Ghost Tour
@ Outside the Bunch of Grapes on Various dates from Saturday 7th October 2023
From a prostitutes' graveyard, to the city's oldest operating room, this ghost tour of London takes you back to London Bridge, way before it was a place of high-flying business types and fancy restaurants. Be transported south of the river to the days when it was a den of iniquity, with more than a couple of skeletons in its closet.
Walks & Tours ⋅ Something A Little Different ⋅ Activity
London Month of the Dead
London Month of the Dead is a haunting festival bringing you a series of historic walks and tours, spanning everything from hidden crypts to cemeteries and more. But that's not all, as tickets here are usually £15 or under - what a bargain.
Paranormal Activity Tour
@ Outside Farringdon Station (Infront of Timpson) on Friday 13th October 2023 and 6 other Fridays
One of the best London ghost tours, this interactive search for paranormal activity will push the limits of what you thought real. Travel through the city streets to some of the most haunted and spiritually active sites in London. Using Ouija boards, K2 Meters and Dowsing Rods, your aim is to make contact with the other side, and uncover the dark pasts many a London landmark.
Recommended by
How to work with us.
Whether you own a bar, restaurant, pub, club, private hire space, pop-up and/or run events, you can take advantage of our full suite of products. Explore one or more from the below.
Revolutionary booking and enquiry management software for bars, restaurants, pubs and clubs. Table management, pre-orders, payments and more.
An online event ticketing box office, catering for all kinds of events, pop ups to big music festivals, and free marketing and exposure to help sell more tickets.
Sell e-gift vouchers to your customers; whether it be a packaged up experience or a monetary value. Generate an extra revenue stream and open up your venue/event to even more customers.
Advertising
Need to get your venue out to millions? Use our targeted marketing packages to instantly push your venue to a young professional audience.
Contact Wandering Crystal
Privacy Policy
Spooky City Guide – New Orleans
Spooky Destination Guide – Salem Massachusetts
Spooky Destination Guide -Boston
Czech Republic
England Destinations
Scotland Destinations
Everything Edmonton
United States
Dark History & Spooky Travels
Living Abroad
Everything is Spooky in the Dark
The 9 Best Ghost Tours in London
Looking for the best ghost tours in London? With so much history in the United Kingdom, London is the perfect place for people looking for dark history sites in England.
From tales about Jack the Ripper to visiting some of London's most historic and haunted locations, your evening will be filled with the scariest, spookiest and most gruesome tales.
No matter what kind of London ghost tour you are looking for – there is something for everyone on my list of the best ghost tours in London.
Disclosure: Some of the links below are affiliate links, meaning, at no additional cost to you, I will earn a commission if you click through and make a purchase. Please see my Privacy Policy for more information.
Meet the Street Tours
Do you want to explore the dark side of central London? Meet the Street Tours London: Ghastly Ghosts 2-Hour Walking Tour will make your evening extra spooky. This is one of the best ghost tours in London, and it takes you down London's creepiest alleys and darkest streets, where you will hear the dark history of crimes that took place many years ago.
Although ghost sightings aren't promised, many people who take this tour hear disembodied voices and footsteps that come out of nowhere.
The tour guides mix horror and humour while keeping you captivated with spooky stories of the ghosts that still linger in the dark city streets. While all of the tour guides are fantastic, I absolutely recommend catching a tour with George. He is very thorough in his storytelling and keeps you entertained while sending shivers up your spine.
Book here: London: Ghastly Ghosts 2-Hour Walking Tour
What you need to know
This tour has a maximum of 40 guests
Book in advance so you don't miss out because tours will book up fast!
The Ghost Bus Tours Ltd
If you are into theatrical comedy tours and want to spend an evening venturing down London's roads by double-decker bus, you must go on the Comedy Horror Show: London Ghost Bus Tour .
This tour takes you to some of London's most terrifying locations, such as St. Paul's Cathedral, the Tower of London, and Fleet Street. Here you will hear the scary tales that dwell behind the walls of these haunted sites. Also, hear about the Whitehall Mystery and the real history of Sweeney Todd, the demon barber of Fleet Street.
What makes this one of the best ghost tours in London? The guides! They are interactive, dressed up in spooky costumes and make you a part of the tour. If you are looking for scary things to do in London, this is the tour for you.
Book here: Comedy Horror Show: London Ghost Bus Tour
This tour has a maximum of 54 guests
The Cloak and Dagger Tour
If you want to hear the lesser-known but still terrifyingly spooky tales of London's dark past, you must take The Cloak and Dagger Tour . This is a fun, immersive and interactive tour that lasts for 2 hours. You will walk to places like the Southwark Cathedral, where you will hear about the mystery that surrounds the building.
You will also pass by places like the Clink Prison Museum, where you will learn about some of the gruesome stories of the prisoners and how they lived back in the day.
What makes this one of the best ghost tours in London? The tour ends at Southwark's George Inn, where you will see a recreation of a true-crime story told in the room the murder took place.
Book here: The Cloak and Dagger Tour
This tour has a maximum of 35 guests
See Your City
Do you want to go on one of the many London ghost tours that exist but want something super unique? Then, you should take See Your City's London: Ghost Walk and Spooky River Thames Boat Ride .
This tour runs for two and a half hours, taking you to the haunted royal parks and passing by the Tower of London before taking you on a 25-minute river cruise on the Thames River.
If you want to go on a ghost tour from the comfort of your home, See Your City also has an online tour called the London: Ghost, Ghouls & Gallows Online Experience .
Book here: London: Ghost Walk and Spooky River Thames Boat Ride
This tour has a maximum of 10 guests
City Secrets Walks
Have you read the best-selling book Bloody London by Declan McHugh ? Well, if you have, you should take the Serial Killers: The Blood and Tears Walk . But, I mean, even if you haven't, you can upgrade and get a copy of his book while on the tour.
What makes this one of the best ghost tours in London ? Your guide is author Declan McHugh himself! This tour will take you to all of the serial killer history hot spots and include stories about graverobbing, witchcraft in England and more.
You will stop at places like St. Sepulchre Without Newgate Church, Red Lion Court and Hare Place, hearing about all of the morbid and macabre histories that took place at these locations.
Declan is a really great tour guide. I mean, he is the author of Bloody London, so how could he not be an incredible guide as well?
Book here: Serial Killers: The Blood and Tears Walk
This tour has a maximum of 20 guests
Insider London Ltd
Have you heard of the "Bucket of blood" pub in London? If you haven't but want to know the story behind it, you should take the London Ghost and Infamous Murders Walking Tour .
This 2-hour tour guides you through the Victorian streets of London under the cover of moonlight. Not only will you see the spooky pub, but you will also pass by the haunted West End Theatres and hear the tales of headless noblemen and ghosts that never leave.
There is a lot of walking on this tour, but you will never be bored listening to the incredible tour guide's storytelling.
Book here: London Ghost and Infamous Murders Walking Tour
This tour has a maximum of 8 guests
Evan Evans Tours
What is a ghost tour in London without Jack the Ripper? If you want to take a unique tour, you should go on Evan Evan's Haunted London and Jack the Ripper Tour . What makes this tour one of the best ghost tours in London? You get to enjoy it with a side of Fish and Chips.
This tour takes you around all of the spots that Jack the Ripper tormented on a coach. Then, you will get out and walk down the same path that the notorious serial killer walked when he was tormenting the streets of London.
Tour guide John is passionate about sharing the gruesome history with you. He really knows his stuff, and it will make you wonder who the real Jack the Ripper was! In between stops, you will get to feast on fish and chips. It doesn't get much more London than that!
Book here: Haunted London and Jack the Ripper Tour
Pigeon Tours
If you are interested in the occult, you must take Pigeon Tours Secret Societies, Occultism and Witchcraft Tour .
You will experience London's off-the-beaten-path locations that most tours do not cover, as it is based on the research of Augustus Darcy.
This tour discusses London's secret societies like the Suicide Circle. In addition, you will hear about the history of witchcraft and modern witchcraft in England.
It is a wonderful tour if you are into all of the alternative hidden histories kept secret from the public.
Book here: Secret Societies, Occultism and Witchcraft
Lantern Ghost Tours Limited
If you want to take a paranormal tour which includes using Ouija boards, K2 Meters, dowsing rods and more, you need to take the London: 2-Hour Farringdon Paranormal Activity Tour .
This tour covers stories about plague pits at London's largest execution site and takes you to a traditional London Gin Palace, where you will see abandoned jail cells.
It is an enjoyable tour if you are into ghost hunting, as your tour guide will try to contact spirits at each haunted location.
Book here: London: 2-Hour Farringdon Paranormal Activity Tour
More Information about Dark Travels and Dark History in Europe
Witches in England: English Witch Trials History
Places to Visit with Dark History in England
Haunted Places in York, England
The Best Ghost Tours in York, UK
The Best Ghost Tours in Edinburgh
Spooky Things to do in Edinburgh, Scotland
The 8 Best Dublin Ghost Tours
Haunted places to visit on a cruise holiday
Sharing is caring!
Sign up on TourScanner
Ghost tours in london.
Ghost tours in London reveal a dark side to the English capital, taking sightseeing to spooky new levels. Walking excursions make for spine-tingling experiences, with lingering spirits and creepy apparitions lying in wait around every corner.
If you want to cover more ground, take a bus tour where actors bring London's ghoulish legacy to life. Hidden histories will be exposed as you journey down shadowy streets in search of the next chilling tale.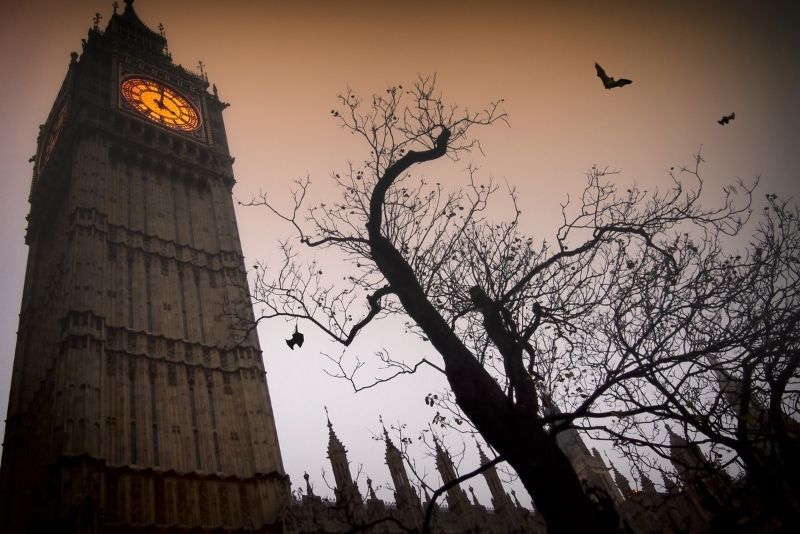 You will find below all you need to know about ghost tours, one of the most fun options for sightseeing tours in London .
What are the best ghost tours in London?
Ghost hunting tours by bus.
Step on board the ghost bus and cruise around the streets in search of ghouls and phantoms. You may feel safe and snug behind those windows, but you never know what might be lurking out there in the dark.
Bus ghost tours in London take you past some of the city's main sights, many of which are hiding gruesome pasts. Be sure to keep your wits about you! Your creepy conductor will narrate a hair-raising comedy horror during the ride. On-board actors bring the tales to life, with technical magic adding a chilling extra touch.
As part of your sinister sightseeing experience, you'll discover secret burial grounds and eerie palaces. The itinerary takes you to the heart of the West End as well as south of the River Thames . You'll pass Westminster Abbey , Fleet Street and London Tower Bridge on the way – they seem far scarier after daylight has faded.
Ghoulish walking tours
London ghost walking tours take you into the heart of the capital at night, far beyond the places accessed by tour buses. Your expert local guide will lead you down spooky streets and across quiet parks in a search for the supernatural.
Listen to tall tales of grisly murders and disturbing crimes as you head ever deeper into the historic center. St. Paul's Cathedral plays a major part and is a popular photo stop with the illuminated dome lighting up the night sky.
Muster your courage as you check out the mysterious back alleys – this is the realm of monsters and demons so don't linger too long.
Private ghost tours
If you want a slightly more tailored experience, then opt for a private ghost tour. You'll still visit the same ghastly locations, but you will have your own exclusive guide.
These tours are usually enjoyed on foot to get you up close and personal to the sites. If there's a particular place or story you'd like to include, just ask the guide before you get started.
Your adventure begins in Green Park where you'll encounter the ominous Death Tree. If you fall asleep here, rumor has it that you'll never wake up. Next on the agenda is the city's spookiest building which is said to be the home of several poltergeists.
During the ghost walk, you'll learn about intriguing hauntings, including otherworldly sightings of renowned scientist, Michael Faraday.
Other scary spots include Albemarle Street and Piccadilly Arcade, where tales of strange encounters will bring out the goosebumps.
These popular ghost tours in London finish with a flourish at the eerie 16th-century palace by St. James's Park.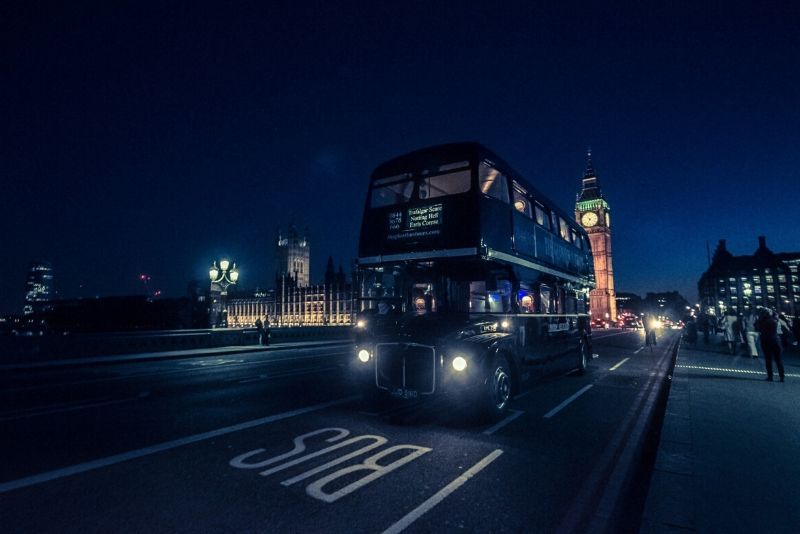 How much do ghost tours in London cost?
Ghost hunting in London by bus is operated on a group basis, which makes it an affordable and convivial experience.
Tickets cost £30 per passenger for an hour-long ride. Children under 5 years can travel for free if there are spare seats available on the bus.
London ghost walks are the cheapest option for spooky city experiences. The tours are run in a small group setting to keep things cost-effective yet intimate. It costs just £20 to reserve a place for a 2-hour trip.
Private London ghost excursions cost £280 per person for an exclusive 3-hour walking tour. Your experience can be personalized, and you'll have your own dedicated guide for the duration.
What is included in a ghost tour in London?
All ghost tours in London include a local guide to bring your experience to life. Some guides give a theatrical performance during the excursion to add an extra level of drama to the outing.
Hotel pickups are not provided on these tours but start points are all central and easily accessible.
Where do ghost tours in London start?
The bus ghost tours begin outside The Grand Hotel near Trafalgar Square. You need to arrive 20 minutes before departure.
Ghost walking tours start from various points across the city center. All Hallows by the Tower Church is a popular choice.
Private walking tours start beside the Statue of Goddess Diana in the northern corner of Green Park. The easiest way to get there is by tube, alighting at Green Park Station.
How long do ghost tours in London last?
Ghost walks in London are generally a couple of hours long, while bus tours last around an hour. This is ample time to take in London's spookiest locations and get a taste for the city's murky past.
Private experiences can be up to 3 hours as they take in lots of sights and include more dialogue at each spot with the guide.
When is the best time for a ghost tour in London?
Most ghost tours in London take place during the evening as this is when the spirits come out to play! Common start times are between 7 PM and 9 PM.
Remember that it gets dark later during the summer. So, for optimum ghoul exposure, go for a late departure if you can.
Are there any combo experiences available with ghost tours in London?
London ghost walk with river thames boat cruise.
Take a walking tour through London and discover the city's mysterious side. You'll learn about haunted historic sites and see the royal parks in a new light.
Then it's time to jump onboard a riverboat for an evening cruise along the Thames. You'll see the illuminated attractions and hear spooky stories associated with some of London's most famous sights. The ghost tour ends with a haunted house and the terrifying Tower of London prison.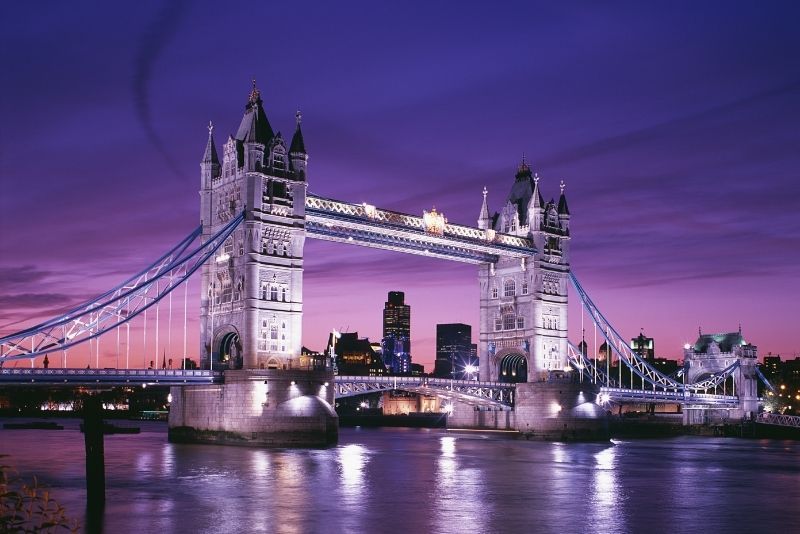 Are children allowed on a ghost tour in London?
Yes, youngsters are permitted to join London ghost tours. Just consider whether they'll be able to handle the dramatic storytelling by the guides, and the gruesome tales that are all part of the experience.
Walking tours are only advisable for older children as although the pace is leisurely, they'll still need to keep up with the group.
Travel tips
Guide tips are not obligatory but are always appreciated if you've enjoyed your excursion.
Ghost tours in London are a hotly anticipated part of a visit to the city. It's advisable to book well ahead so you don't miss out on your chosen date.
A moderate level of fitness is required for the walking tours as you will be covering a fair distance.
Wrap up warm if you're visiting in winter – it can get surprisingly cold in the capital.
Looking for more tours?
Best places to visit in london, tours and things to do in london, best day trips from london.
This website uses cookies to improve your browsing experience and analyze the use of the website. Learn More
London Ghost Tours and Haunted Walks
This is a comparison post of the best London ghost tours, the dark side of London tours, and haunted bus tours, including our pay-what-you-like London ghost tour .
Ghost Tours
Haunted Bus Tours
Dark Side of London Tours
Jack the Ripper Tour
Spooky Attractions
Other London Night Tours
BEST GHOST TOURS
The following are traditional London ghost walks that bring London's haunted history to life.
Learn about a variety of true crime stories and supernatural tales of ghouls and phantoms in the shadows.
Each runs for 2-2.5 hours and costs approximately £12 - £20 per person.
Free Tours by Foot is the only company to offer a pay-what-you-like ghost tour, which takes you near London Bridge to learn about the city's darker history.
Free Tours By Foot
Take a walk through the sinister past of the Dark Side of London, hearing ghost stories, tragic tales, and creepy facts and figures, all the more unsettling because it is true!
Join Free Tours By Foot on a walk through London's most fascinating dark heritage as we explore medieval London.
You will learn the stories of heretics burnt alive, little girls terrifying travelers on the tube, deadly surgeries, ghosts with missing feet, kings and heroes killed in the most unexpected way, and standing before an old Victorian hospital famous for grave robbery.
We will visit the largest 'Plague Pit' in England – only discovered in 2003 and continue on to the Old Bailey Courthouse, the site of countless executions and the trial of a Victorian serial killer 100 times more prolific than Jack the Ripper!
A visit to Cock Lane will uncover the adulterous scandal behind a series of murders, hauntings, and seances in Georgian London, and we will finish our tour at the largest 'Plague Pit' in England – only discovered in 2003.
Wander through the ancient "Smooth field," the site of countless grisly executions, and connect with Sherlock Holmes at a medieval hospital.
Winding through dark lanes, as you approach London Bridge you'll hear the grim origins of many medieval nursery rhymes, and enter the City to visit a skull-festooned church that holds the remains of the woman who brought the Black Plague to England.
This tour, guided by a professional storyteller and scholar of dark heritage, is a must for anyone who wants to get off the beaten track and learn about the macabre tales that this ancient city has to offer.
Join Free Tours By Foot on a walk through London's most fascinating dark heritage as we explore the most disturbing and haunting tales of the Old City.
You'll never look at London the same way!
Sites and Topics We Cover on the Dark Side of London Tour:
Ghosts of the Underground
Smithfield Market
Charterhouse Square
Medieval Hospital of St. Bartholomew
900-year old Church and Graveyard
Newgate Prison
Triple Execution Site
Grave Robbers Pub
The Cock Lane
The Old Bailey
Tour information
Reservations: Click here to reserve .
Where: Meet your guide outside of Farringdon Underground Station, in front of the main station entrance/exit between the new and old stations. ( map )
The tour ends at St. Paul's Cathedral.
Duration: Approximately 2 hours.
When: Tuesdays at 29:00 (7 pm) and Fridays at 18:00 (6 pm). View our calendar .
Cost: This tour is free to take, and you get to decide what, if anything, the tour was worth when it's done. A name-your-own-price tour is a tour for anyone's budget.
For more tips on saving money when visiting London, check out our blog posts for London on a budget .
MEET THE STREET
Meet the Street offers a 2-hour Ghastly Ghosts Walking Tour, which aims to share London's haunted history with visitors from around the world.
The tour begins at the Tower of London and concludes at St. Paul's, stopping at several sites in the City of London along the way.
Though it promises to send chills down your spine, this tour is much more humorous than scary, as the guides do an excellent job of lightening the mood when the subject matter becomes too grim.
And for those less interested in learning about London's folklore, don't worry!
There are a lot of historical facts shared throughout the tour as well!
Ghastly Ghosts Walking Tour
From £20 per person
Wednesday - Sunday at 20:00 (8 pm)
More details or to book .
See their full range of London tours .
Reviews of Ghastly Ghosts Walking Tour
Meet the Street maintains an excellent reputation on both TripAdvisor and Get Your Guide, averaging 5 out of 5 stars for all of their tours ( read the reviews ).
However, their Ghastly Ghosts Walking Tour is especially highly reputed.
INSIDER LONDON
Similar to their Death and Debauchery Tour, the Famous Ghosts and Infamous Murders Tour by Insider London is a slightly spookier version that focuses on the city's haunted past.
The tour begins outside of Tottenham Court Road Tube Station and lasts approximately 2 hours.
You will visit one of London's narrowest alleyways, a former plague pit, and leper hospital, and a tunnel so haunted that its guides are scared of walking down it.
This is one of the scarier ghost tours in London, so if you're looking for a fright, Insider London might be the company for you!
Famous Ghosts and Infamous Murders
Adults - £12
Children - £10
Seniors - £10
Saturdays at 7 pm
More information here .
Not currently available as of September 2023.
Reviews of Insider London
Guests seem exceedingly happy with the Famous Ghosts and Infamous Murders Tour, describing it as "fascinating and (at times) terrifying" and "highly professional, and offer great entertainment and value for money".
In fact, there are no reviews that rate the tour at less than 4 stars. TripAdvisor Rating: 5 stars.
Additional Haunted London Tours
Paranormal Activity Tour
Haunted London Pub Tour
Ghosts of London: Escape Game
Serial Killers: The Blood and Tears Walk
HAUNTED LONDON QUEST
Although it's not really a tour, this self-guided exploration game will give you the task of solving a mystery as you discover some of the most haunted locations in London.
This game also includes a variety of true horror stories and details about curses that may plague the city.
Find out more about this Haunted London Quest .
HAUNTED BUS TOURS
Ghost bus tours.
Ghost Bus Tours is the only company currently offering a haunted bus tour of the city.
Though more expensive than the walking tours and not quite as long, the Ghost Bus Tour allows you to see a much larger area of the city.
TIP: This tour is included for free with the iVENTURE Card tourist discount pass. Learn more about tourist passes by clicking here .
Described as a comedy-horror show, the Ghost Bus Tours lead a 75-minute scary sightseeing tour around the city.
However, perhaps the most exciting part of this tour is the bus itself!
The Necropolis Bus is midnight black and used to be part of a private fleet of funeral buses that were used until all but one (the Ghost Bus) was destroyed in a fire in 1967.
Ghost Bus Tour
Adults (ages 16-59) £28
Children (ages 6-15) £19
Children (ages 5 and under) Free
Seniors (ages 60+), Military with ID, Student (with ID ages 16-25) £21
Departs nightly at 6 pm, 7:30 pm, and 9 pm
More information or to book .
Reviews of Ghost Bus Tours
Most people seem to find the Ghost Bus Tour extremely entertaining and fun, with the tour averaging 4.3 out of 5 stars on both TripAdvisor and Get Your Guide ( read the reviews ).
Reviewers love the bus's spooky decor and the conductor's wacky personality.
Though a few seem disappointed that it wasn't scary, it is important to remember that it isn't advertised as such!
This is a comedy horror show that aims to make you laugh above anything else.
DARK SIDE OF LONDON
Dark Side of London Tours usually refrains from telling stories of the supernatural and instead, focuses on the city's darker history.
Tales of murder, debauchery, crime, and brutality are rife throughout each of these tours -- all of which are aimed at mature audiences.
Murder Mile Tours and Insider London offer tours that are very similar in style and price, costing £15 per person.
City Wonders also covers a similar part of the city but is significantly more expensive at £30 per person.
However, their reviews are extremely positive with many guests raving about their experiences.
MURDER MILE TOURS
Murder Mile Tours offers just one tour: Soho's Infamous Murders Walking Tour.
However, though their offerings may be limited, Murder Mile Tours is hugely popular with visitors to learn more about London's seedy history. Guides are described as "performers of the black comedy"
Soho's Infamous Murders Walking Tour
£20 per person
Depart Sundays at 11 am
Reviews of Murder Mile Tours
Described as "gruesome and great," visitors seem to absolutely love the Infamous Murders Walking Tour offered by Murder Mile Tours.
Several people comment on the impressive enthusiasm and knowledge of their guides, as well as the fascinating route itself.
Some reviewers even admit that they had low expectations for the tour, but were completely blown away by the end. TripAdvisor Rating: 5 stars.
Other Dark Side of London Tours
East End Tours - They offer a Sweeney Todd: The Dark Side of London, which takes you on a journey to find London's most notorious gangsters, Ronnie and Reggie Kray.
Along the way, you will learn all about the gangsters, shootouts, nightclubs, and murders that took place in the 1960s in London.
The Death and Debauchery Tour offered by Insider London is another popular option for those looking to learn about London's darker history.
The tour begins near Oxford Street and takes you through Central London.
One of the great things about Insider London is that you never have to worry about the tour being canceled due to too few people signing up.
Their tours run regardless, so if you're the only person to book a spot, you will be able to enjoy a very intimate tour experience rather than having it canceled!
An Oyster or TravelCard is required as the tour uses the Underground.
Death and Debauchery Tour
From £15 per person
Every Friday at 5 pm
Insider London has really excellent reviews for all of their tours, but their Death and Debauchery Tour is especially well-rated, averaging a perfect 5 out of 5 stars on both TripAdvisor and Get Your Guide.
One of the most popular sites on this tour is the "Ghost Station," which can be seen very briefly from the window of a moving train. Guests seem especially impressed with the guides, who do a fantastic job of illuminating the scarier side of London.
One visitor even described the tour as one of the best (if not THE best) they have ever been on.
You really can't do better than that! TripAdvisor Rating: 5 stars.
Cloak and Dagger Tour
This interactive tour covers some of the lesser-known stories of murder and revenge from throughout the history of London.
Guests can expect to see or visit several noteworthy and historic sites in South Bank, including a stop at George Inn, London Bridge, Borough Market, Southwark Cathedral, and Clink Prison Museum.
You can expect this outing to take around 2-3 hours to complete.
Food and drinks are not included in the ticket price.
Availability: Tues - Sun
Hours: 4:30 pm
Purchase tickets or learn more .
Reviews of the Cloak and Dagger Tour
With over 680 ratings, this company has an overall rating of 5 out of 5 stars on Viator.
Very few people give this tour less than 3 stars, and almost everyone has given them a full 5-star rating.
Guests agree the tour is informative, their guide is knowledgeable and fairly unique.
Some reviewers even note that this covers more of the untold history of Southwark, going off the beaten path from other such tours.
SPOOKY ATTRACTIONS
The London Bridge Experience & Tombs and The London Dungeon are two popular attractions that bring London's darkest history to life with intricate sets, enthusiastic actors, and lots of scare tactics.
Of the two, London Bridge Experience & Tombs is regarded as more terrifying.
However, both successfully frighten people of all ages.
The London Dungeon is a fair bit more expensive, starting at $30 per person rather than the $20 per person for the London Bridge Experience & Tombs.
Yet, the former maintains a better rating on TripAdvisor and has several reviewers who comment on its excellent value.
LONDON BRIDGE EXPERIENCE & TOMBS
The London Bridge Experience and Tombs is a spooky attraction that uses professional actors and intricate sets to showcase London's gruesome history.
The London Bridge Experience lasts approximately 60 minutes and spans 2,000 years of history.
After braving the horrors of the Experience, you are then led to the Tombs where you are meant to face your worst fears including evil clowns and nesting spiders.
This attraction has won the UK's Scariest Attraction for 8 years in a row and the Top Horror Attraction in the World.
London Bridge Experience and Tombs
Adults £22.50
Children (ages 15 and under) £19.50
Students and Seniors (65+) £21
Open daily from 10:30 am - 5:00 pm
Reviews of London Bridge Experience and Tombs
Reading through the reviews, it seems that guests either love or hate the London Bridge Experience and Tombs, with a 3.5 out of 5-star rating on TripAdvisor and a slightly better 4 out of 5 stars on Get Your Guide ( read the reviews ).
For many, the attraction is both hilarious and terrifying, while also incorporating lots of interesting British history.
Others found it to be overly cheesy and to rely too heavily on cheap scare tactics.
However, the general consensus is that you will enjoy it as long as you enter with an enthusiastic attitude!
TripAdvisor Rating: 3.5 stars.
THE LONDON DUNGEON
The London Dungeon is a unique, interactive attraction in which you are guided through several different shows by professional actors who aim to make you laugh and scream in equal measure.
Each show brings to life a different moment in British history, with the entire production spanning 1,000 years of history.
There are a total of 19 live interactive shows, 20 actors, and 2 creep underground rides.
The entire experience lasts approximately 1.5 hours and is conveniently located next to the London Eye.
Guests who are 16 and under must be accompanied by an adult.
The London Dungeon
Adults (age 16+) – from £29.50
Children (age 3-15) – from £23.50
Children under 3 – free
Reviews of The London Dungeon
As one guest describes it, "it was so tacky, but so much fun!" Don't expect to be seriously scared during this attraction.
The London Dungeon is a fun and interactive way to see history come alive while having a few laughs along the way.
Some were disappointed with the long lines and overcrowding, however, that largely speaks volumes about the popularity of this attraction.
The staff has received several compliments for their enthusiasm and quality of acting.
RELATED POSTS:
Things to Do at Night in London
Jack the Ripper Tours
London on a Budget
Most Haunted Places in London
Choose a Destination... I want them all PLUS general travel tips. Amsterdam Berlin Boston Charleston Chicago Dubai Lisbon London Los Angeles Miami Nashville New York City New Orleans Paris Philadelphia Prague Rome San Francisco Washington DC
About The Author
North America
United kingdom & ireland, middle east & india, asia & oceania.