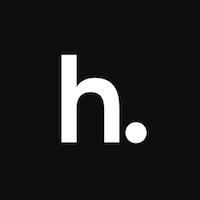 Where Was '3 Bed, 2 Bath, 1 Ghost' Filmed? See Cast Stories & Locations
'3 bed, 2 bath, 1 ghost' was filmed in burnaby, canada.
Hallmark "3 Bed, 2 Bath, 1 Ghost"
According to the ACFC West website, "3 Bed, 2 Bath, 1 Ghost" was filmed in and around Vancouver, British Columbia, in Canada — more precisely in Burnaby, which is located about 15 to 20 minutes outside of Vancouver. Because of the SAG AFTRA strike, which was taking place while the movie was being promoted by Hallmark, the cast didn't talk about the film like they normally would. Gonzalo has been very open on her social media about her support for the strike. While recent negotiations have been productive, the strike is still ongoing, LA Times reported. The WGA strike for writers has reached a tentative deal, ending their strike.
The movie was filmed from June 12 to June 30, 2023.
According to Cinemaholic, the haunted house was filmed at the Copper Stone Mansion at 21122 12 Avenue in Langley.
Gonzalo & McNally Have a Child Together
Gonzalo and McNally are a couple in real life, and have one child together.
The couple officially went public with their relationship in June 2022, after Gonzalo tagged McNally in a post celebrating their baby girl's birth. The couple starred in Hallmark's "The Sweetest Heart" together in 2018. In July 2019, ET Online reported that the two were dating
In an interview with Fansided at the time, Gonzalo said that she and McNally would often split cupcakes during filming. She said McNally was a wonderful person and very easy to work with.
When McNally attended a "When Calls the Heart" fan event in 2022, he talked a bit about how much he enjoyed being a dad.
He talked about reading to his daughter, after he was in a scene on "When Calls the Heart" where Lucas read "Robin Hood" to Little Jack.
"My dad used to read me 20,000 Leagues Under the Sea…" he said. "But that would be a sure choice, and also the Hobbit. Which I just recently found out is a children's book because I bought it for myself excitedly… My dad read it to me when I was a kid… I thought I was getting myself a wonderful adult novel. That's OK, because now it's on our daughter's shelf and I'll read it to her."
Meet the Cast
Hallmark's synopsis reads:
A 1920's ghost refuses to leave estate agent Anna's newly listed home. Worse, the spirit is convinced she cannot "pass over" until she gets Anna back together with her ex.
Julie Gonzalo stars as Anna. According to her bio, she was born in Buenos Aires, Argentina. Gonzalo's notable roles include her portrayal of Pamela Rebecca Barnes in the popular TV series "Dallas" and her appearance in the hit movie "Freaky Friday." She has had a notable presence in the Hallmark Channel's lineup of romantic movies, making her a fan favorite. She starred in several Hallmark original movies, including "The Sweetest Heart," "Falling for Vermont," and "Flip That Romance."
Chris McNally stars as Elliot. According to his bio, he was born in North Vancouver, Canada. McNally has starred in popular Hallmark films like "Hearts of Winter" and "The Sweetest Heart." He's also won Hallmark viewers' hearts by starring as Lucas on "When Calls the Heart."
Madeleine Arthur stars as Ruby. According to her bio, she was born in Vancouver, Canada. Arthur is best known for her work in popular films such as "To All the Boys: P.S. I Still Love You" and "Color Out of Space."
Also starring in the film, according to Hallmark's press release, are:
Xavier Sotelo (Garrett)
William C. Vaughan (Terrence)
Sarah Peguero (Josephine)
Thomas Darya (Charlie)
K. Scott Malcolm (George )
Ryan Irving (Thomas)
Sophia Johnson (Claire)
Linden Banks (Dr. Pregan)
Pauline Egan (Librarian)
Christina Meredith Lewall (Arborist)
Kwesi Ameyaw (Chairperson)
Winson Won (Suit)
Ella Fair (Waitress)
Danielle Brokopp (Flapper #1)
Montana Moore (Flapper #2)
Jaimie Ashworth (Flapper #3)
Christina Hamdon (Flapper #4)
Alex Rockhill (Gardener)
READ NEXT: Hallmark's Full Christmas Lineup for 2023
Like Heavy.com's content? Be sure to follow us .
This article was originally published on Heavy.com
30+ Issues You Might Face If You Are In A Haunted House Movie
Have you tried leaving yet?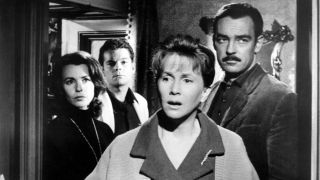 Have you recently moved into a new house and it already feels like there is something off about the place? Do you often hear creeks and bumps in the middle of the night or pieces of furniture in places they were not before? Do you see dead people?
Well, if you can relate to any of that, it sounds like you might exist in a haunted house movie , but that is no reason to panic just yet. Those kinds of classic horror films actually have the highest survival rate when compared to other spooky subgenres, especially if you can prepare yourself by studying the following scenarios that are likely to happen when you share a living space with the non-living.
Your Hope To "Start Over" In This New House Falls Flat
If you purchased your new home as a way for you or your family to hit the reset button on life, only to come face-to-face with the dead, you have my deepest sympathies. However, you are not alone since most haunted house movies start this way — from George C. Scott's grieving protagonist in 1980's The Changeling to Rosario Dawson 's single mother in Disney's 2023 Haunted Mansion reboot , most recently.
The House Is A Total Steal
You might not have paid much mind to how unusually cheap your new property turned out to be, chalking it up to it being a fixer-upper or maybe just so happy to find such a good deal. Of course, it will quickly become apparent why, just like when the Lutz's discovered their house in the Amityville Horror was a crime scene.
The Haunting Could Distract From That Project You're Working On
If you chose your new home (or rental) hoping it would be perfect for a new creative endeavor, you also have my condolences because you're never getting that thing done. The ghosts from Insidious cut deeply into Rene Lambert's (Rose Byrne) songwriting, for instance, and while Jack Torrance ( Jack Nicholson ) technically does finish his novel in 1980's The Shining , it's a pretty repetitive read .
The Entity Might Wait A Week Or So To Show Its Hand
It probably took a while for you to realize what you were up against, didn't it? Ghosts and demons seem to operate on the slow-burn horror method, starting off with a few unconcerning noises before resorting to something like possessing a tree that tries to eat your son, like in the allegedly "cursed" classic, Poltergeist , from 1982.
Your Child May See Something You Can't
Speaking of Poltergeist , was one of the younger members of your family the first to mention something strange going on the house? Kids tend to be more susceptible to paranormal activity , much like six-year-old Carol Anne (Heather O'Rourke), who first announces to the Freelings that, "They're here."
Your Kid Might Make Friends With The Entity
If your child never mentioned any weird stuff going on, they might not realize they are interacting with a spectral being and even think it's just another kid who happened to be in the neighborhood. For instance, in the first of the Conjuring movies , young April Perron (Kyla Deaver) became close to a ghost named "Rory."
Your Pet May Sense Something Evil
If your kids haven't noticed anything strange, your pets likely have and they already know it's bad news, which is why it's a shame they cannot verbalize their warning. Then again, the black Labrador from 1979's The Amityville Horro r, Harry, arose the Lutz's suspicions pretty effectively by digging at what turned out to be a gateway to Hell until he bled.
The Skeptic Is Affected The Worst
If you bring up the haunting and no one in the house believes you, that might grant you some immunity from the spirits' wrath, but could seal the others' downfall. Take it from John Cusack's character in 1408 , who sets out to prove he has nothing to fear in the titular hotel room, but learns he is dead wrong.
Someone Might Fake A Few Haunting Details
There may come a moment, however, when the skeptics feel validated when proof that the haunting might be hoax comes to light. For instance, in the underrated mockumentary, Lake Mungo , teenager Matthew Palmer (Martin Sharpe) fakes evidence of his sister's ghost and it is discovered that the seemingly possessed Janet Hodgson (Madison Wolfe) is really good at throwing her voice in The Conjuring 2 .
The Entity Might Like To Play With Toys
If you're wondering how your child could feel unthreatened by a supernatural being, they probably caught them at playtime. When it comes to manipulating objects, some entities prefer your children's favorite things, like when the unseen presence from 2022's experimental horror flick, Skinamarink , turned a Fisher Price phone into nightmare fuel.
If You Have Any Crosses, Expect To Find Them Upside Down
If you're a person of faith, the entity might use that against you, too, by turning crucifixes in the house into a symbol of evil with a simple flip. In The Conjuring 2 , Janet's room is covered in crosses — all of which are turned upside down before her eyes.
The Building Interior Could Change Before Your Eyes
Some entities might go the extra mile and manipulate the house itself by rearranging the architecture in implausible ways, like in the Overlook Hotel from The Shining . In less subtle cases, they could magically alter parts of the house like it's made of clay — something Jay Evers ( Eddie Murphy ) blames on termites when he witnesses a door physically expanding in 2003's The Haunted Mansion .
The Basement Is The Last Place You Want To Be
There is no real safe place in your house, but there might be one area where the presence is at its strongest and, in most cases, that will be the part of the house closest to Hell. Case in point: demonic passageways found in a basement in the The Amityville Horror and the found footage thriller favorite , Hell House LLC .
Mirrors Might Mess With Your Head
Honestly, in your situation, I'd lose or cover up all your mirrors because they can be a ghost's most reliable manipulation tool. In addition to another killer scene in Poltergeist when a paranormal researcher checks his reflection and becomes convinced he is pulling his face off, there are entire movies about killer mirrors, like the Mike Flanagan 's underrated thriller, Oculus , or Alexandre Aja's aptly titled, Mirrors .
The Entity Might Try To Seduce Someone In The House
Sexuality must be something that can survive death, based on how some entities have expressed certain advances toward the living, such as the spirit who comes on to Ray ( Dan Aykroyd ) in a dream in the horror-comedy classic , Ghostbusters . On the other hand, seduction can also be another effective manipulation tool, which was certainly the case in The Shining 's bathtub scene.
Your Partner Could Start Acting Out Of Character
Obviously, the haunting is going to take a toll on your family, but might be especially daunting on your relationship with your significant other when their behavior takes a concerning turn. This could just be out of a struggle to process trauma, like Josh Lambert ( Patrick Wilson ) in Insidious , or a case of psychological manipulation and/or possession, which makes James Brolin's George Lutz a danger to his family in The Amityville Horror .
The Entity Could Invite You Into Its Memories
Some days you might find yourself witnessing a significant event from the house's past as if it is happening before your eyes. Some entities — like the ones from The Shining — are powerful enough to create this illusion, either for a simple scare or maybe even to teach you something.
Research May Show Some Real Stuff Went Down In Your House
Considering you probably did not look up the house's history beforehand, it would be a good idea to do that now and see what answers you can find. Beware: you may learn it was a bloody crime scene ( The Amityville Horror ), housed a satanic sacrifice ( Hell House LLC ), or was built on top of a cemetery.
You'll Never Be Able To Trust Realtors Again
In Poltergeist , real estate agent Steve Freeling (Craig T. Nelson) realizes his boss, Mr. Teague (James Karen), only moved the headstones but left the bodies from the cemetery his family's home was built on top of. If you discover that happened to you, I would certainly empathize with your inevitable resentment toward the housing industry.
Your Neighbors Might Wait A Little Too Long To Give You A Warning
If not from your realtor, you might get the information you need about the house from someone next door… but probably at the last minute. It takes several episodes of creator Mike Flanagan 's The Haunting of Hill House before Horace Dudley (Robert Longstreet) shares with Hugh Crain (Henry Thomas) his own unsettling experience with the titular estate.
Even Paranormal Experts Might Be Spooked By Your Situation
If you call a professional ghost hunter or demonologist, despite being in the business of scary stuff, they might be a little squeamish when they enter your premises. I suppose I can understand why the medium (Mark Frederichs) from the the first installment of the Paranormal Activity movies decides to leave Katie (Katie Featherston) and Micah's (Micah Sloat) house seconds after entering near the end.
The Paranormal Experts May Go Above And Beyond Explaining Hauntings To You
On the other hand, some paranormal researchers are so comfortable with their work that they don't mind talking about ghosts and all their methods of combating and capturing them to ad nauseam. Patrick Wilson and Vera Farmiga's portrayals of Ed and Lorraine Warren are a bit guilty this in the Conjuring movies, but they are not the only ones.
Even A Priest Might Not Not Be Able To Save You
I would like to say that — no matter your beliefs — your best chance might be in calling a member of the clergy, but I don't even have much hope in that option. Rod Steiger's Father Delaney failed to help the Lutz Family in The Amityville Horror due to a lack of support from his diocese and the house's own resistance to his efforts.
Someone Could Recommend Holding A Seance/Ouija Board
There may come a time when it is decided that you should contact the entity directly to work things out amongst yourselves. This can be achieved through holding a seance or with the use of a Ouija Board.
The Seance/Ouija Board Will Probably Just Make Things Worse
You did not actually try the seance or the Ouija Board, did you? Because as countless films — such as the video call horror favorite, Host , to the aptly titled Ouija movies — will prove, it's not going to help you one bit.
The Entity Might Actually Be Attached To You
It is actually possible that the house was never haunted until you entered the premises and the one that is haunted is you. That's exactly what the Paranormal Activity movies timeline explores in regards to Katie's history and the reason why the Lamberts can't escape their demonic tormentors by switching houses in Insidious .
The Entity Might Actually Be Trying To Warn You About Something
There's a chance this ghost is not out to get you, but actually could be what saves your life. In one of the best horror movies of the 2000s , What Lies Beneath , Claire Spencer (Michelle Pfeiffer) learns some very startling, but very helpful information from the presence haunting her dream home.
The Entity Might Just Need Your Help
Or, maybe, it is you whom the ghost needs a favor from. In The Changeling — one of Martin Scorsese's favorite horror movies — John Russell (George C. Scott) works tirelessly to solve the mystery behind the death of the boy haunting his Seattle mansion.
Maybe You're The Ghost?
You might want to consider the upsetting possibility that you're the one who is unwittingly dead and the apparitions you're seeing are just people you are haunting. There have been a number of horror movies with twist endings like this.
The House Might Not Actually Be Haunted, But Alive
You know what would be even scarier than living in a haunted house? Living in a house that haunts, much like the titular antagonist of 2006's spooky, but kid-friendly movie , Monster House .
If You Put A Lot Of Money Into The House, Moving Is A No
It seems like the obvious solution to your problem would be to just get out of there, but because that would likely hurt you financially, you're actively looking for other options. That's probably why the living and deceased members of the Beetlejuice cast were willing to share the house by the end, after getting rid of Michael Keaton's title character, of course.
It Could Be Physically Impossible To Leave
There is also the possibility that no amount of money or a strong enough prayer or battering ram will allow you to escape because the house will not let you. It is kind of like how busting open the front door of the abandoned asylum from 2011's Grave Encounters only led the paranormal investigation show crew into more dark hallways.
Hopefully this has been helpful... or made the next few upcoming horror movies set in a haunted house easier to predict!
CINEMABLEND NEWSLETTER
Your Daily Blend of Entertainment News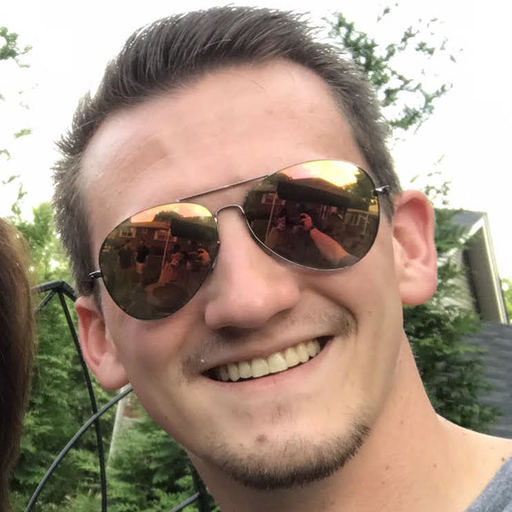 Jason has been writing since he was able to pick up a washable marker, with which he wrote his debut illustrated children's story, later transitioning to a short-lived comic book series and (very) amateur filmmaking before finally settling on pursuing a career in writing about movies in lieu of making them. Look for his name in almost any article about Batman.
Transformers Producer Explains How Fan Reaction To Bumblebee Influenced Rise Of The Beasts
Margot Robbie Had Over 30 Outfit Changes In The Barbie Movie, But One Was Way Harder To Get Right Than All The Others
32 HBO Shows That You Probably Forgot Existed
Most Popular
By Corey Chichizola October 11, 2023
By Jason Wiese October 11, 2023
By Alexandra Ramos October 11, 2023
By Laura Hurley October 11, 2023
By Danielle Bruncati October 10, 2023
By Jason Wiese October 10, 2023
By Jerrica Tisdale October 10, 2023
By Alexandra Ramos October 10, 2023
By Mick Joest October 10, 2023
2 Lessons In Chemistry Showrunner On Why A Weekly Release Is Better Than Binge-Watching For New Apple TV+ Series
3 How To Watch Lessons In Chemistry Online And Stream Bonnie Garmus Adaptation Starring Brie Larson
4 Parks And Rec's 'Treat Yo Self' Episode Is Turning 12. Why It Still Holds Up As My Favorite
5 The Golden Bachelor Is Experiencing One Specific Problem That Bachelor Nation Hasn't Had To Deal With Before
Today's news
Skullduggery podcast
Conspiracyland
My Portfolio
Personal finance
Daily Fantasy
Horse Racing
GameChannel
Team apparel and gear
Shop BreakingT Shirts
Entertainment
Style and beauty
Privacy Dashboard
The Wildest 'Fall of the House of Usher' Scene: Carla Gugino Plays a Chimpanzee
Oops! Something went wrong. Please try again later. More content below
Ryan Murphy isn't the only showrunner who has a reliably great pool of actors to put through different scary scenarios . Across Mike Flanagan's expanding universe, Carla Gugino has played a ghost, a mother on the verge of a breakdown, a broken-hearted narrator, and a wife handcuffed to a bed. Thanks to The Fall of the House of Usher , she can, among other things, add a bartender, a woman with a medical crisis, a sex worker, a security guard, death, a raven, and a chimpanzee to the list.
If you are worried your mind started wandering while reading that list and you are now in an Edgar Allan Poe-induced fever dream, fear not, as Gugino really does inhabit all of those identities in Flanagan's last spooky limited-series Netflix offering—yes, including the chimpanzee.
Gugino's impressive ability to simultaneously portray contradictory emotions has been utilized with maximum effect by Flanagan in the past. In Usher , the showrunner has given one of his frequent collaborators an even larger supernatural playground to showcase dueling emotions, calling on her to lean into preposterous scenarios (like mimicking an ape) without breaking a sweat. The chimpanzee moment in Episode 2 is one that walks up to the line of absurdity, especially so early in the season, but it works, and I'm pretty sure that is all because of Gugino.
Rather than simply adapting one Poe story into a series that ends up being a thinly veiled depiction of the infamous Sackler pharmaceutical dynasty , Flanagan rolls the dice on the complete works of the Gothic writer and combines elements from the creepy collection of short stories and poems. As Verna (word puzzle fans will notice this is an anagram for "raven"), Gugino plays the ultimate puppet master, orchestrating the titular collapse of the Usher family. Considering how much revelry the twisted tales feature, it is stiff competition, but no one is having more fun leaning into the layers of this delectably macabre setting than Gugino.
In the series premiere, pharmaceutical titan Roderick Usher (Bruce Greenwood) mourns the death of his six children, who have recently perished in separate disturbing and violent incidents, beginning with his youngest Prospero (Sauriyan Sapkota) and ending with first-born Frederick (Henry Thomas). Across eight episodes, Verna—and Gugino—take on different personas to dish out the finer details of a deal made on New Year's Eve more than 40 years ago.
Heavy eyeliner is a favored signature that frames Gugino's expressive eyes, whether she's purring an alluring observation or delivering a heartfelt parting. It is a role that is equally beguiling and menacing, depending on which sibling is about to meet their end and how Joker-like elastic her smile becomes. An array of wigs and clothing ranging allow her some anonymity as she portrays figures as disparate as a grungy cat shelter worker and a delectable Gothic triumph—someone should cast Gugino on Wednesday based on this look alone.
Thankfully, though, that masquerading doesn't extend to sporting old-school Planet of the Apes prosthetics during the chimpanzee sequence.
Aping Around
Verna's second kill occurs in the episode named after Poe's famous "The Murders in the Rue Morgue," which is cited as the first modern detective fiction story, and features an unusual killer. The culprit? An Ourang-Outan (or orangutan as this animal is know today) escaped a Parisian apartment armed with its owner's straight razor, played here by Gugino as a chimpanzee.
'The Fall of the House of Usher' Is Wickedly Macabre TV Even Edgar Allan Poe Would Be Proud Of
Of all the nods to Poe, a killer ape is perhaps the most bizarre, but Gugino is more than game, leaning into the animalistic movements this bonkers set-up requires. Verna first becomes a DGAF security guard alias, before going full method as a chimpanzee.
Camille (Kate Siegel) attempts to uncover her sister Victoire's (T'Nia Miller) disturbing and illegal work on apes at a secure facility. The soon-to-be next victim treats Verna like shit because of her pricey shoes and finds her nothing more than a petty inconvenience. In response, Gugino's voice deepens and becomes more laconic, emphasizing her unbothered reaction to Camille's threats of getting her fired. She might as well have a cigarette dangling from her mouth.
Things like time and space don't restrict Verna, so her appearance in the same room as Camille after she has entered the off-limits space housing several caged chimpanzees is not unexpected—especially as we know Camille's death is imminent. However, I wasn't expecting Verna to go from dishing out a history lesson on animal testing (apparently, the Ancient Greeks started it in the fourth century BCE) to leaping on the center table like a woman possessed. Or, should I say ape-possessed?
Either way, Gugino's physicality quickly transforms from a hunched-over security guard to an ape sizing up a threat. Presumably, some wire work aided this jump, but what follows is all Gugino as she mimics the primates in this room and turns what could be a ridiculous scene into one that is scary and ridiculous—all while giving a literal voice to the animals that are harmed in the name of so-called science.
Watching this unfold half in fear and far incredulous (my expression matches what is onscreen), Siegel reduces some of the overt WTF elements with a certain amount of dry wit that runs throughout the series. Overall, Usher isn't as impactful as titles like The Haunting of Hill House and The Haunting of Bly Manor , but its dark humor balances out some of the sillier sequences, including this one.
It also helps that Gugino leans all the way into the ape persona while her scene partner ultimately says "fuck it" to her fate. It doesn't get much weirder than this, and Gugino embodies the brutal menace and overall distress experienced by the test subjects.
Performing Poe
Verna is one of several characters that love to monologue, and in a cast of heavyweights (including repeat and new to Flanagan names), Gugino savors every line of dialogue with enough relish to make me briefly forget the whole mimicking an ape thing—even while it is occurring. It is also a series in which characters start spouting Poe's poetry at the drop of a hat, concluding with Gugino's recital of "Spirits of the Dead" in all its lyrical glory.
With each passing episode, Verna's deal with the younger Roderick (played by Zach Gilford in flashbacks) and his twin sister Madeline (Mary McDonnell and Willa Fitzgerald) becomes clearer, and anticipating how each of Roderick's pretty awful adult children will meet their end is part of the fun.
'John Carpenter's Suburban Screams': The Master of Horror Ruins His Reputation
Rather than tap into a one-note lady of vengeance, Gugino imbues her performance with playful levity and menace. She effortlessly switches between these characteristics, and Flanagan has previously deployed this versatility in her splintered roles in Hill House and Gerald's Game .
In the case of the latter, an imagined version of her character, Jessie gives her handcuffed self a pep talk about surviving a horrifying scenario—I won't spoil it, but let's just say I can never look at Gugino's hand in the same way again. In Hill House , doomed matriarch Olivia Crain knows how to alleviate each of her children's anxieties with tender, soft-spoken words until she ultimately comes apart at the seams. As past and present threads together, Olivia is shown in several forms, including ghost trickery, a monstrous vision, and another imagined depiction offering her husband wisdom. Gugino subtly shifts when necessary and isn't afraid to tap into heightened emotions when the scene calls for it.
The actress laps up every grotesque death scenario no matter how silly—see the chimpanzee of it all—or grandiose. And the finale gives Gugino space to deliver a soft-spoken monologue about a future the teenager will not see.
Whereas Usher doesn't result in a similar gut-punch resolution as other limited series titles from the master of nuanced horror, Gugino's respite from delicious bloody vengeance is quietly heartbreaking. "There's a lot about my job I love. But there are moments like these that bring me no joy. I hope you know that," she softly tells the doomed Lenore (Kyliegh Curran). Borrowing the raven's aesthetic with feathered-looking hair and all-black tailored attire (okay, this is an outfit I imagine a classy bird would pick out), Verna takes on the appearance of Poe's most famous refrain without resorting to squawks or flight.
Verna doesn't always need to mask her identity through fun tricks, and this range makes it the perfect showcase for Gugino's talents, and long may this collaboration continue.
Whether an ape, a raven, a benevolent executor, or whatever Flanagan cooks up in future projects, it is unlikely that the filmmaker will say nevermore to one of his most versatile featured players. Here's to whatever twisted scenario Gugino finds herself in next.
Keep obsessing! Sign up for the Daily Beast's Obsessed newsletter and follow us on Facebook , Twitter , Instagram and TikTok .
Read more at The Daily Beast.
Get the Daily Beast's biggest scoops and scandals delivered right to your inbox. Sign up now.
Stay informed and gain unlimited access to the Daily Beast's unmatched reporting. Subscribe now.
Recommended Stories
The it list: jamie foxx serves up justice in 'the burial,' amber heard makes acting return battling demons in thriller 'in the fire,' mike flanagan adapts edgar allan poe short story for 'the fall of the house of usher'.
Yahoo's weekly look at the best in pop culture, including movies, music, TV, streaming, games, books, podcasts and more. Here are our picks for Oct. 9-15.
Travis Kelce pokes fun at NFL's Taylor Swift obsession in 'Saturday Night Live' cameo
Taylor Swift took the stage an hour later to introduce the musical guest.
NFL International Series: How to watch the Baltimore Ravens vs. Tennessee Titans game in London
The NFL is headed across the pond. Here's what you need to know about how to watch the Ravens vs. Titans in London.
No. 10 USC turns in ugly performance, no longer undefeated following 48-20 loss to No. 21 Notre Dame
All of USC's warts were on full display in Saturday night's loss to Notre Dame.
Heisman moment? Try career moment. Michael Penix Jr. delivers for Washington in thrilling win over Oregon
A rivalry. A game top-10 opponent. A sea of purple. The moment wasn't too big for Penix Jr. as he shredded the Ducks before reveling with a delirious Washington crowd.
Cameron Boozer makes a strong statement against A.J. Dybantsa, Prolific Prep in a battle for No. 1 in 2025 class
Boozer's Explorers came out strong, extending the game to a 12-point lead, leaving Dybantsa's Prolific Prep scrambling and not having any answers. The Explorers took the win in a commanding fashion, 83-61.
No. 14 Louisville falls from unbeaten ranks with blowout upset loss to Pitt
In college football, things can change drastically in the course of a week. Just ask Louisville.
'Rick and Morty' Season 7: How to watch the adult cartoon in the US without cable
Rick and Morty return with some slight changes in Season 7 of the smash hit sci-fi series.
MLB playoffs 2023: 7 things that will decide the NLCS between the Philadelphia Phillies and Arizona Diamondbacks
From Trea Turner to Corbin Carroll, here's what to watch as the Phillies and Diamondbacks duel for the NL pennant and a ticket to the World Series.
NFL fines Dolphins WR Tyreek Hill $10K for peace sign
Days before his most recent citation, the Miami wideout said the league has fined him "more than 100k."
Jimbo Fisher's woes continue as Texas A&M drops 8th straight road game, falling 20-13 to No. 19 Tennessee
Another week, another missed opportunity for Texas A&M. And now the heat on Jimbo Fisher may really start to intensify.
No. 7 Washington holds on to beat No. 8 Oregon 36-33 in Pac-12 thriller
Oregon missed a game-tying field goal as time expired.
Rutgers' Tyreem Powell ejected after controversial targeting call on a fourth-down stop
Powell stopped Michigan State RB Nate Carter in the backfield but apparently didn't tackle correctly.
2023 NASCAR Cup Series playoff standings
With his win in the playoff-opening Southern 500 on Sunday, Kyle Larson clinched entry into the NASCAR Cup Series postseason Round of 12.
Walmart's 40+ best deals this weekend — including Dyson, Beats and Apple up to 80% off
Get this: A Shark vac reduced by over $100, a highly-rated electric toothbrush for only $20 and more.
'Hides a troublesome tummy': The flattering sweater 13,000 shoppers love is down to $32
Slip on this cozy, slouchy number — it's nearly 50% off right now.
Amazon just slashed the price of this bestselling cordless DeWalt drill to $99 — save 45%
Over 35,000 Amazon shoppers swear by its portability and power.
Lexi Thompson flirts with PGA Tour history at Shriners Children's Open, misses cut
Lexi Thompson came up just short of PGA Tour history this week in Las Vegas.
Victor Wembanyama becomes 1-man highlight reel in 2nd preseason game
The Spurs rookie finished with 23 points. You're going to want to see how he scored some of them.
Blue checks aren't protecting sex workers from X's porn crackdown
When X (formerly Twitter) launched paid subscription verification, Mistress Rouge, a professional dominatrix, hoped that it would help her advertise to new clients. "It has done basically nothing for my Twitter engagement," Mistress Rogue told TechCrunch over DM. X Premium, the subscription previously called Twitter Blue, was supposed to grant users more than just a blue check mark.
Hooked on Houses
A Fun Place to Get Your House Fix
The Haunted House in the Sitcom "Ghosts"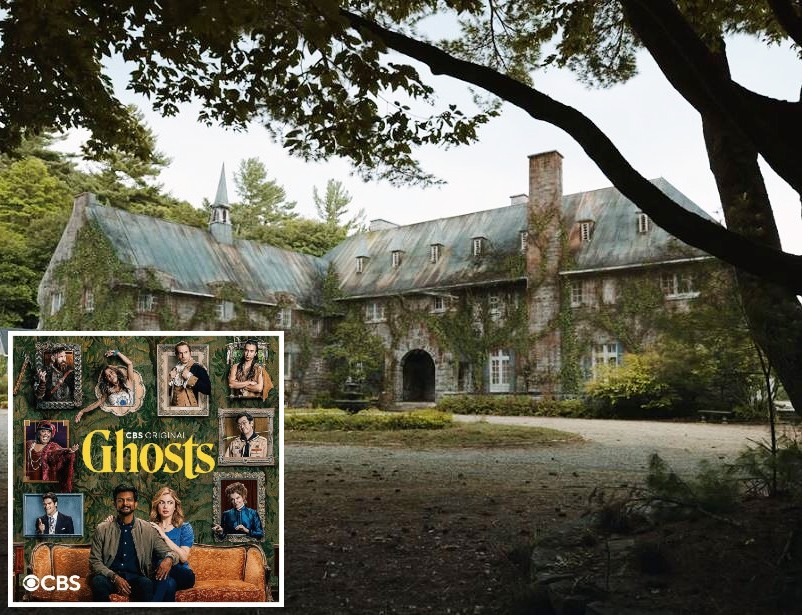 The CBS sitcom "Ghosts" is based on a popular BBC series. I was a fan of the British version (which is streaming on HBO Max if you want to check it out) and wasn't sure if the new one would do it justice. But I was pleasantly surprised to tune in and find it as much fun as the original!
They have some notable differences, but the premise of the CBS show is the same: after a young couple inherits a grand old mansion from a long-lost relative, they decide to fix it up and turn it into a Bed and Breakfast. But after the wife takes a fall and has a near-death experience, she can suddenly see dead people. And there are a lot of them living in the house.
At first the ghosts disapprove of the new homeowners and want to scare them off, but when they realize Samantha is able to communicate with them, they decide it may be worthwhile to let them stay after all.
The house plays such a central role in the show that I was curious about where it was filmed. Read on to find out what I learned about it, as well as the mansion they used in the original BBC series!

The Haunted House in the CBS Sitcom "Ghosts"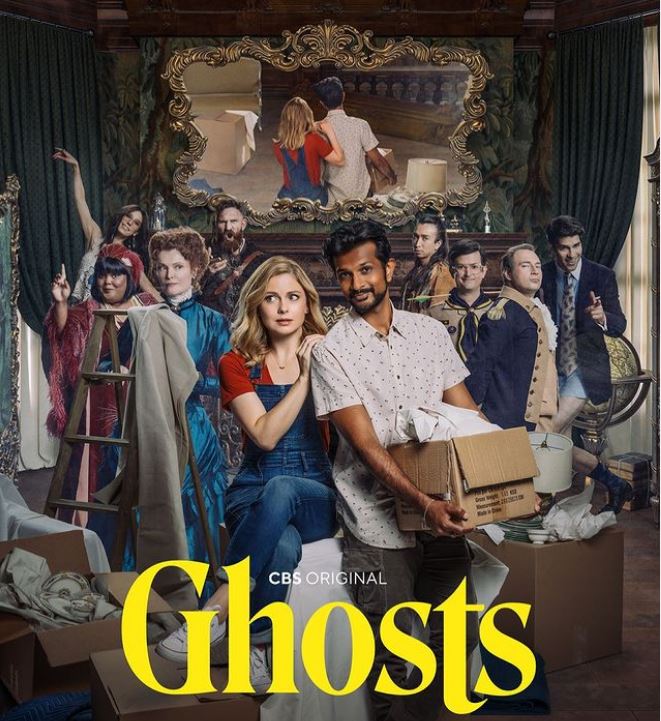 Rose McIver (who you may recognize from iZombie ) plays Samantha, who is horrified to realize that Woodstone Estate is filled with ghosts.
Utkarsh Ambudkar (from Never Have I Ever ) plays her husband Jay, who is baffled to find her talking to empty rooms.
The ghosts include a cast of characters who have died on the estate over hundreds of years and aren't thrilled by the idea of interlopers moving in and turning the place into a B&B.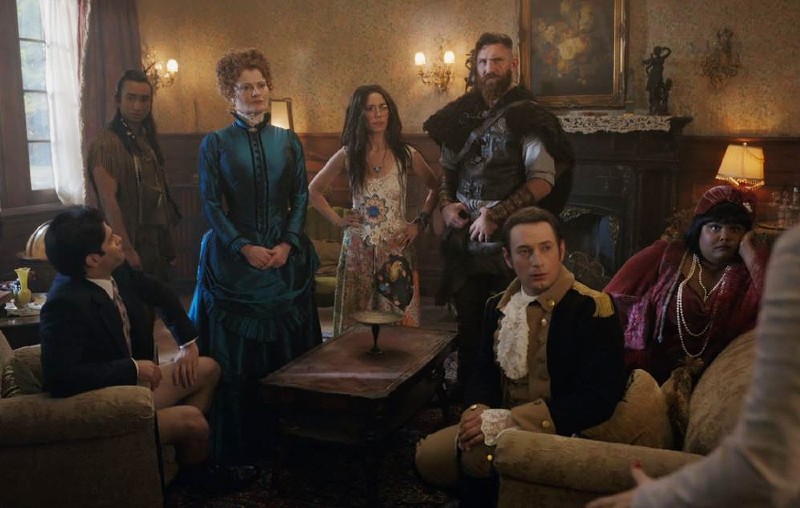 In the original trailer, the attorney showed Samantha and Jay a photo of the country house, and it looked like this (below):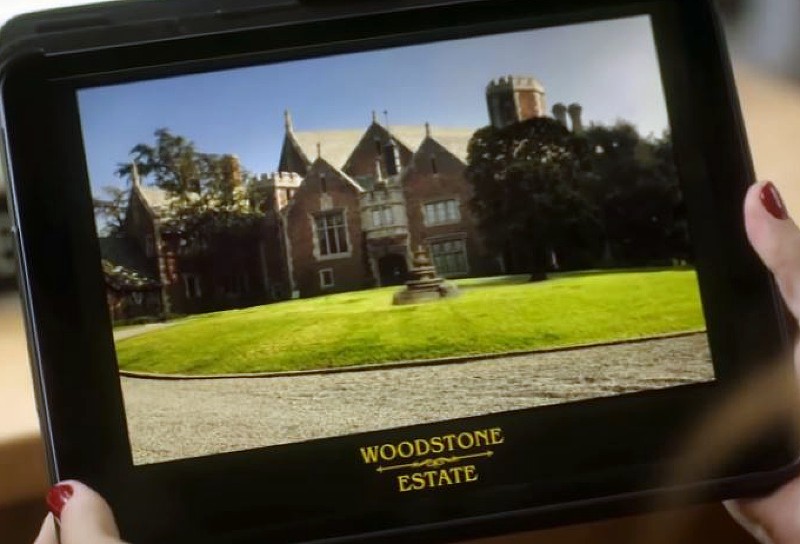 They filmed the pilot at a famous mansion in Pasadena, California.
After that, distractify reports that production moved to montreal., the exterior of the house we see onscreen was built (interior sets were created on a soundstage)., when you stream the episode now, this one is shown (below):.
They probably didn't expect some of us (ahem) to pay such close attention.
They clearly haven't met us! 😉
Woodstone Estate looked pretty good in the photo. But when Samantha and Jay pull up to it, they're greeted by a house with a sagging roof, covered in overgrown vines (below):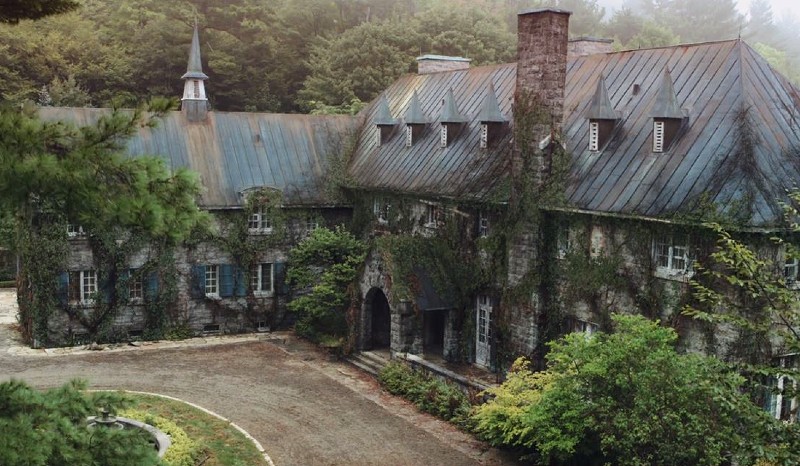 They seem to be using some CGI/special effects to cover the exterior in ivy and make it look older.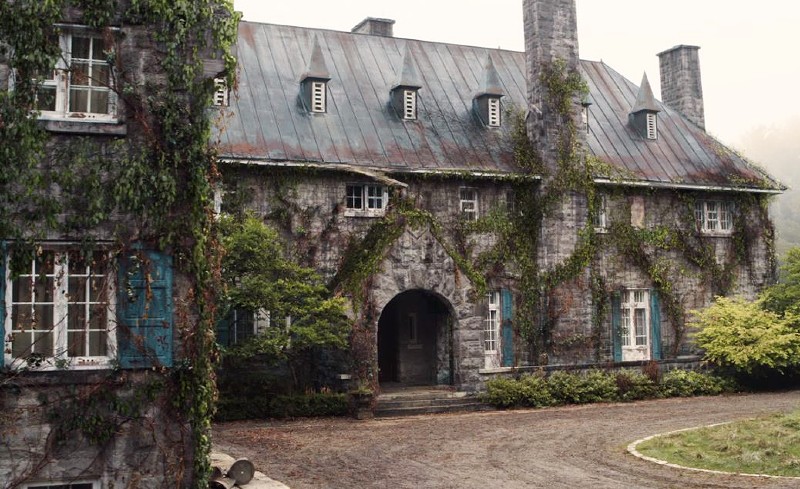 The house where they filmed the first episode in Pasadena has been used in other movies like "Bridesmaids:"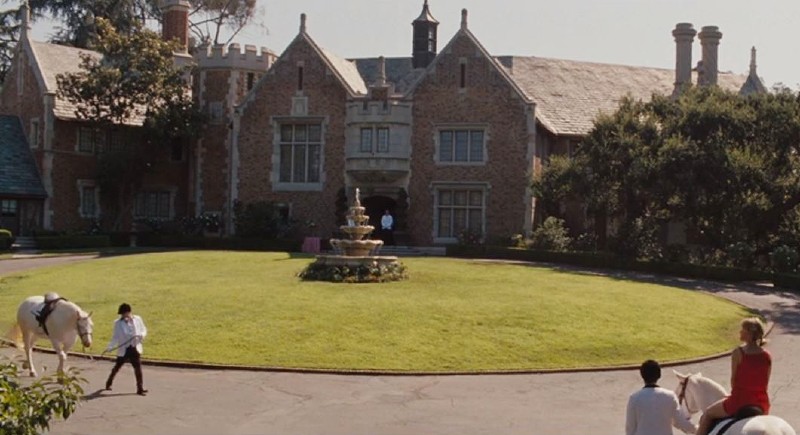 You may also recognize it as Wayne Manor from the "Batman" series in the 1960s.
Here's a screenshot i took of it in the episode "he meets his match, the grisly ghoul:".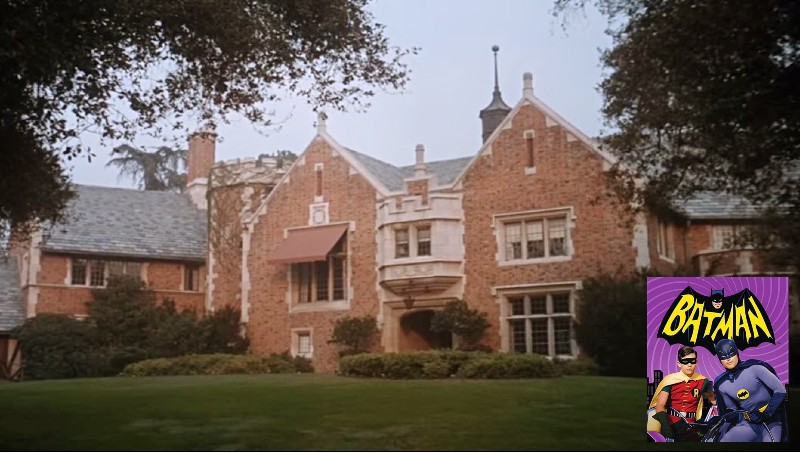 Although they removed the front exterior shots from the pilot episode, a scene filmed in back remains (screenshot below):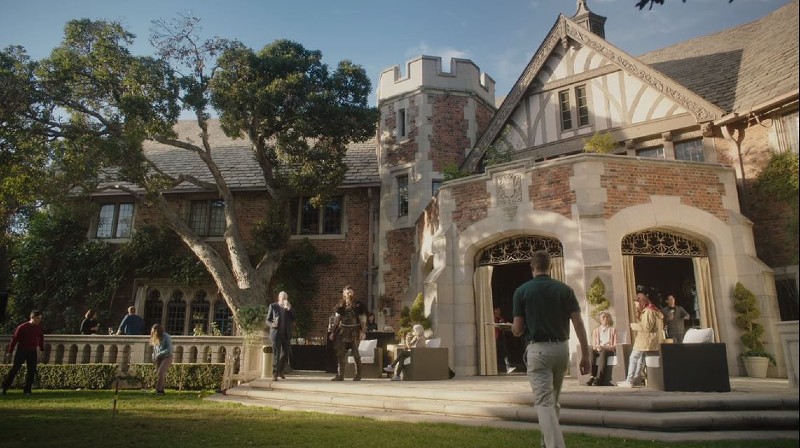 Here's how the same patio looked in "Bridesmaids" (below):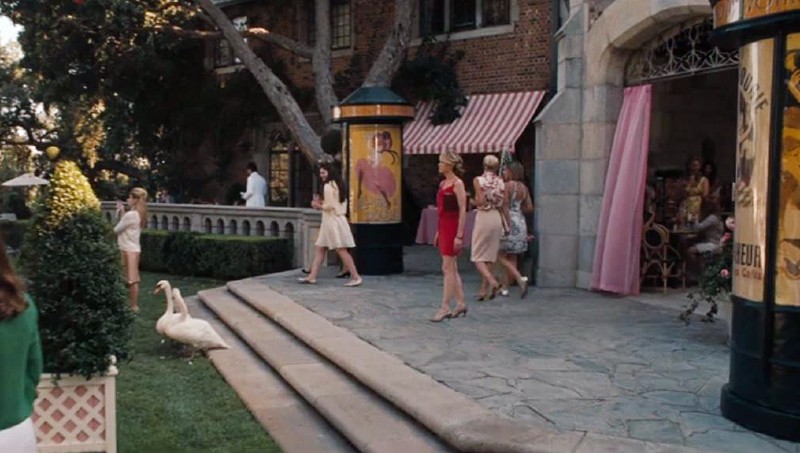 The mansion is located at 380 S. San Rafael Avenue in Pasadena, California.
According to Zillow the Tudor-Gothic Revival-style mansion was built in 1928 and designed by architect Paul Revere Williams .
It has over 16,000 square feet with 10 bedrooms and 6 baths.
You can see the full list of movies and TV shows filmed at this house on Movie Maps, including "Alias," "The X Files," "The Campaign," and "Murder, She Wrote."
They didn't even really try to replicate the look of the real house for the series. It's no longer brick and the turrets are gone (below):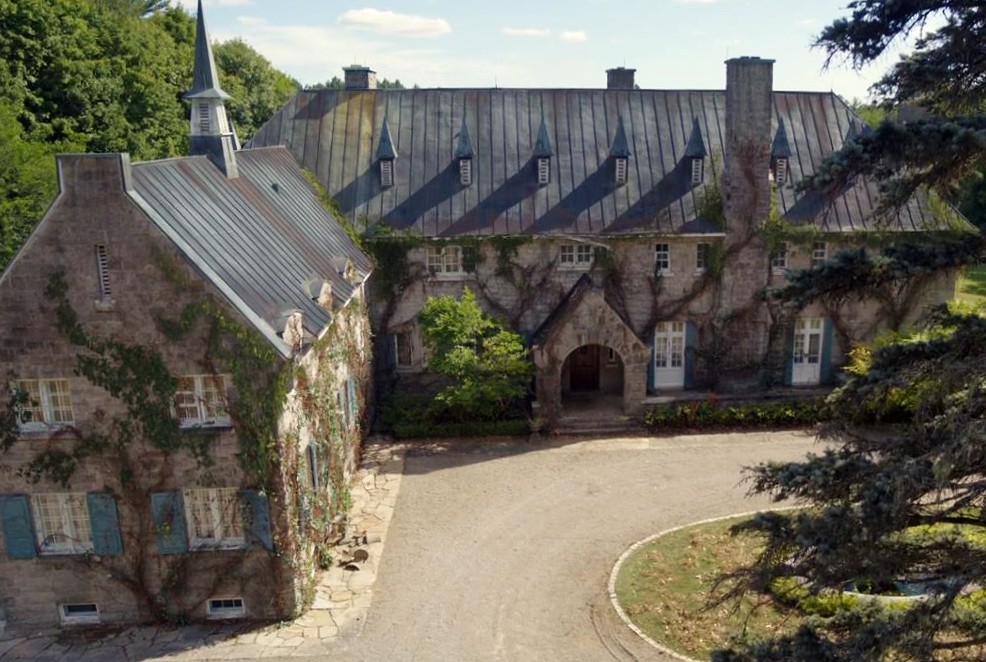 Here's another example of how the houses were swapped out after the original trailer and promotional materials were sent out. (Note: it may have even originally aired this way, but since I streamed the show on Hulu I'm not sure.)
When Jay and Samantha arrived at the house for the first time, the camera pans up and we see the second story of the house where they filmed in Pasadena, with vines added digitally to make it look like it's been neglected (below):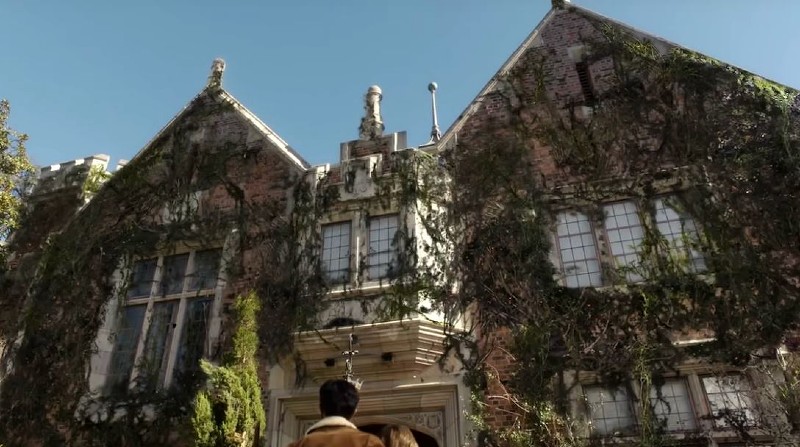 If you stream that episode now, the camera shows the stone house they created in Montreal instead (TV magic!):
Button House in the Original BBC Series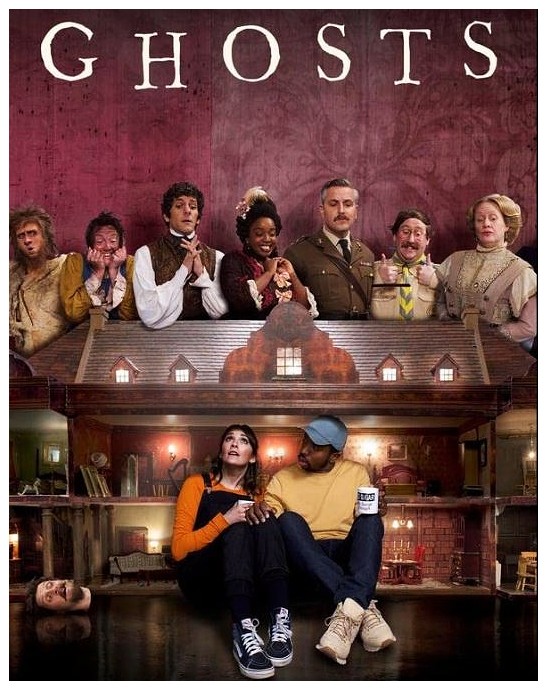 In the original "Ghosts" series , they filmed on location in Surrey at West Horsley Place , using not only the exterior of the 15th-century house but the interior rooms, as well.
The haunted manor is called button house in the british version..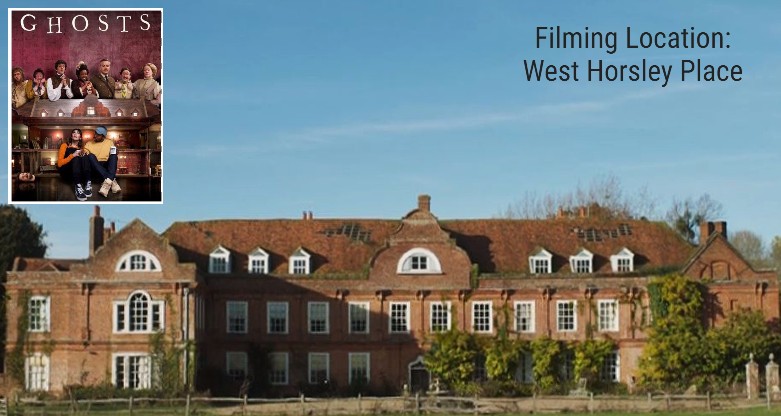 The interiors of the house were also used as a filming location for the 2020 Netflix movie "Enola Holmes."
You can see photos of how the interiors look at surrey live ..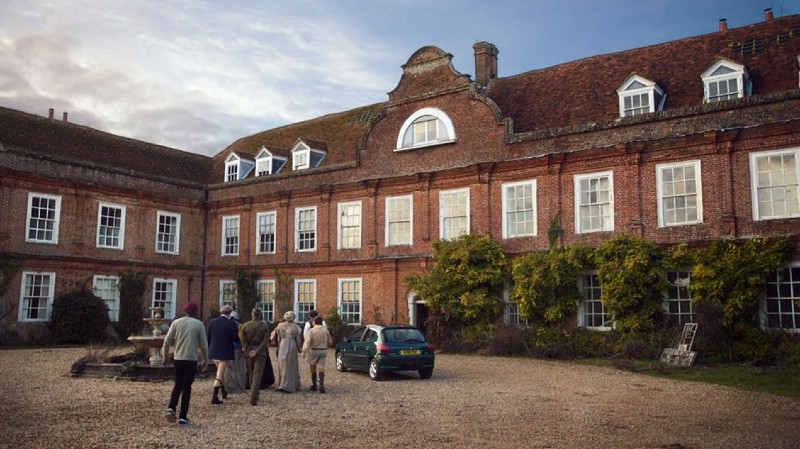 There are three seasons of the original series that you can watch on HBO Max. Although the premise is the same, there are different types of ghosts and situations that arise.
For instance, Alison (who is called Samantha in the U.S. version), doesn't trip and fall down the stairs in the pilot — she's apparently pushed by one of the ghosts out a window. The result is the same, however: after her near-death experience, she is able to see dead people.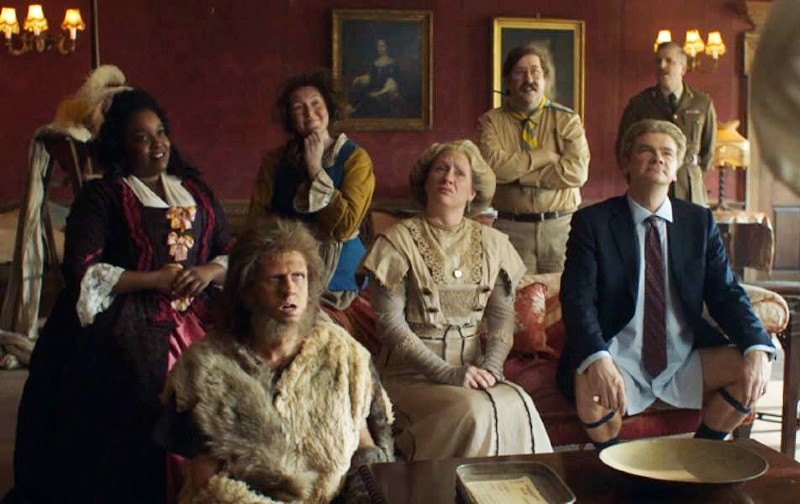 The ghosts in the cellar's "plague pit" are played by the same actors as the ghosts upstairs.
They're in different costumes, hair and makeup, so i didn't catch it at first, it's fun to see them playing such different characters in the bbc sitcom:.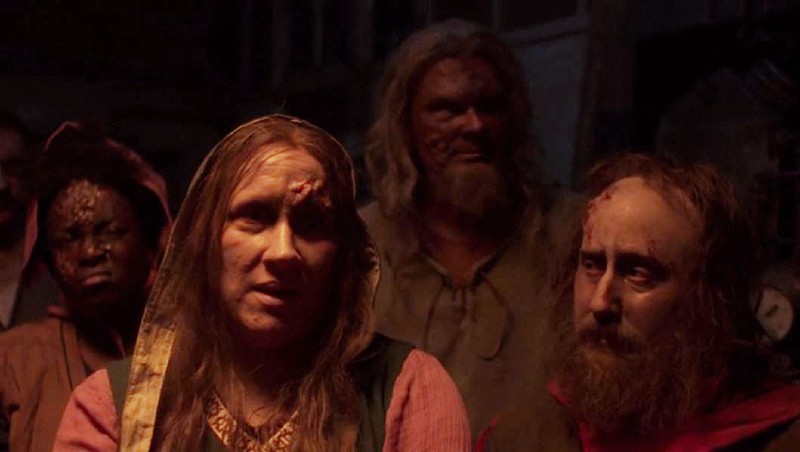 In true British form, the seasons are very short, with only 6 episodes in each.
By contrast, the first season of the cbs sitcom will have 20 episodes..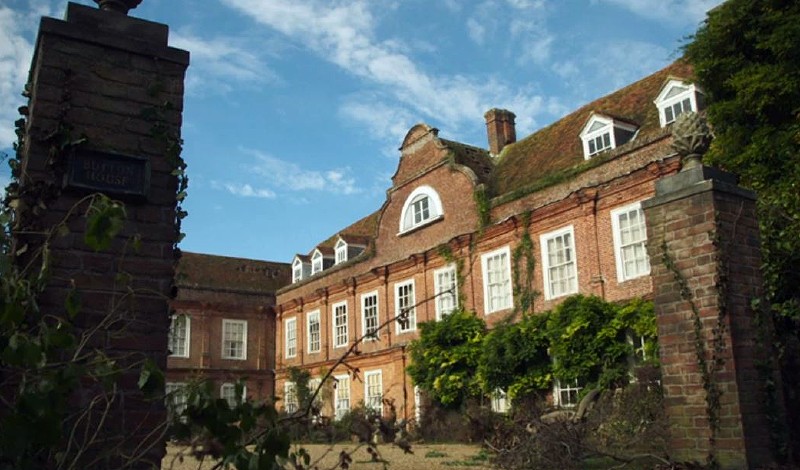 Woodstone Estate on the CBS Sitcom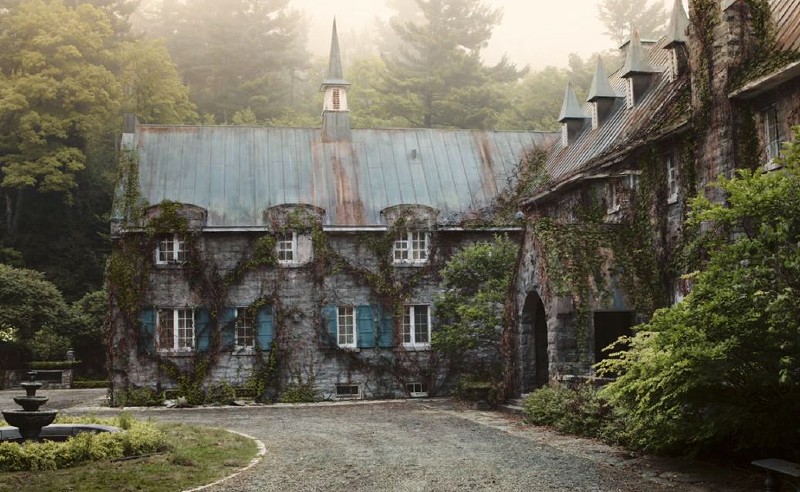 According to an article in the Pittsburgh Post-Gazette :
"Ghosts" features a Victorian-style mansion whose interiors and exteriors are an amalgamation of a real home in Los Angeles and sound stages in Montreal.
The house was inspired by  the Baker Mansion , a 19th-century structure built on a hill in Altoona.
Also of note: The mansion was originally owned by Elias and Hetty Baker, names that Joe Port (who adapted it for American television) lifted for the spectral character of Hetty, played by York native Rebecca Wisocky, and her oft-mentioned husband Elias.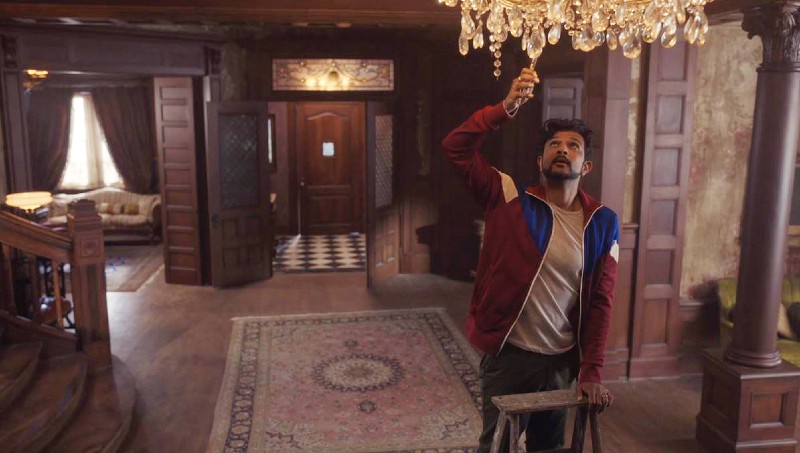 They created the interior of the house with elaborate sets on a soundstage.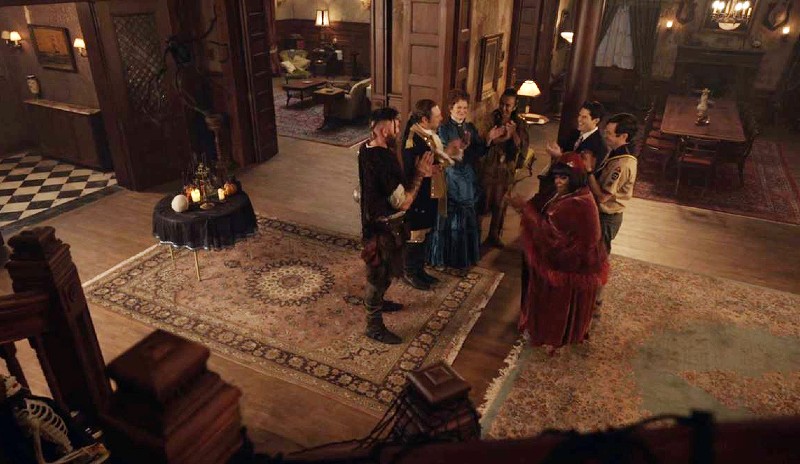 The Front Parlor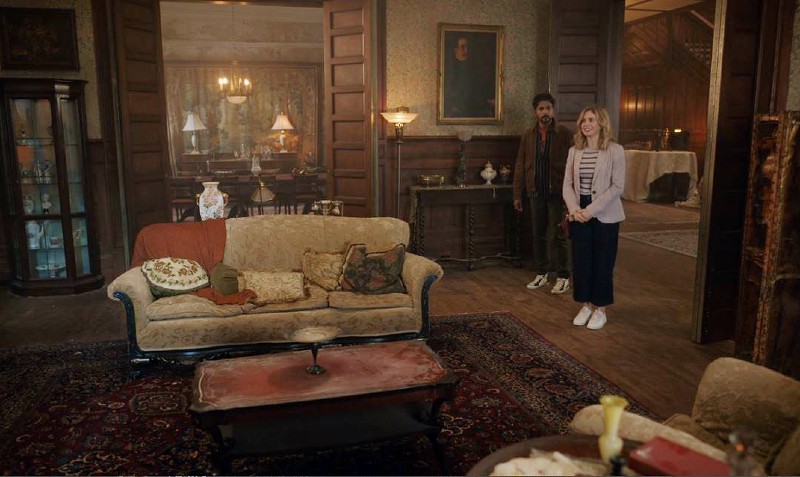 The Library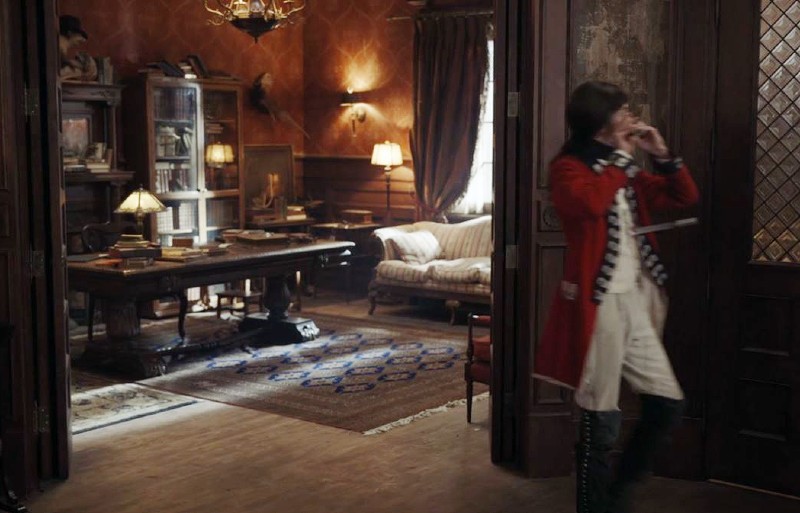 In the BBC version, the ghost soldier called "Captain" died in World War II.
In this one, isaac (played by brandon scott jones) was in the revolutionary war., there are british soldiers living in a nearby shed..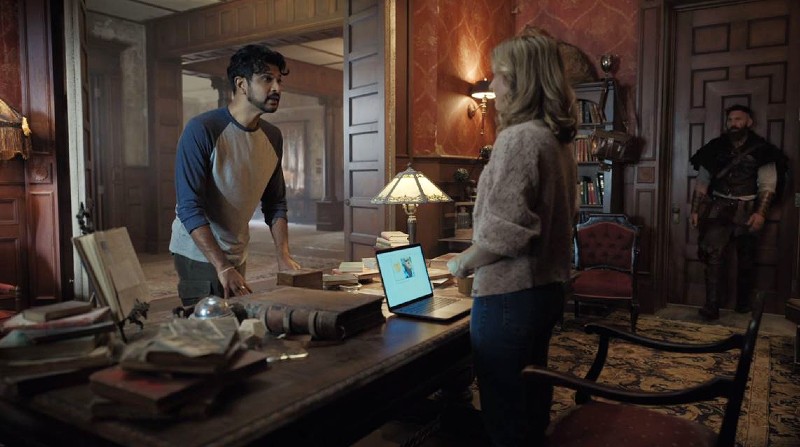 The Kitchen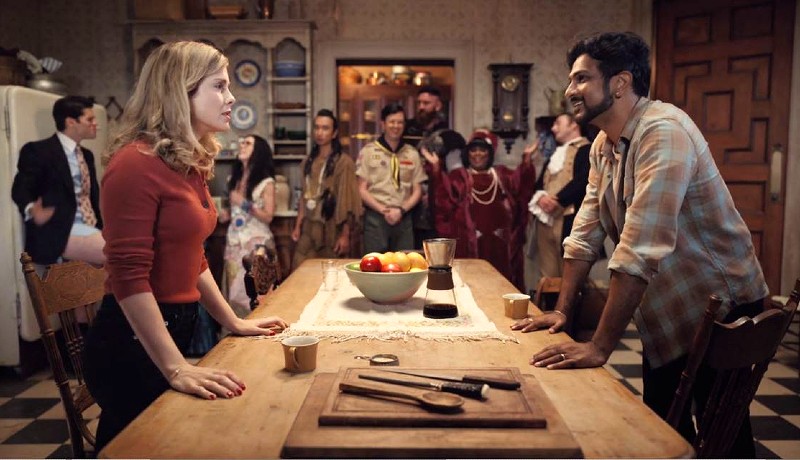 The kitchen is one of my favorite sets on the show.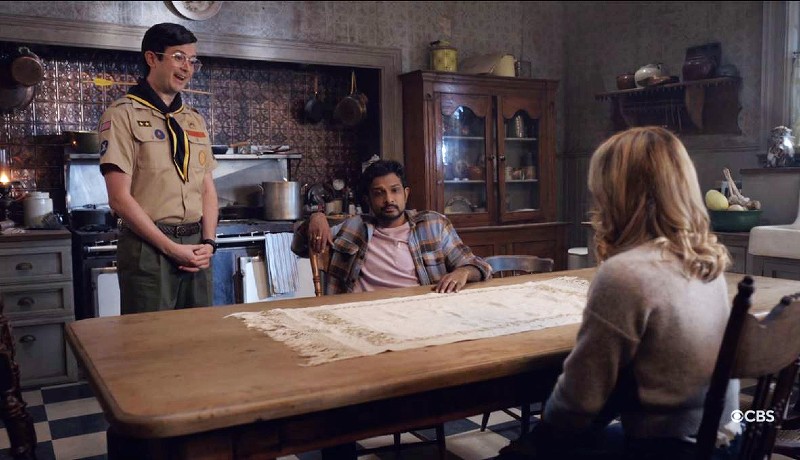 In the BBC version, there's the spirit of a caveman living on the property.
In the cbs sitcom, the oldest ghost is thorfinn, a viking played by devan long:.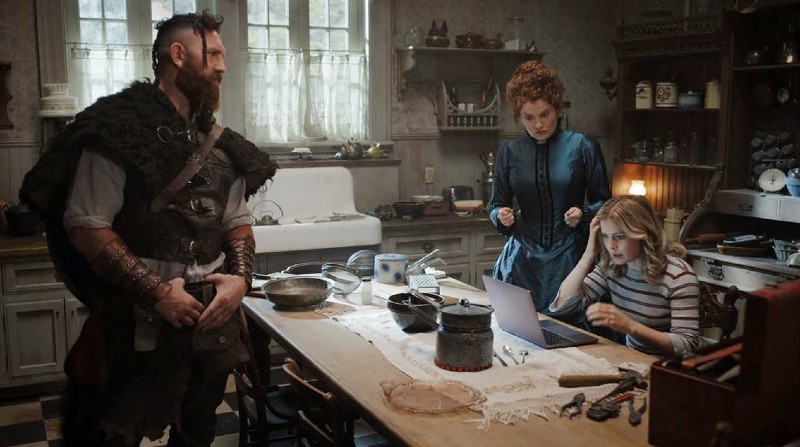 Utkarsh Ambudkar is hilarious as the slightly hapless husband Jay, who's at a disadvantage because he can't see the ghosts his wife is talking to.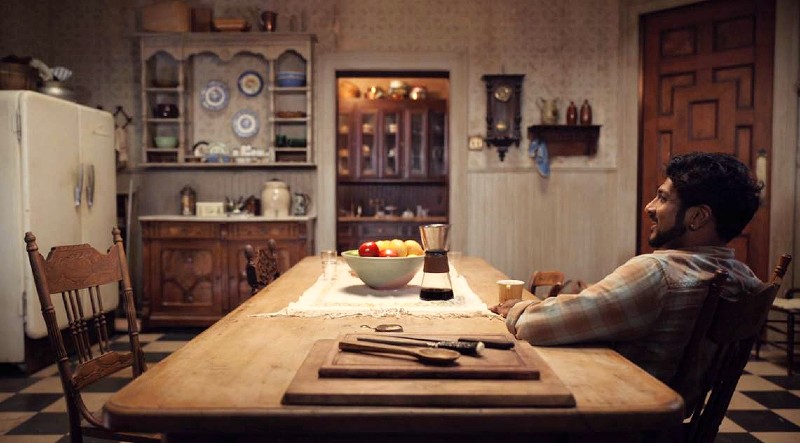 Samantha and Jay's Bedroom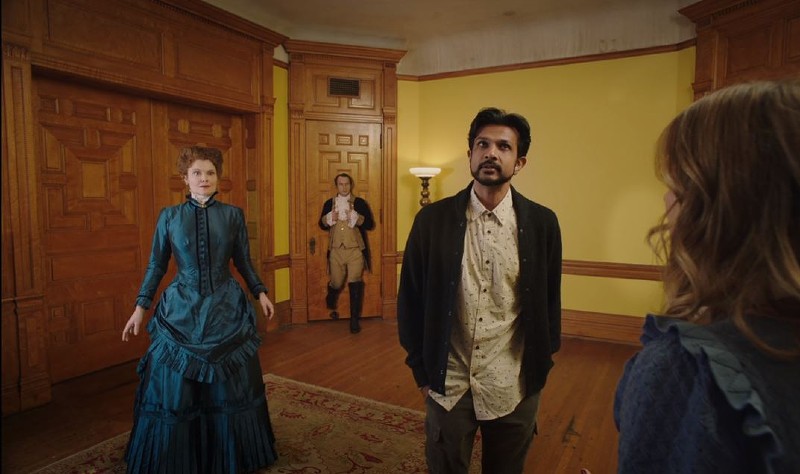 I believe some scenes for the pilot episode may have been filmed on location inside the Pasadena house, like the one shown above.
In later episodes jay and samantha's bedroom looks like this (below):.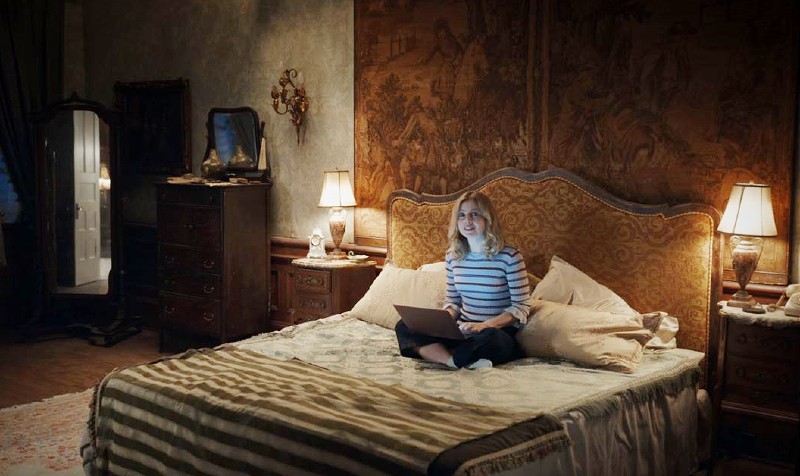 You can often tell a difference in real-house hardwood floors and the fake wood they use for sets.
The bathroom looks pretty authentic with its peeling vintage wallpaper and a freestanding tub, but it's also a set:.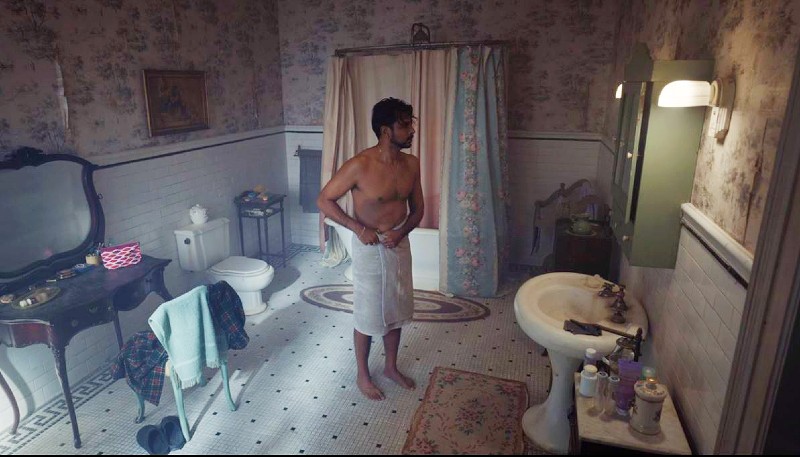 In a flashback to 1983 we see the house looking a bit different in the distance, which is puzzling: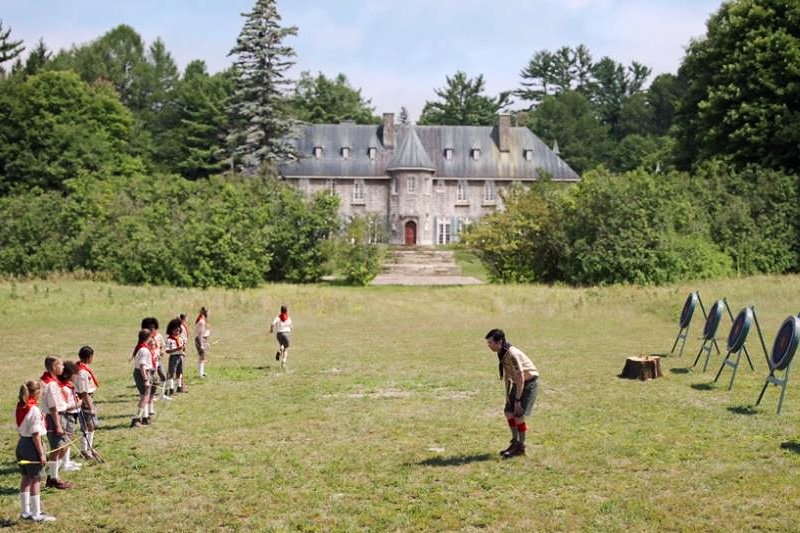 Update: I'm told this is the other side of the house that we don't typically see.
"That's the true front of the house, with what we usually see on the show being the back side. All the exterior shots are an actual house, all interior is a set. For the shot above they used a little camera magic to hide a road." (Thanks, Anon!)
A few episodes later we get this aerial view showing the front of the house: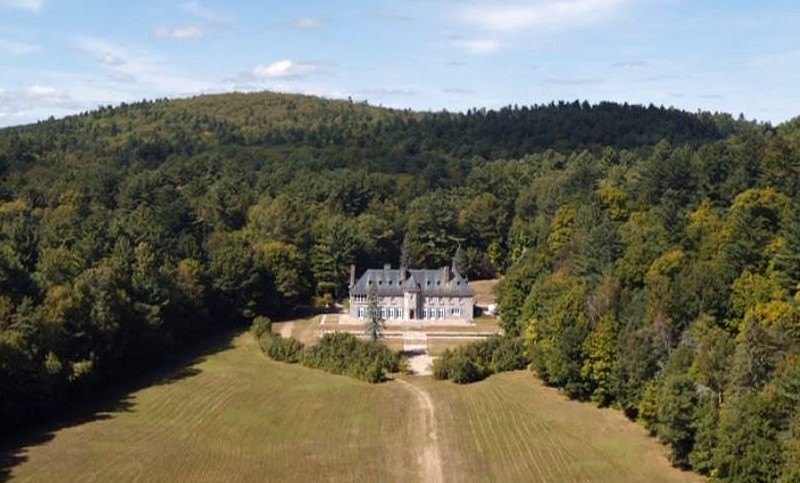 Asher Grodman, who plays the ghost named Trevor, told CBS Denver :
"The first time I read this script, I said this is one of the funniest things I've ever read. I knew it was different and I knew it was special. We were supposed to shoot the pilot in March 2020 on a Monday and the world shut down on the Friday before. In terms of the ensemble, we were all living in limbo for a year and a half and all of us just got really close."
He adds, "They rebuilt this house in Montreal and the attention to detail is incredible."
I took these screenshots while watching the episodes online.
Have you been watching "Ghosts"? You can catch new episodes airing on CBS on Thursday nights (or stream it on Hulu with a subscription). You can also watch three seasons of the original BBC sitcom on HBO Max.
P.S. It was 14 years ago this month that I started blogging about houses. Back in 2008, I couldn't find any sites talking about TV and movie houses that I wanted to know more about, so I decided to write about them myself. Many thanks to the readers who have kept coming back year after year — I wouldn't still be here without you! -Julia 🙂
Visit my TV & Movie Houses page to see more filming locations I've featured, including the house from "The Haunting of Bly Manor."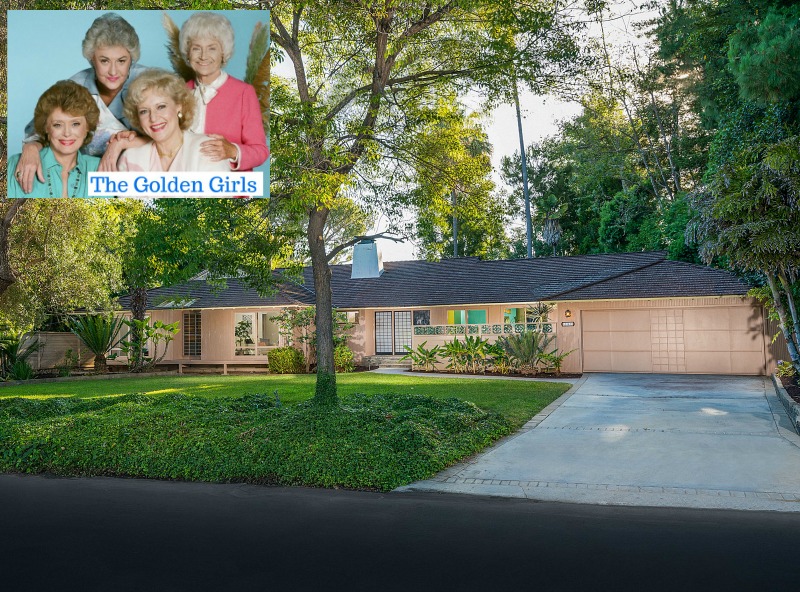 Inside the Real House from "Golden Girls"

Inside the Real Victorian from "Full House"

The Big Southern House in "Forrest Gump"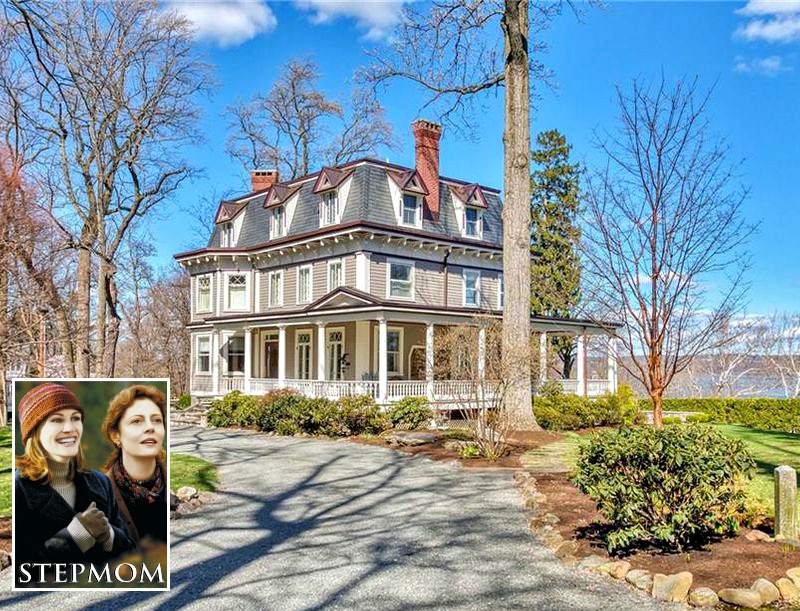 The Stunning "Stepmom" Movie House
Are you hooked on houses more to tour:, never miss a house.
Recent Houses Onscreen
Search Entire List A-Z
Before & After
Real Estate
The 20 Sexiest Horror Movies to Spice Up Your Halloween Party
From seductive aliens to love potions gone wrong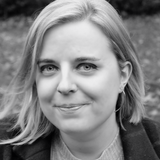 American Psycho (2000)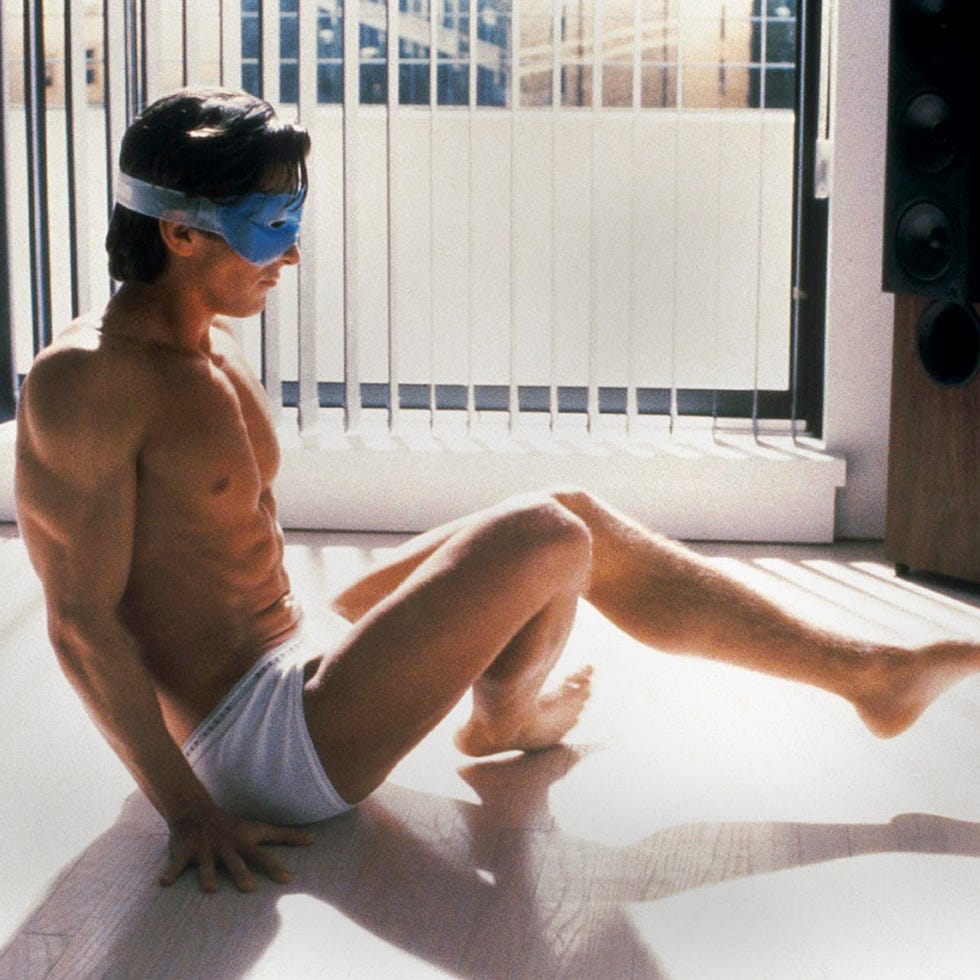 Patrick Bateman (Christian Bale) is a successful investment banker with a penchant for murder. His exceeding charm nets him plenty of women, many of whom he kills for sport. An iconic horror movie filled with unforgettable scenes, strange fantasies, and much humor.
From Dusk 'Til Dawn (1996)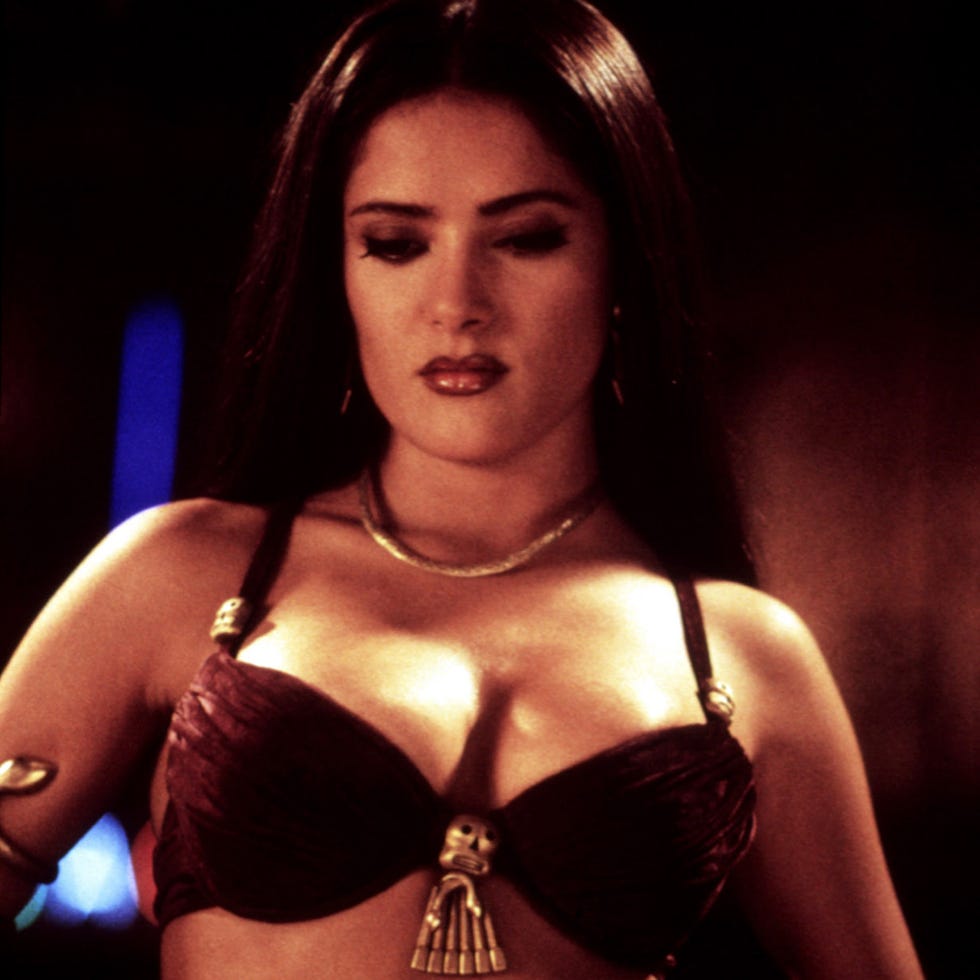 Brothers Seth (George Clooney) and Richard (Quentin Tarantino) are on the run after killing some police officers. They make it across the Mexican border by taking a family hostage, and decide to hide out in a strip club. What they don't realize is that vampires are in charge of the bar. Co-starring Salma Hayek.
WATCH ON PRIME VIDEO WATCH ON MAX
Bram Stoker's Dracula (1992)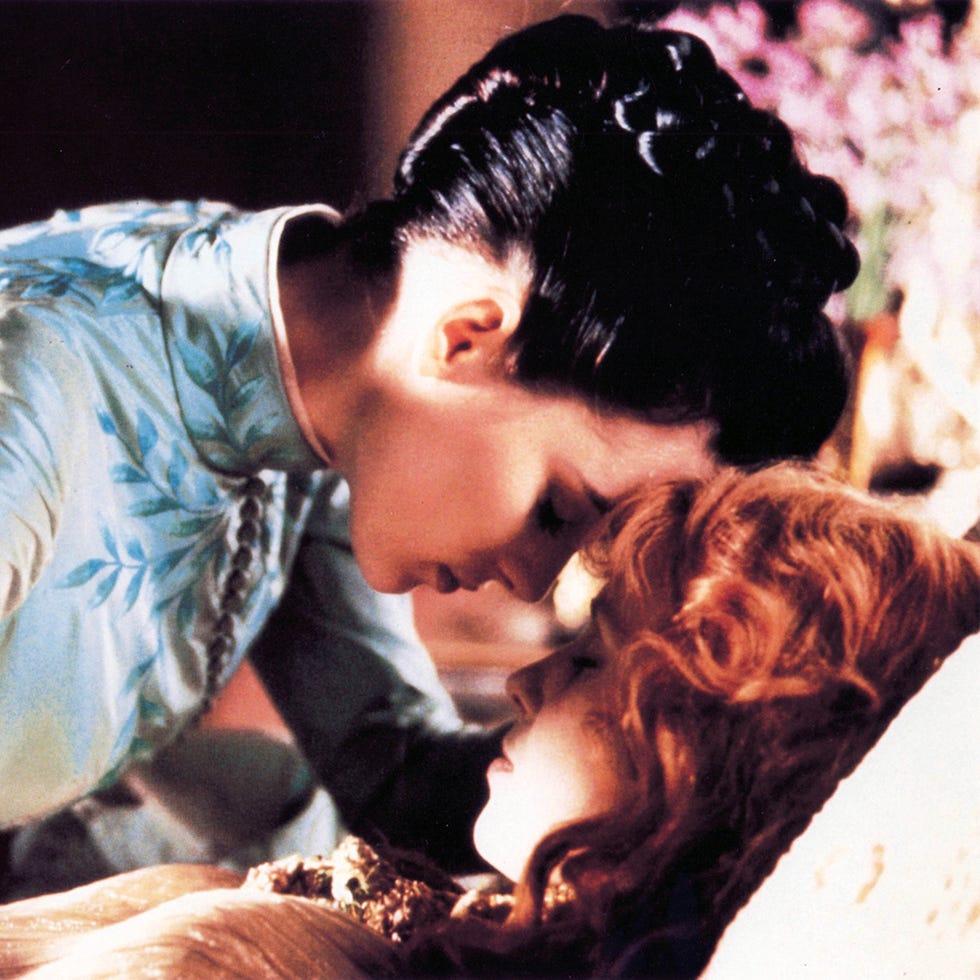 Jonathan Harker (Keanu Reeves), a young lawyer, travels to Count Dracula's castle on business. Dracula (Gary Oldman) discovers that Harker's fiancée Mina (Winona Ryder) looks just like his late wife. He decides to hunt her down and seduce her, while holding Harker captive.
WATCH ON PRIME VIDEO WATCH ON APPLE TV
Interview with the Vampire (1994)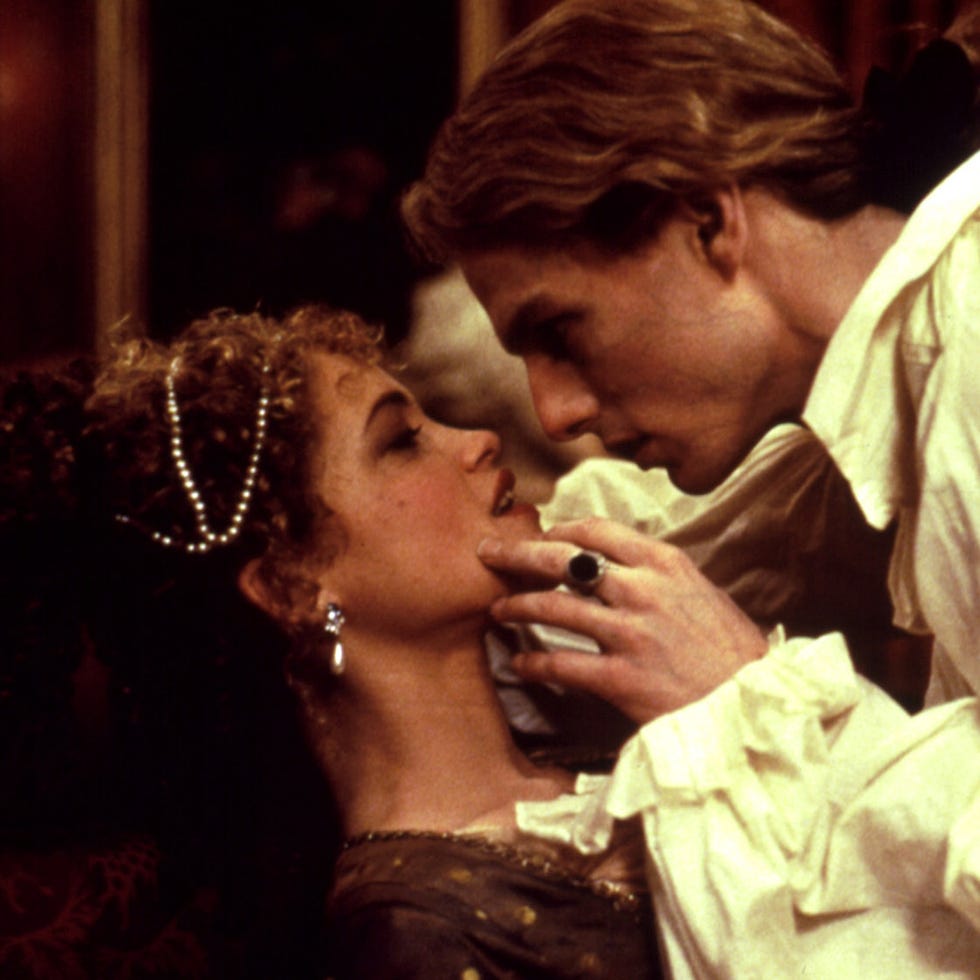 The 1994 adaptation of Anne Rice's novel follows two beautiful vampires journeying through the centuries. Louis (Brad Pitt) and Lestat (Tom Cruise) turn a young girl (Kirsten Dunst) into a vampire, and witness the horrors of the modern world. With Pitt and Cruise taking the lead, Interview with the Vampire will appeal to, well, just about everyone.
WATCH ON PRIME VIDEO WATCH ON PARAMOUNT+
Jennifer's Body (2009)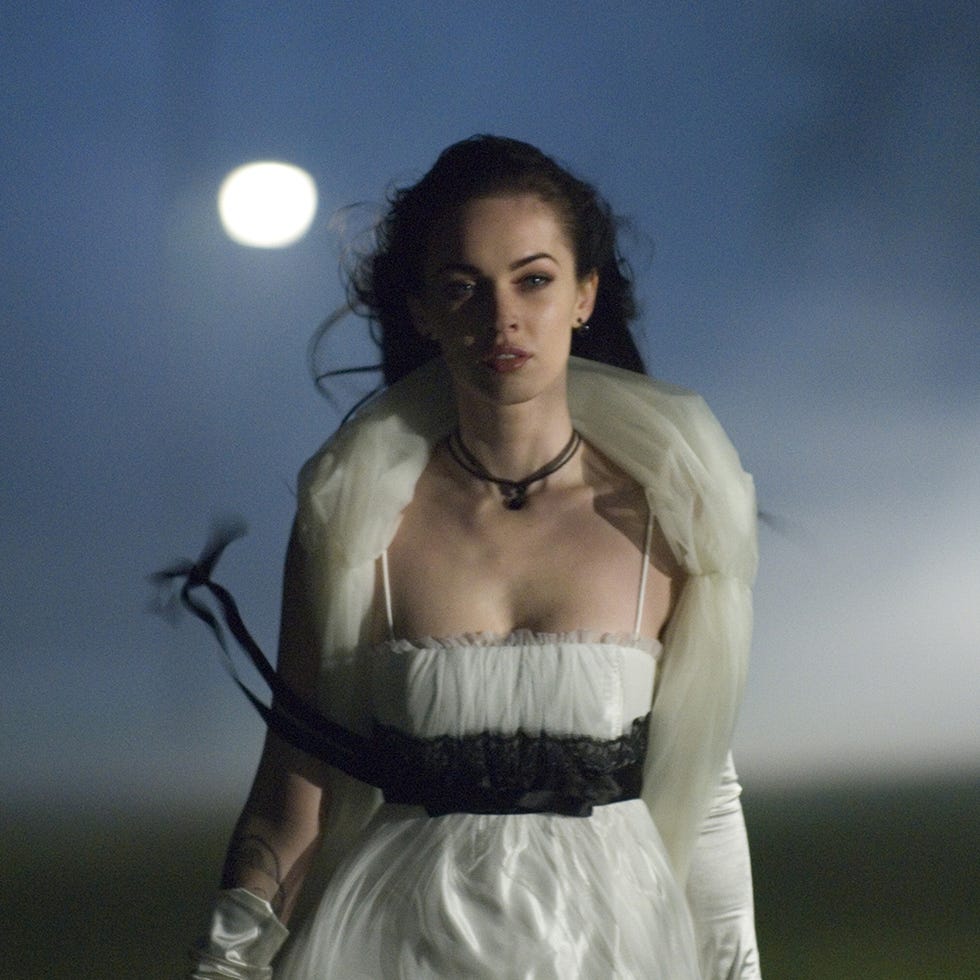 Megan Fox shines in this horror-comedy written by Diablo Cody. After a demon overtakes Jennifer's body, she develops an insatiable desire to kill the boys at school after seducing them. Her friend Needy isn't on board with Jennifer's behavior, and tries to put a stop to it. A sexy cult classic.
WATCH ON MAX WATCH ON PRIME VIDEO
Knock Knock (2015)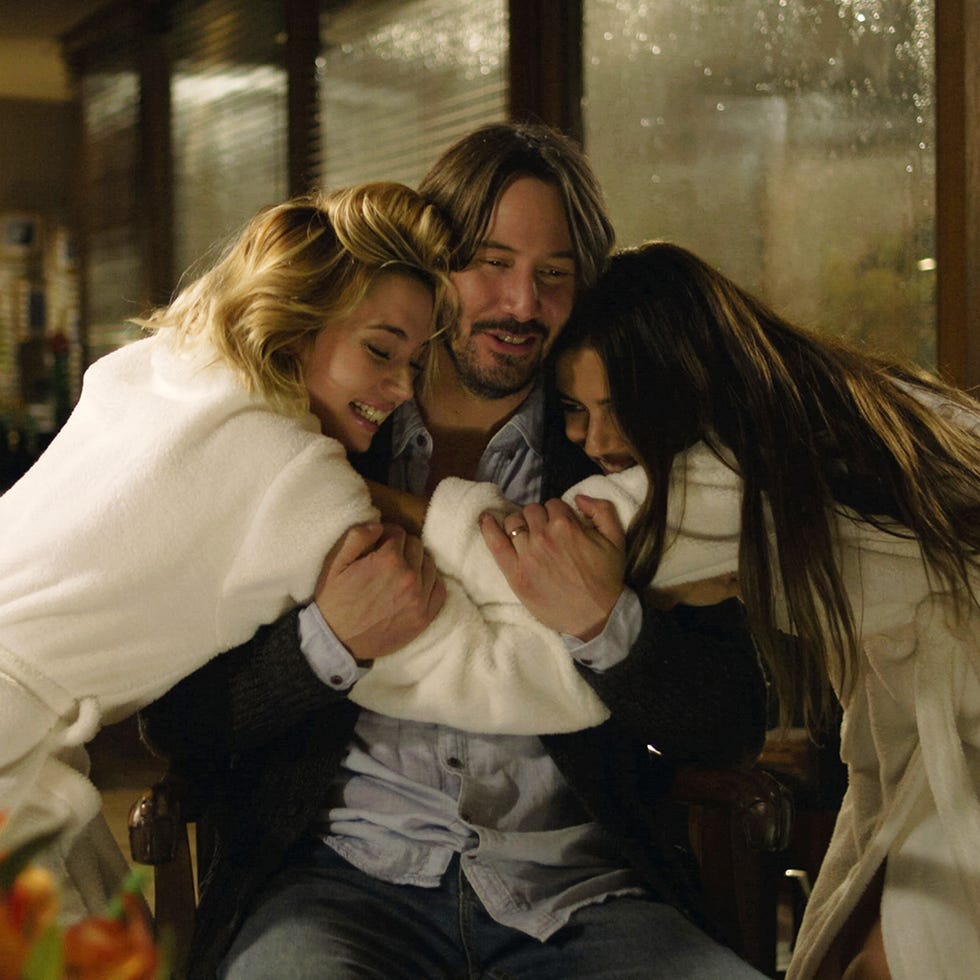 Architect Evan (Keanu Reeves) is home alone while his family is away. During a storm, two women (Lorenza Izzo and Ana de Armas) turn up at his door asking for help, and Evan obliges. When the women won't leave, Evan is drawn into a dangerous sex game that threatens his entire existence.
Mulholland Drive (2001)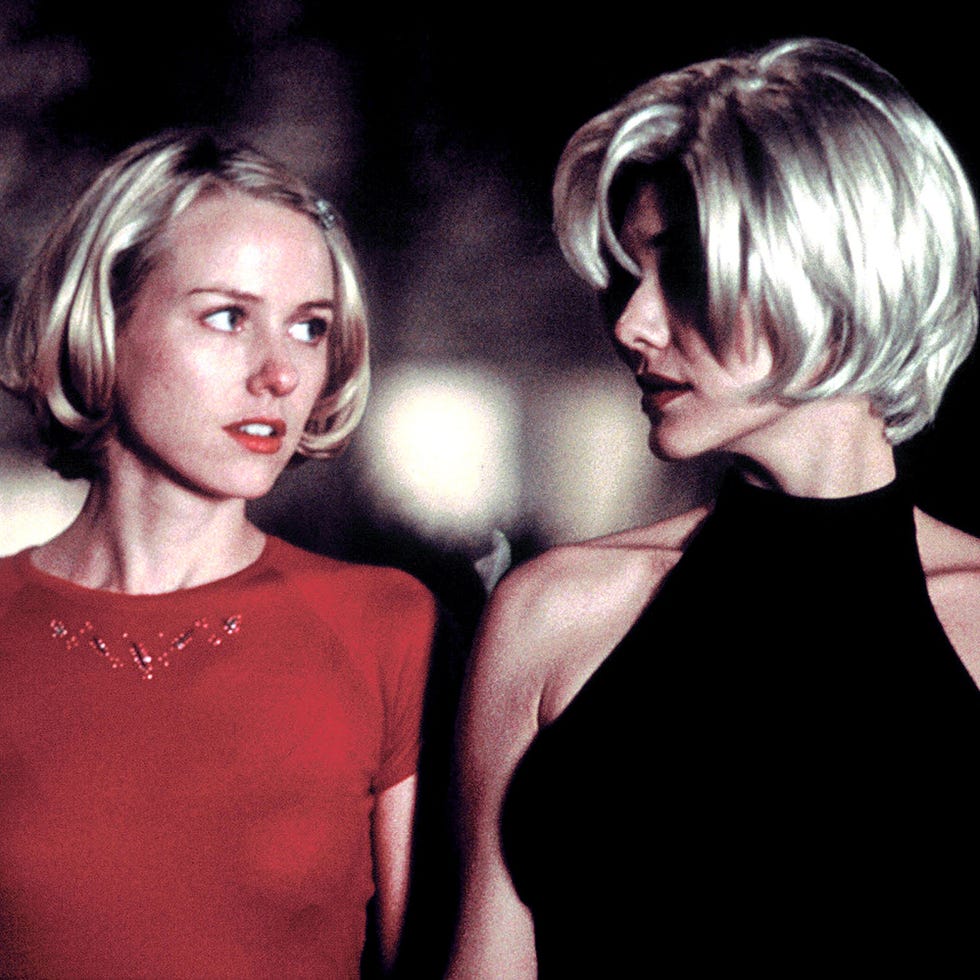 In her breakout role, Naomi Watts stars as Betty, a woman trying to make it in Hollywood, who ends up helping a woman suffering with amnesia. Together, the pair tries to discover what happened to the mysterious woman and who she really is, while developing an incredibly close relationship with one another.
Only Lovers Left Alive (2013)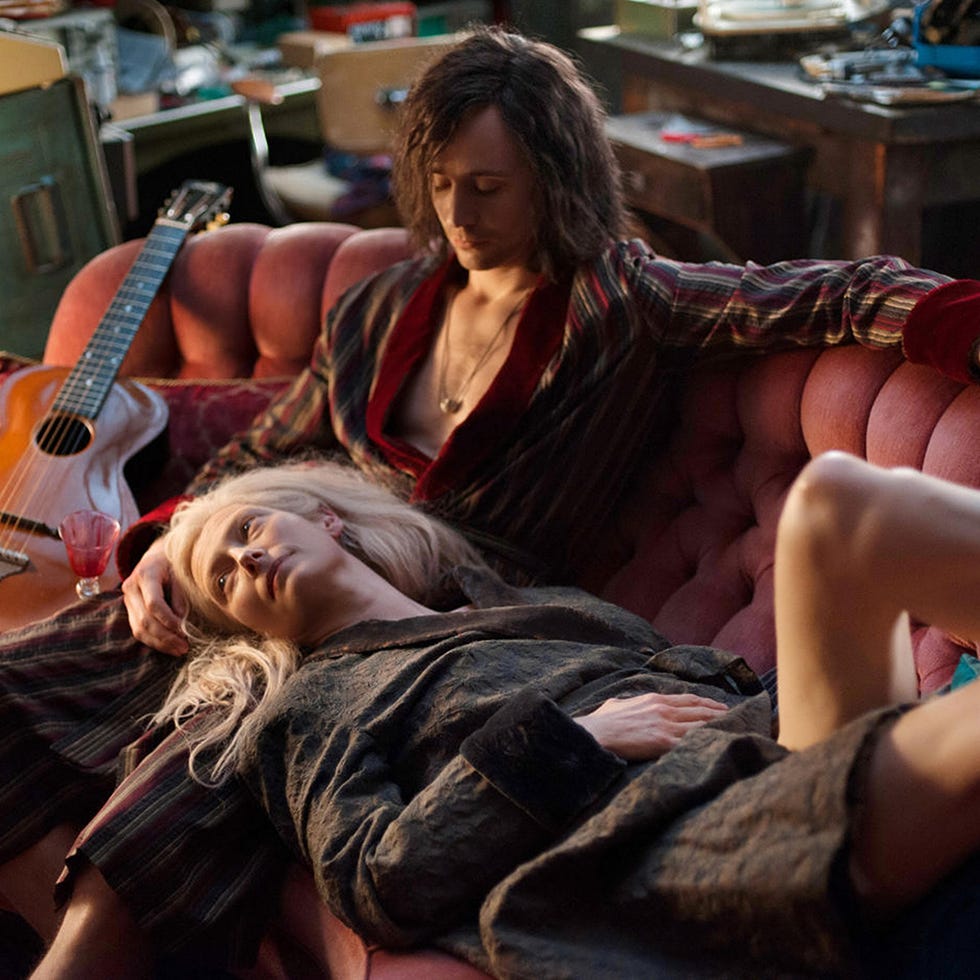 In this unexpected love story, Adam (Tom Hiddleston) and Eve (Tilda Swinton) are vampires who have loved one another for centuries. In order to survive, they have to seek out blood which hasn't been contaminated by zombies, while trying to rein in Eve's sister, Ava (Mia Wasikowska), who lacks their level of control.
WATCH ON HULU WATCH ON PRIME VIDEO
Queen of the Damned (2002)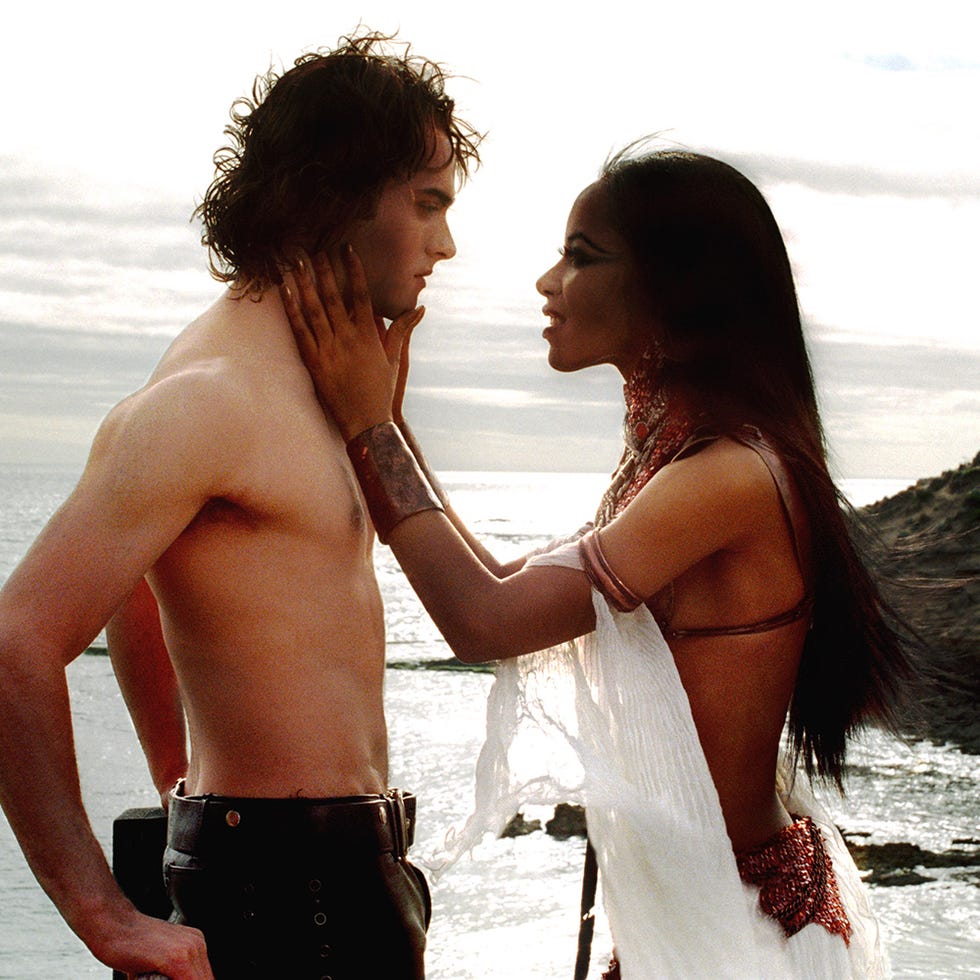 In this sequel to Interview with the Vampire , the queen of all vampires Akasha (Aaliyah) is awakened by Lestat (Stuart Townsend), an infamous vampire now living as a musician. After tracking him down, Akasha decides that she wants to make Lestat king.
Species (1995)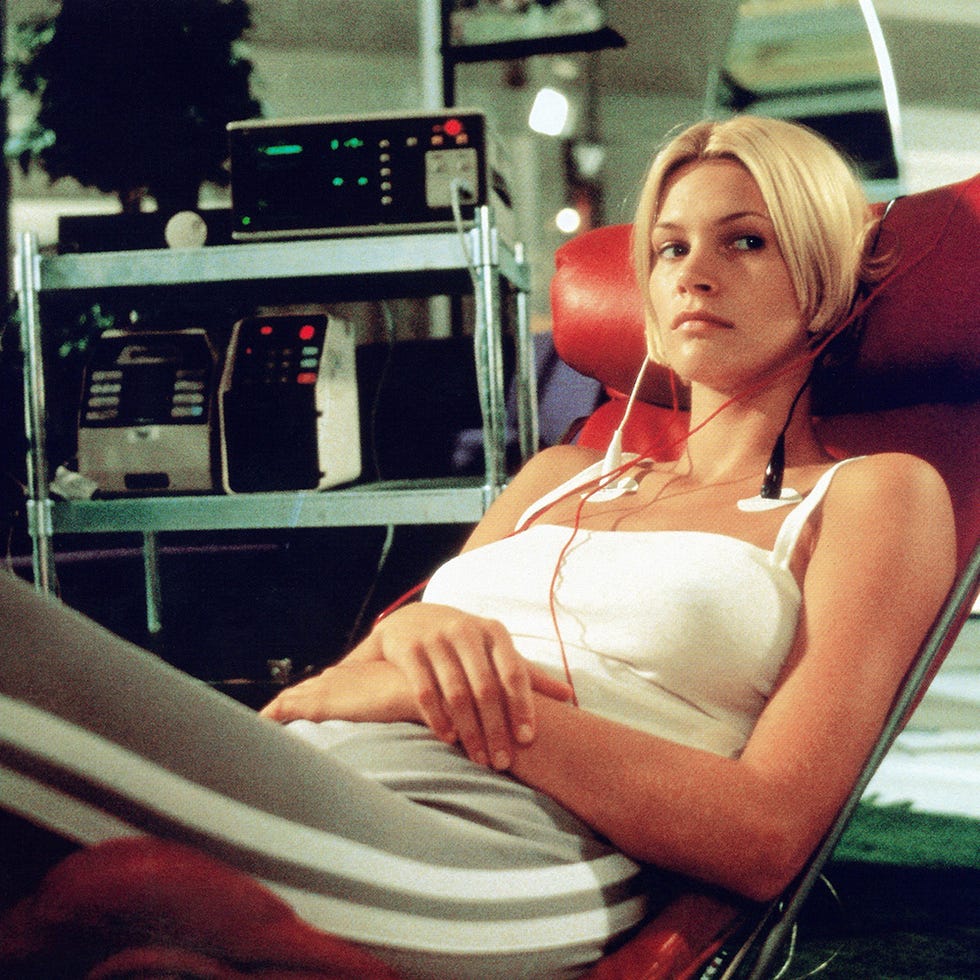 A scientist is able to reproduce an alien being, which takes the form of a human woman, known as "Sil" (Natasha Henstridge). Sil uses her seductive powers in an attempt to fall pregnant, leading government officials to start hunting the alien down, fearing that she may be able to destroy the human race.
Taking Lives (2004)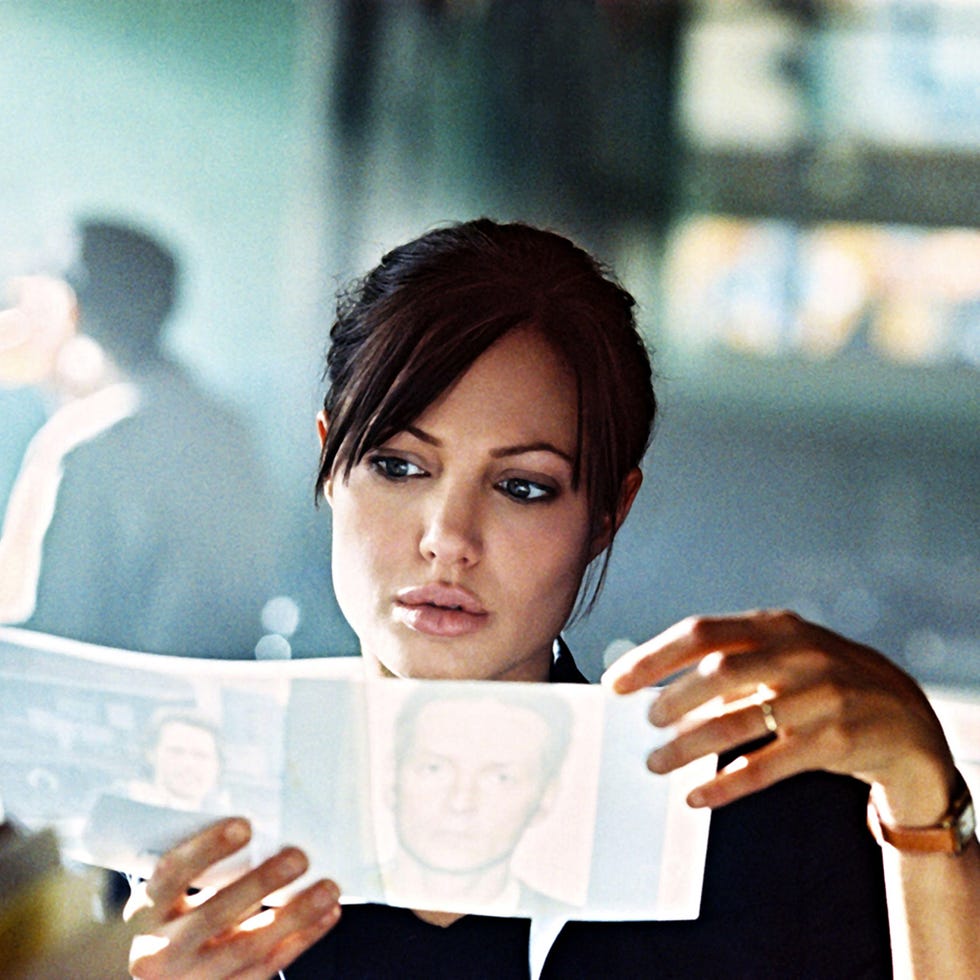 Angelina Jolie stars as FBI profiler Illeana in this horror-infused thriller. A serial killer is on the loose, taking on the identities of his victims, allowing him to commit more murders. Art dealer James (Ethan Hawke) starts assisting in the investigation, developing an inappropriate relationship with Illeana in the process.
WATCH ON APPLE TV WATCH ON PRIME VIDEO
Teeth (2007)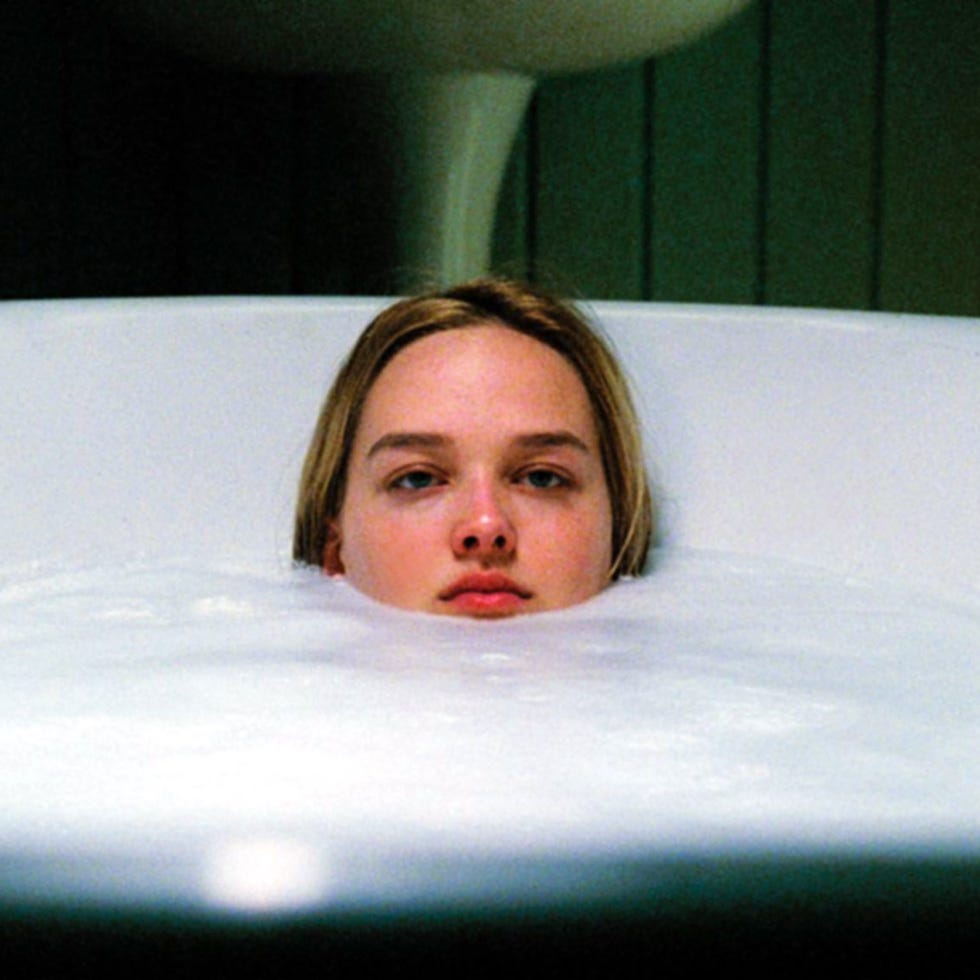 Dawn is a chaste teenager until she meets Tobey, and attempts to lose her virginity. It's quickly discovered that Dawn is the living embodiment of the vagina dentata myth, meaning that her vagina has literal teeth. She goes on a journey of self-discovery, quickly learning what makes her teeth come out, and what doesn't.
WATCH ON PRIME VIDEO WATCH ON TUBI
The Hunger (1983)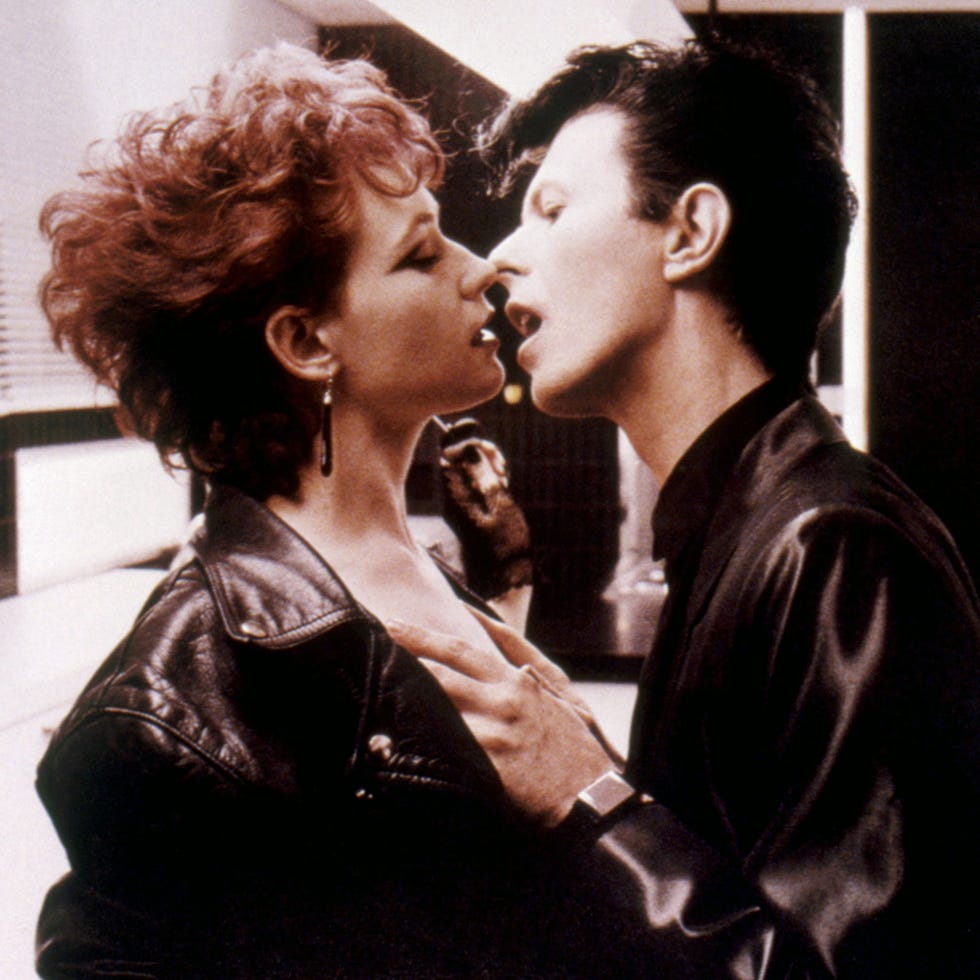 Vampire Miriam (Catherine Deneuve) is immortal, but her lover John (David Bowie) is not. As he starts to fade, Miriam seeks out a new partner, selecting a beautiful scientist named Sarah (Susan Sarandon). However, Sarah isn't so sure about vampirism, and the pair wrestle with their compatibility.
The Love Witch (2016)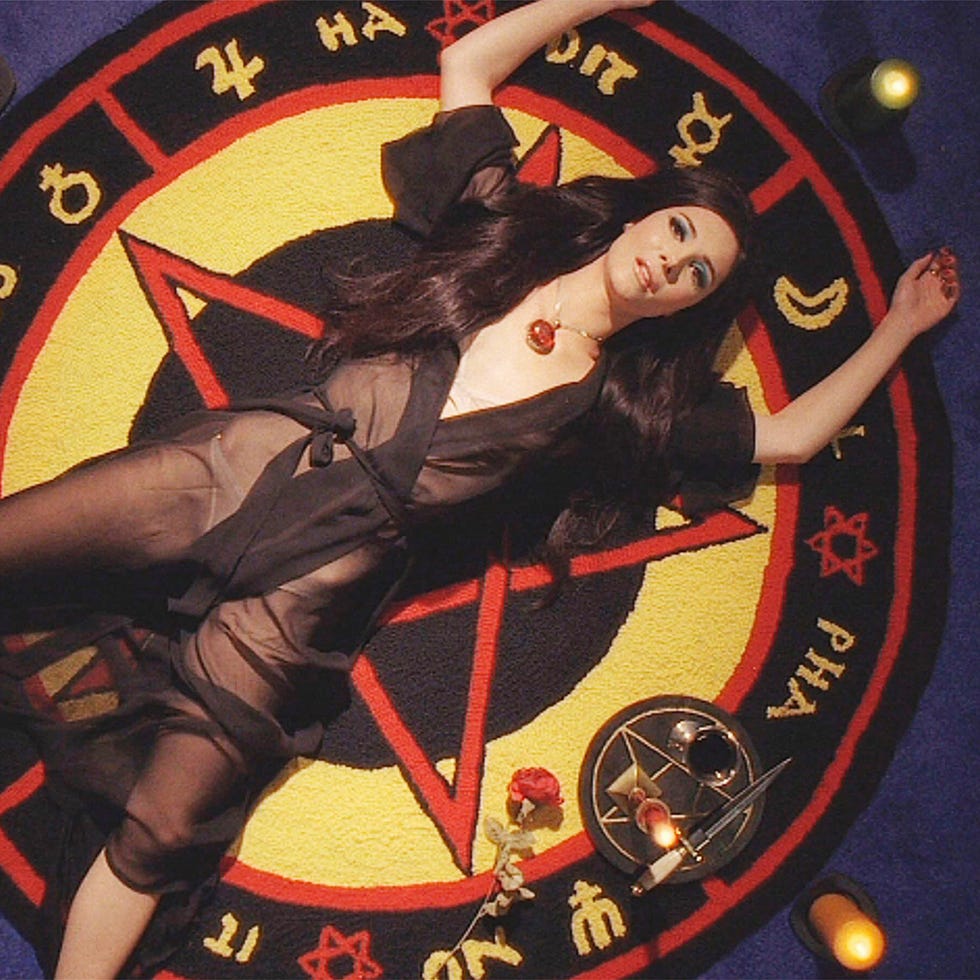 Following the death of her husband, Elaine desperately wants to be loved, so she starts employing spells and potions to make men fall in love with her. Unfortunately, her powers are too much for most of her victims, leading her into a dangerous world of sex and death.
WATCH ON PRIME VIDEO WATCH ON PEACOCK
The Neon Demon (2016)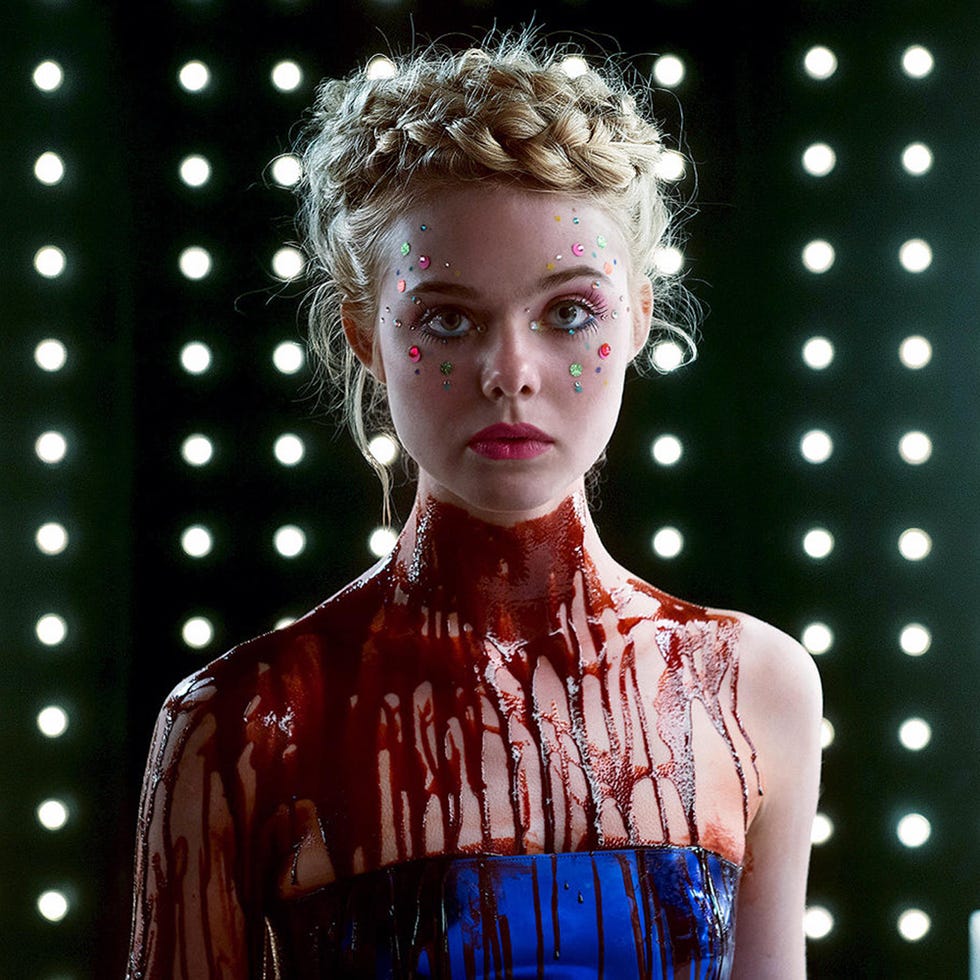 Jesse (Elle Fanning) moves to Los Angeles to pursue modeling. Jesse's beauty instantly makes her the target of abuse, and she ultimately witnesses the darker side of the industry, in which women strive to attain immortality at any cost.
The Shape of Water (2017)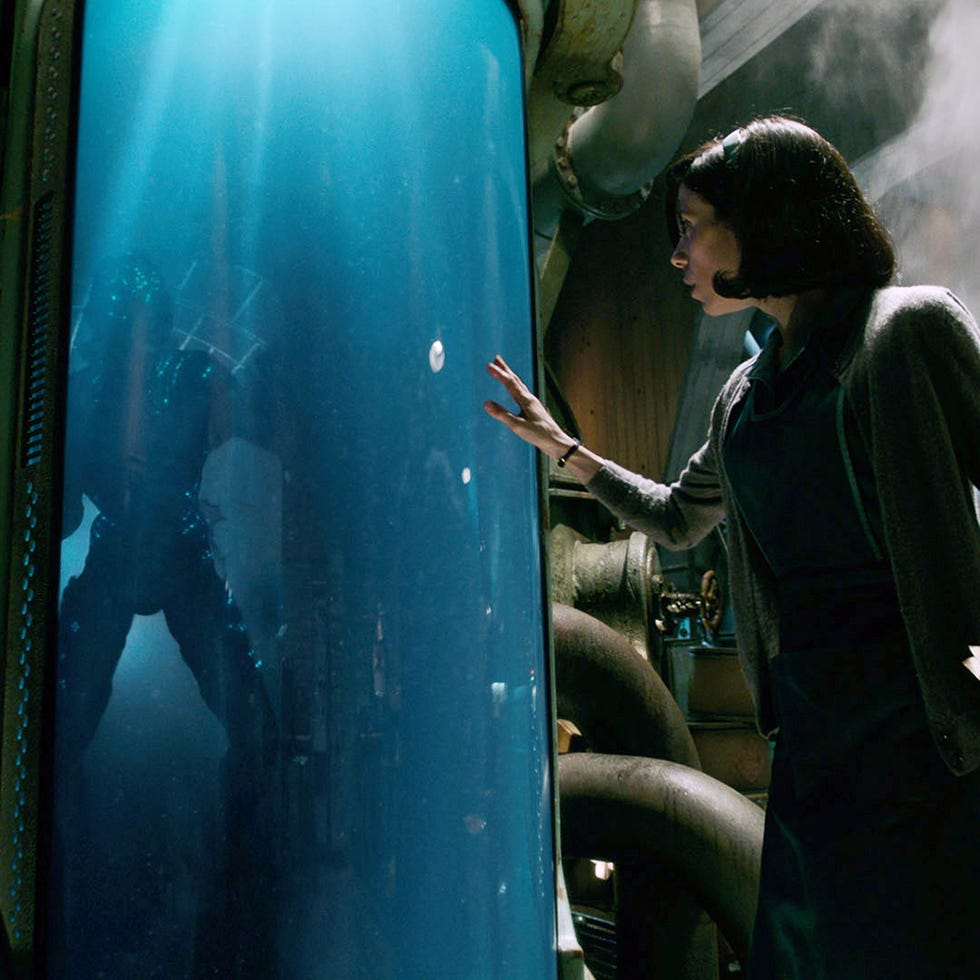 Elisa (Sally Hawkins) is a mute woman working at a government facility who lives a solitary life. When a mysterious amphibian creature with human attributes is captured by a colonel, Elisa finds an unexpected romantic connection. Against all odds, she sets out to save the creature.
WATCH ON PRIME VIDEO WATCH ON FX NOW
The Witches of Eastwick (1987)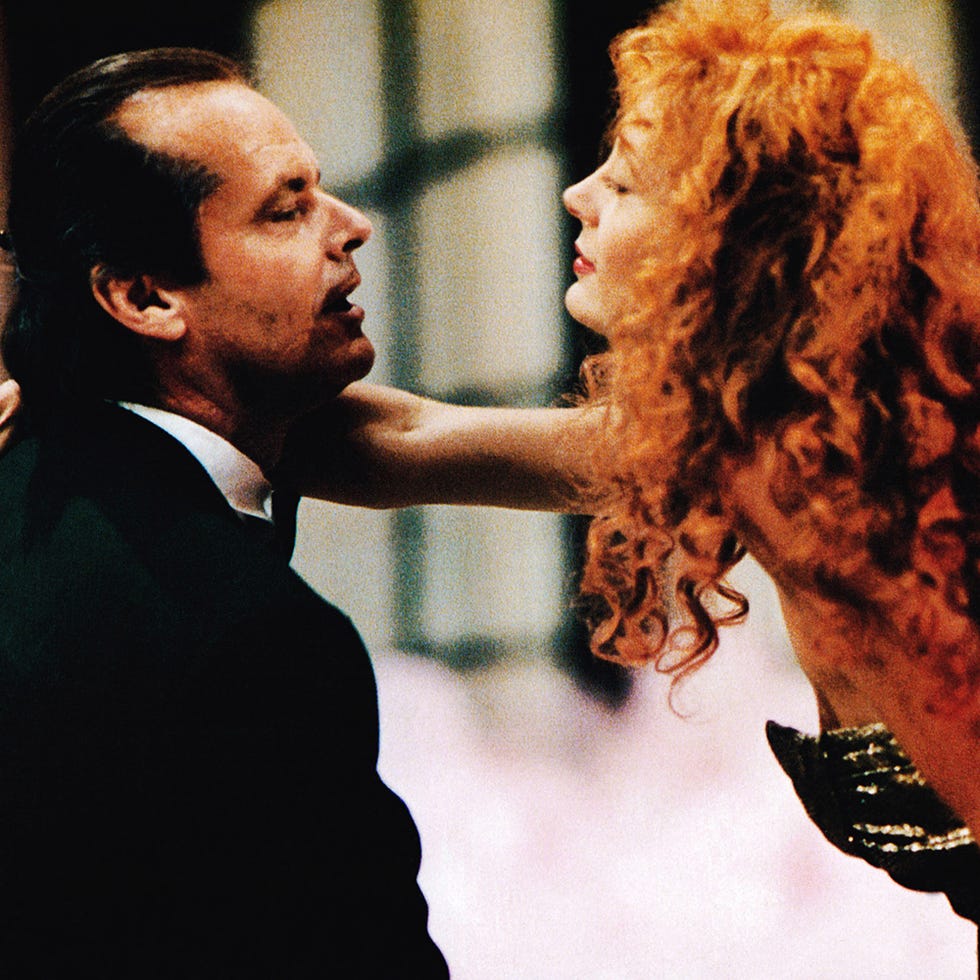 Three women (Cher, Michelle Pfeiffer, and Susan Sarandon) are bored with their safe existence in the suburbs. Not realizing that they have supernatural powers, the women share their desires with one another, only for the man of their dreams to turn up in town. However, the dreamy Daryl (Jack Nicholson) isn't necessarily all that he seems.
Under the Skin (2013)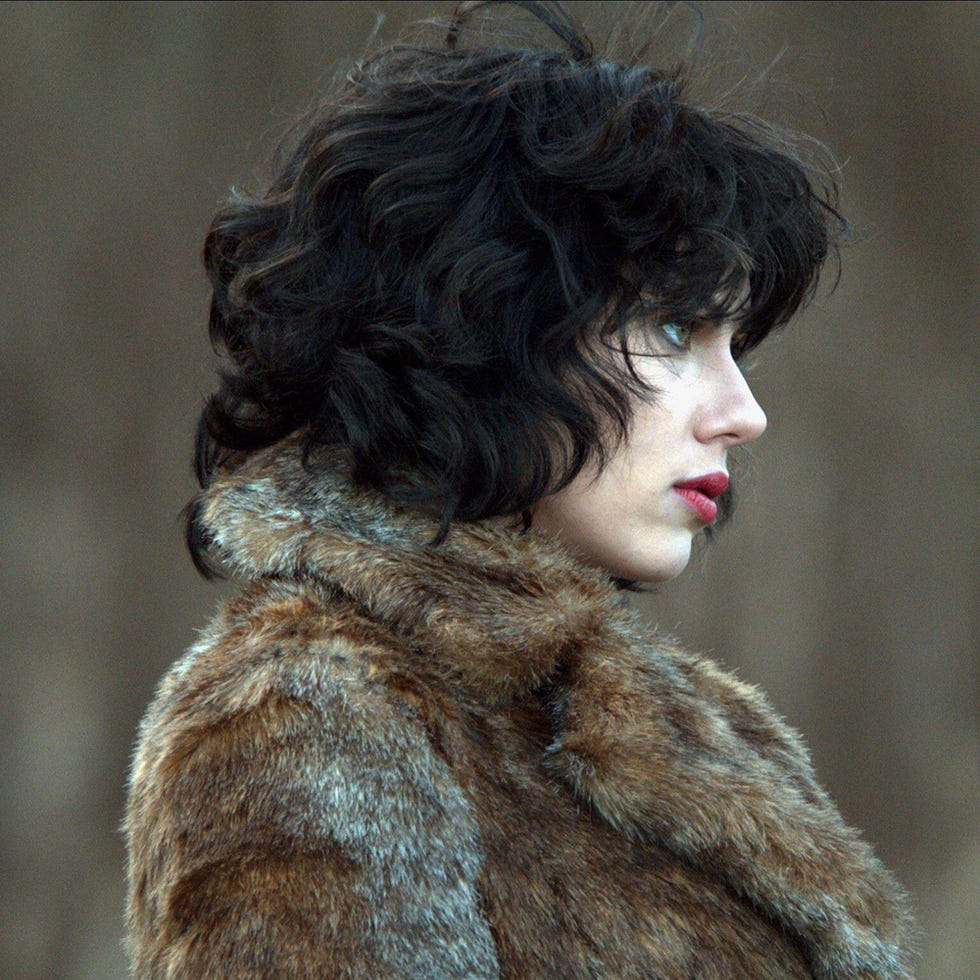 Scarlet Johansson stars as an alien who takes on the form of a beautiful woman in order to seduce men. Traveling around Scotland, the alien meets many unsuspecting victims, all of whom end up in a mysterious alternate dimension where they're considered to be food.
Underworld (2003)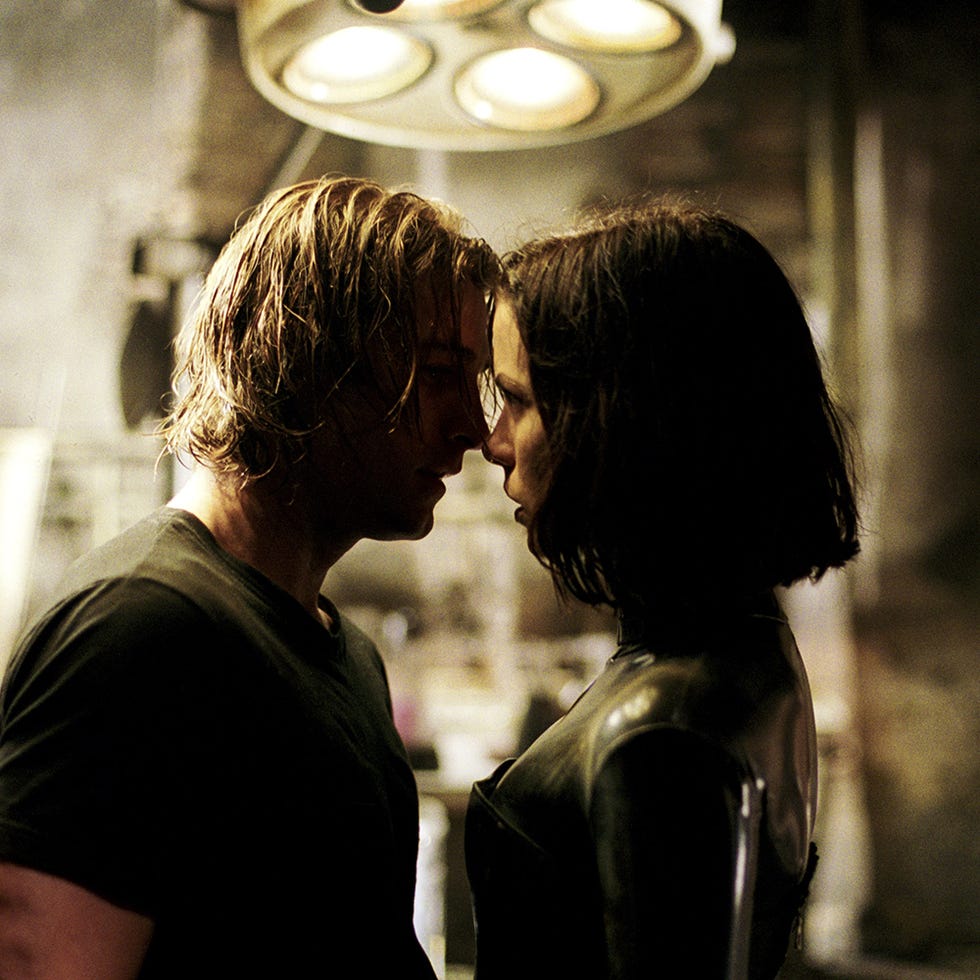 Selene (Kate Beckinsale) is a vampire whose work entails hunting and killing werewolves, known as Lycans. She falls in love with a human man (Scott Speedman), who is subsequently bitten by a werewolf, placing her in an impossible conflict. Can she save the man she loves, or does he have to die?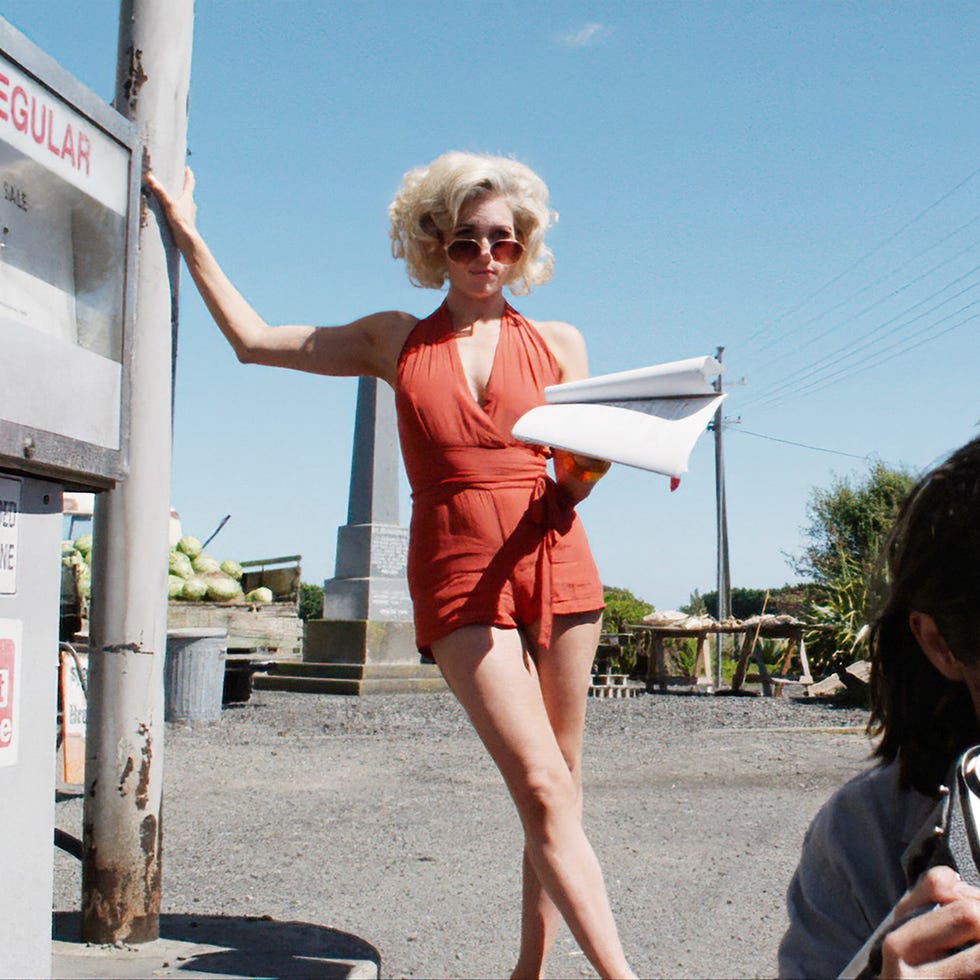 A group of adult entertainers head to a remote property in Texas to make a pornographic film. However, the elderly owners of the property are less than happy with the group's exploits, and strange things start happening. Starring Jenna Ortega, Brittany Snow, and Martin Henderson.
Film, TV & Theatre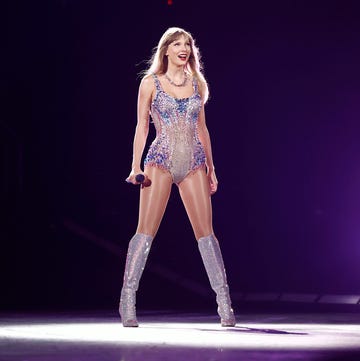 When to Stream Taylor Swift's Eras Tour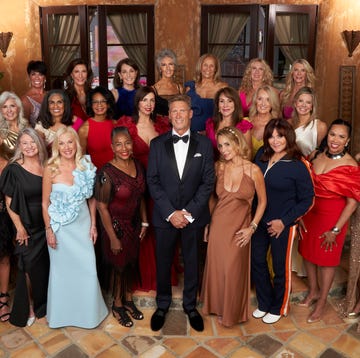 How to Watch The Golden Bachelor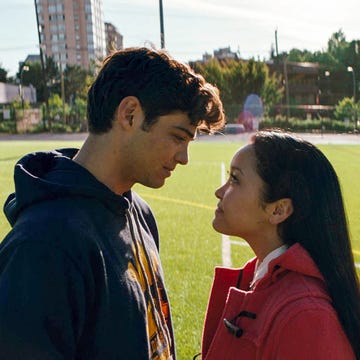 The 50 Best Films to Stream on Netflix Now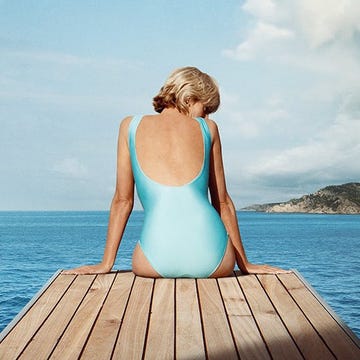 'The Crown's' Final Season Is Almost Here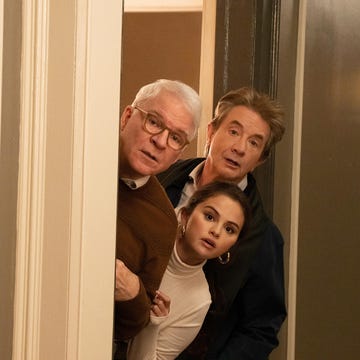 The 40 Best Shows on Hulu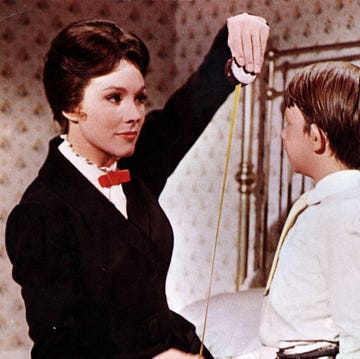 50 of the Best Disney Movies of All Time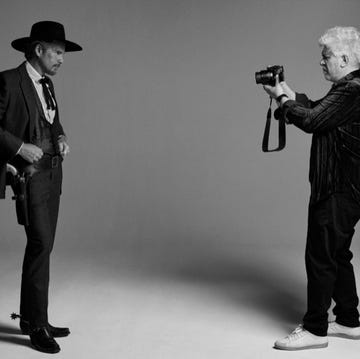 Pedro Almodóvar Remains in a League of His Own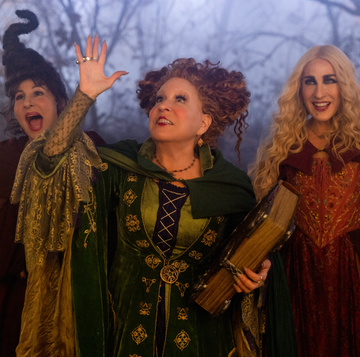 25 Not-Scary Halloween Movies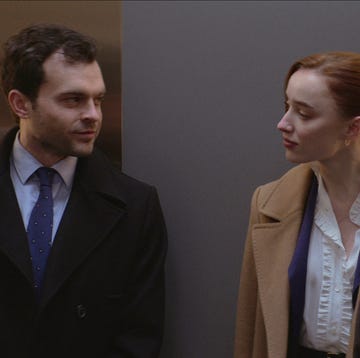 "Fair Play" Is Ultimately a Story About Control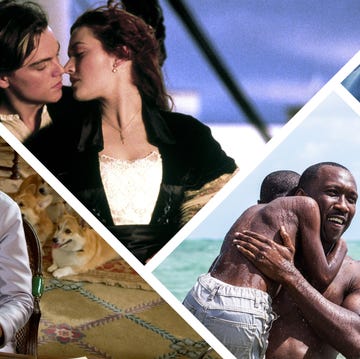 70 of the Best Drama Movies of All Time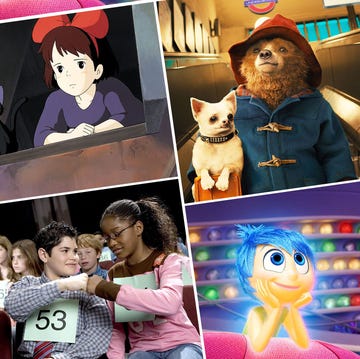 40 Family Movies Everyone Will Love
I live in an abandoned hospital — I'm so scared of ghosts that I run from room to room
Social links for asia grace.
View Author Archive
email the author
Get author RSS feed
Contact The Author
Thanks for contacting us. We've received your submission.
She's got a  sick house  — with an emergency room and X-ray equipment to boot. 
While the cost of living is at a ghoulish all-time high, seeing rent in major cities skyrocket to spooky sums, an intrepid dweller has managed to score a cost-free, sprawling estate nestled in the heart of London. And her new home's filled with tender love — and the ghosts of inpatient care. 
"POV: You live in an abandoned hospital but are also scared of everything, so running is the only way to get around," penned property guardian Aisha Barratt, 35, in the closed captions of her trending, creepy UK crib tour shared to TikTok. 
"I'm living in fear!" she titled the clip, in part, which scared up over 564,000 views.
In separate, yet equally bone-chilling, snippets, Barratt, who doubles as a television producer, regularly showcases the freaky features of her deserted residence, where she's lived for over a year. 
She explained her wacky work-from-home setup for perplexed virtual viewers.
"I'm not a squatter," Barratt insisted, adding that the hospital's original owner hired her through a property-guardianship company to serve as a 24/7 watchman.  
"[An official] will come in, clear the building, clear all the equipment," she continued from her X-ray room-turned-bedroom, which is outfitted with medical equipment.  
"Once it's all clear, they'll determine which rooms need to be condemned, and those rooms will be locked, blocked — you cannot escape, you cannot come out," said the caretaker.
The hospital areas that haven't been cordoned off, however, are available for Barratt, as well as the other 150 security guards who live on the property, to occupy as they please.
But she has come to find that some spaces, such as eerily ill-lit corridors and a funky laundry room, give off "bad vibes" and may be haunted by the spirits of deceased tenants. 
And although rolling around — in Barratt's case, sometimes on skates or a scooter — a vacant asylum might sound like a fearless thrill-seeker's twisted fantasy, frightened folks online are calling the millennial's living quarters their "absolute worst nightmare."
"I'd be terrified on my own in there," exclaimed a creeped-out commenter.
"The ghosts! I couldn't!" said another horrified viewer.
"That place must be super haunted!" an equally freaked spectator wrote.
But when a scared-witless onlooker wrote, "I will have nightmares," Barratt replied, "It's surprisingly chill here," noting the not-so-scary atmosphere of her peculiar pad.
And she's not the only brave soul to make her home inside of a ditched structure.
@loveaishab brb just going to a buisness meeting… i mean shower 😂 #propertyguardian #alternativeliving #abandonedhospital #housetour ♬ Che La Luna – Louis Prima with Sam Butera & The Witnesses
In fact, a musician who couldn't afford to pay London's high rent fees moved to an abandoned school located in the city's southern region. And a crafty New Yorker transformed a vintage ambulance into decked-out, rent-free digs for himself in October 2022. 
"[It's] nicer than most people's New York City apartments," said the hospital-wagon dweller.  
Share this article:
Advertisement
Screen Rant
The ghosts you missed in the haunting of hill house.
The Haunting of Hill House has plenty of ghosts - but you may have missed the dozens of ghosts hiding out in the background of certain scenes.
The Haunting of Hill House , a chilling family drama and horror series based on the novel of the same name by Shirley Jackson, has now arrived on Netflix. There are plenty of ghosts ready to jump out and scream and spook the audience, but perhaps the most frightening element of the series is the collection of ghosts that you don't see - because they're cleverly hidden.
With a powerful ensemble cast that includes Henry Thomas, Michiel Huisman, Carla Gugino, Elizabeth Reaser, Kate Siegel, Oliver Jackson-Cohen, and Victoria Pedretti, the series jumps between past and present as the Crain family recalls one terrible summer that they spent in the virulently haunted Hill House.
Related: Read Our Review of The Haunting of Hill House
All 10 episodes of The Haunting of Hill House were directed by Mike Flanagan, who is also attached to direct upcoming Stephen King adaptation Doctor Sleep (a sequel to The Shining ).  Flanagan's previous horror movies include home invasion thriller Hush , Gerald's Game (another King adaptation), and haunted mirror movie Oculus . In The Haunting of Hill Hous e, Flanagan shows off his talent for subtle chills by hiding literally dozens of ghosts in plain sight - but in the background or out of focus. You can watch the entire series and only spot a few of these ghosts, or none at all, so for the curious we've gathered together all of the hidden ghosts we could find. Check them out below... if you dare.
This Page: Hidden Ghosts in Episodes 1-3
Page 2: Hidden Ghosts in Episodes 4-7
Page 3: Hidden Ghosts in Episodes 8-10
The Ghost Through The Railing
You don't have to wait long to catch sight of your first hidden ghost in The Haunting of Hill House . During the opening monologue of Episode 1, "Steven Sees a Ghost," we're taken on a tour of Hill House that includes this particular shot overlooking the stairs. You may not see it at first, but look between the railings and you'll see a white ghost face peering through them. Very creepy.
Nellie's Night-Time Visitor
The Bent-Neck Lady isn't the only ghost who pays Nellie a night-time visit in Episode 1. This one is very hard to spot - so much so that it could almost just be the leaves on the tree outside - but look on the far-right window pane and you'll see a pale face peering in at the children.
The Ghost In Steven's Room
This ghost is so hidden in the dark and out of focus that he's also very difficult to spot, but a little brightening of the image makes his outline clear. This ghost is also from Episode 1 of the series, in the scene where Hugh runs to fetch Steven from his room so they can flee the house. Look out for the ghost on the right hand side of the screen when Hugh is listening at the door, and someone outside is turning the knob.
A Ghostly Trio By The Stairs
Yes, Episode 1 is packed with hidden ghosts, and here are two more - though these are much easier to spot. When Hugh flees down the stairs with Steven in tow, you can see a man and a woman on the right hand side of the stairs, and you can also very briefly see another woman on the left hand side. The man appears to be the same ghost that was seen peering through the railings earlier in the episode. As with all of the other hidden ghosts in the series, these three are standing stock still and wearing black clothes.
Related:  The Haunting of Hill House: Every Episode Ranked
A Face In The Shadows
Still In Episode 1, Mrs. Dudley is giving Steven a lecture on religion when the two of them are interrupted by Liv, who arrives to offer a counterpoint and quote some Shakespeare. Look over Liv's shoulder as the enters the kitchen, however, and you'll see something extremely unsettling: a pale face peering out of the darkness. It's definitely enough to put you off your breakfast, but when Liv moves to leave the kitchen, the face is gone.
Watched From Both Sides
How about two ghosts for the price of one? In Episode 2, "Open Casket," we flash back to Shirley and Liv looking over plans for their "Forever Home." It's a touching scene between mother and daughter - so touching, in fact that you might miss the blonde-haired girl standing in the garden behind Shirley. As if that wasn't bad enough, they're being watched from inside the house as well; when the scene cuts to a profile view of Liv, you can see someone dressed in dark clothing in the room behind her. Spookier still, when the camera cuts away and back again, this second ghost has moved, and is sitting at the table instead. In the next cut to Liv, the ghost is standing on the other side of the table.
Peering Through The Glass
In Episode 3, "Touch," there's a cut from the adult Theo picking up an apple to young Theo walking down a hallway eating an apple. She enters the kitchen, where she finds Nellie and Luke playing with an old speaking tube. Look on the right hand side as Theo enters the kitchen and you'll see a ghostly face peering through a glass pane in the door.
Half-Hidden
Continuing Episode 3, you can spot another ghost after Mrs. Dudley scolds Luke for playing with the dumb waiter, and Theo stands up for him. After Mrs. Dudley touches Theo's arm, and Theo senses that she's afraid, Theo and Luke leave the kitchen. Look behind them as they're leaving and you can see the ghost of a tall woman who is half-hidden behind a wall.
Luke's Dumb Waiter Ride
After being dragged away from the dumb waiter by Mrs. Dudley during the day, Luke returns to it at night. When Theo decides to help him by sending him up in the elevator (which actually ends up sending him down), the scene cuts to a wide shot where you can just about see the ghost with long pale hair in the dining room.
The Corner of the Kitchen
Young Theo's search for a hidden basement in "Touch" is pretty engrossing - so engrossing, in fact, that you may well have missed another person in the kitchen when she's searching for the trap door. This ghost appears to be a very tall woman, and you can only see her black clothing and her hand, on the left hand side of the screen as Theo is moving the washing machine. Once you spot her, though, you're sure to get some chills.
Down In The Dark
Going down into spooky basements in haunted houses is generally a bad idea - but it's an especially bad idea when there's a ghost peering up at you from the spooky basement! Theo doesn't see the ghost hidden behind the ladder that leads down into the bootlegger basement, but look closely and you will.
Theo Gets A Fright
The ghost who appeared in the dining room behind Liv makes a comeback in "Touch," when Theo goes to talk to her mother and has a terrifying vision of her future death. It's easy to be distracted by the sight of Liv with her face split open, but look in the background after Theo backs away and Liv stands up, and you'll get a slightly clearer look at the dining room ghost - a woman with long, pale hair.
The Bald Man
Poor Theo is positively plagued by ghosts in "Touch" - and most of the time she doesn't even know it. While her father and Mr. Dudley are investigating the trap door in the kitchen, Theo wanders off. As she passes by an open door the kitchen, you can see a bald man staring in. Uncle Fester, is that you?
In The Distance
No sooner has the bald man disappeared from the screen than another ghost makes an appearance - this time the ghost with the long dark hair again, who was also spotted in Episode 1 when Hugh and Steven were fleeing the house. This ghost appears in the distance, behind Liv as she beckons Theo into the dining room. Can you spot her, skulking by the door frame?
Don't Look Back
The final ghost of "Touch" appears at the very end of the episode, when a flashback revisits the Crains' final night in Hill House. Theo comes running down the stairs and looks over to see Hugh leading the twins along. Look behind the three of them, and you'll spot the same ghost that is so fond of lurking by the stairs. A moment later, though, he is gone.
Page 2:  Hidden Ghosts in Episodes 4-7
Luke gets a new hat - and someone's jealous.
The first ghost to appear in Episode 4, "The Twin Thing," shows up when young Luke gets given a "big boy hat" found among Hill House's collection of junk. After Luke puts on the hat and runs off screen, the camera lingers for a moment and the focus shifts slightly, revealing a tall man standing behind a piece of furniture. It's possible that this is the same ghost who comes to retrieve his hat later in the episode.
The Ghost By The Window
After Luke runs off with his hat, Liv discovers a shawl that she likes the look of, and then shares with Hugh her oddly specific vision of what the room might once have looked like. It might be hard to concentrate on Liv's ruminations, however, since one of the more obvious background ghosts appears in this scene: the ghost with the long, pale hair, who is standing framed by the window at the end of the hallway. As the camera slowly zooms in, she disappears from sight.
The Ghost Face Returns
From one of the easiest ghosts to spot, we return to one of the more difficult ones: this time, the pale ghostly face that we saw earlier. As Luke and Nellie are playing with buttons in the speaking tube, look over to the glass panes on the left hand side of the screen and you'll see the face peering through. This time, even more chillingly, you can also see a ghostly hand reaching out to press its fingers against the glass!
The Doorway Duo
After running upstairs to investigate a strange voice coming from the speaking tube, Luke gets terrified by the ghost of an old woman in the bed. He goes running downstairs, but what he doesn't see are two more ghosts waiting at the bottom, on either side of the doorway on the right hand side of the staircase. These don't appear to be the same two ghosts that we saw lurking by the staircase earlier in the series, but rather a new set. More twins, perhaps?
Gerald Pays A Visit
The first ghost of Episode 5, "The Bent-Neck Lady," is also a cameo role - though don't worry if you didn't spot it. After Nellie runs terrified into her parents' bedroom, Liv does her best to comfort her. As she does so, you can see a face behind her on the left hand side of the screen. This ghost is actually played by Bruce Greenwood, who played the eponymous Gerald in Mike Flanagan's movie Gerald's Game .
Sweet Dreams, Nellie
After seeing the Bent-Neck Lady for the first time in Episode 5, Nellie begs to sleep downstairs the second night. However, one thing that this series makes clear is that there's nowhere in Hill House that's safe from the ghosts. After Hugh heads off to bed, look behind Liv on the left hand side of the screen and you'll see a ghost lurking in the darkness.
Hiding Under The Piano
As if ghostly faces weren't bad enough, there's a ghostly pair of hands visible underneath the piano in the scene where Liv accuses Nell of writing her name on the wall. You can spot them when Theo walks into the room - and this isn't the only time you can spot a ghost in this scene.
Come Home, Nell
When Theo touches the wall and realizes that Nell is telling the truth - she didn't write her own name there - a new camera angle reveals a small ghost (or someone sitting down) behind her, on the left hand side of the screen . This ghost is noticeable mainly because it moves slightly in one of the shots. The hands under the piano are visible again later in this scene, indicating that there are two ghosts in the room (rather than one ghost that switches positions).
Watching The Red Room
There are no hidden ghosts at all in Episode 6 (though there are some extremely visible ghosts), but it's back to Spook City in Episode 7, "Eulogy." This Hugh-focused episode doesn't have a whole lot of ghosts - perhaps because the Crain patriarch is less sensitive than his wife and children - but you can spot the first ghost when he tries to get into the Red Room through brute force. After Hugh tries and fails to open the door with a crowbar, he stands up and you can just about see a ghost peering through the doorway on the left hand side of the screen.
Look Behind The Shelf
The pale-haired ghost returns when Hugh discovers the body in the basement. You can spot her first after he startles back from his discovery - look just above Hugh's head at the shelf in the background, and you can see her hiding behind it.
A Discovery In The Wall
As Hugh peers closer at the discovery in the wall, so too does the pale-haired ghost move in. You can spot her in this closer shot, hiding behind the wall in the background, with her long hair hanging down.
She's Behind You, Officer
If you thought that having the police around would force these ghosts into hiding, you'd be wrong. After the discovery of the body in the wall, some cops show up to investigate. As they're all crowded around the grisly remains, you can see the pale-haired ghost hanging out behind them with her hand pressed against the wall.
Page 3:  Hidden Ghosts in Episodes 8-10
The clock repair ghost.
OK, maybe this guy shouldn't really be included on the list since his presence and ghostly nature are explicitly acknowledged later on in Episode 8, "Witness Marks." In fact, the name of the episode is actually a reference to this mustachioed ghost who is seen fixing the clock. However, we're going to give him points for hiding in plain sight... and also for that wonderful facial hair.
Bedtime For Luke
The first ghost of Episode 9, "Screaming Meemies," appears after Liv is startled to find Luke suddenly gone from her arms. It turns out that he's actually being held by Hugh, who has picked him up and is preparing to carry him to bed. If Liv were to look past Hugh and Luke at this moment, she'd have even more reason to be disturbed - because there's a ghost watching them from the dining room.
The Kitchen Creep
The second hidden ghost of Episode 9 is one of the most obvious ones in the series - and also one of the scariest. This seems to be the same ghost that we saw in Episode 3, when Theo was discovering the basement beneath the kitchen, only this time its face is visible. We really wish that it wasn't.
Goodbye, Liv
When her migraines, terrible dreams, visions and blackouts start to frighten her husband and children, Liv agrees to leave Hill House for a while and go and stay with her sister. Unfortunately, the house isn't ready to let her go. After Liv has said her goodbyes and begins walking to the front door, the scene cuts to a wide shot that reveals a ghost standing in the doorway to the statue room, watching her leave.
A Ghost With a Big Head
The night after Liv departs, she secretly sneaks back to the house to enact a dark and terrible plan. That same night, Shirley descends the stairs, heading to the kitchen for a midnight snack. When she reaches the bottom of the stairs and the camera pans over to the hallway, you can see what looks like a ghost with an abnormally large head - reminiscent of the boogeyman Mr. Smiley that Theo dreamed about earlier in the series.
A Ghost Within a Dream
In Episode 10, when Steven returns to the house with his father to witness the memory of Hugh discovering Liv's body, and the Dudleys revealing that Abigail is actually their daughter, the "half-hidden" ghost returns. Look out for her in the doorway behind Steven as he approaches the grisly scene of his mother's death.
More:  25 Best Netflix Original TV Shows, Ranked
The Haunting of Hill House is available now on Netflix.
Press Herald
Halloween guide: Haunted walks, ghost tours and more
Loading....
Share this Article
Give this Article
You can share 5 more gift articles this month.
Anyone can access the link you share with no account required. Learn more .
Subscribe to gift this article
With a Press Herald subscription, you can gift 5 articles each month.
SUBSCRIBE TODAY
It looks like you do not have any active subscriptions. To get one, go to the subscriptions page .
Already a subscriber? Sign in .
Oct. 12-14, 19-21 & 27-29 Wallingford's Nightmare on the Ridge Details: Take a haunted walk through some of your darkest nightmares brought to life at Wallingford's Orchard. Participate in the costume contest on Oct. 13 for a chance to win a personal escort through the haunted walk with Jason and Punx The Clown and more. Where: Wallingford's Orchard, 1240 Perkins Ridge Road, Auburn When: 7 to 10 p.m. Cost: $25
Oct. 13, 14, 20, 21, 27 & 28 The Solon Hotel Haunted House Details: This event is for adults. No one younger than 16 will be allowed to participate without a parent. Where: Solon Hotel, 4 South Main St., Solon When: 6 to 9 p.m. Cost: $10
Oct. 13, 14, 20, 21, 27 & 28 The Trail of Terror Details: The trail is suggested for those 13 years or older. Where: Union Fairgrounds, 175 Fairgrounds Lane, Union When: 6 to 8:30 p.m. Cost: $15
Oct. 13, 20, 27 Granite City Ghost Tours Details: Join the Lady in White as she leads you by lantern light through the darkened city streets of Hallowell. This 1.5-hour walking tour through central Maine will be the highlight of the fall season. Where: 115 Second St., Hallowell (Kennebec Creeps & Crawls) When: 6:30-8 p.m. Cost: $25-$30
Oct. 14 Mix Maine's Boo Ball Details: Win cash prizes in costume contests and enjoy performances from Dakota, 12/OC and a DJ. There will also be several Halloween-themed food booths. Where: Augusta Civic Center, 76 Community Drive, Augusta When: 7:30 p.m. to midnight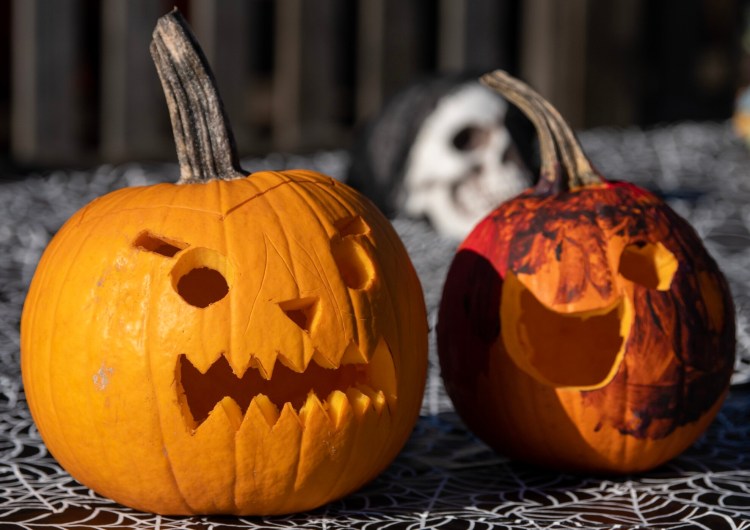 Some of the entries in the pumpkin carving contest in Wayne. Joe Phelan/Kennebec Journal
Oct. 19-21 South Paris Jack o'Lantern Spectacular Details: A spectacular amount of carved and lit pumpkins lining the paths through the garden. Where: McLaughlin Garden and Homestead, 97 Main St., South Paris When: 6 to 8:30 p.m. Cost: $8 Advertisement
Oct. 19-21 Crypt Walks at the Franco Center Details: Take a walk through the crypt of the former St. Mary's Church – if you dare. Each night of the event, trained and costumed actors will play the parts of ghoulish and scary characters whose tasks include scaring crypt visitors. During daytime hours, the walk will provide less of a scare than the nightly walk. Where: 46 Cedar St., Lewiston When: Daytime crypt walks will run from noon to 5 p.m. and nighttime walks will take place from 6:30 to 9:30 p.m. Cost: $10 to $20
Oct. 19-26 Spirits Alive: Walk Among the Shadows Details: The guided tour through Portland's oldest historic landscape is called Portland's Inferno 1866, Fire and Resurgence. You'll learn the history of the devastating blaze and will "meet" several notable figures involved with it, including journalist John Neal, Portland's first Black fireman William Ruby and fire survivor Elizabeth Pearson Day. Where: Eastern Cemetery, 224 Congress St., Portland When: 6:30 p.m. Thursday to Saturday, 5:30 p.m. Sunday Cost: $10, $4 for kids under 12
Oct. 20 Trawl-O-Ween Party at Lost Valley Details: The first-ever Trawl-O-Ween Party will offer a limited batch of Trawl Beer on tap, and feature a performance by the Funk Metal Pranksters TRAWL with special guests Loki and Division North. All ages welcome. Where: Lost Valley, 200 Lost Valley Road, Auburn When: Doors open at 4 p.m., music starts at 7 p.m. Cost: No cover charge
Oct. 20, 21, 27 & 28 Halls of Horror Details: Attendees will be treated to a night of terror as they try to find their way through the Halls of Horror. Organizers say this event is not for the squeamish. Where: 128 Weld Road, Wilton When: 7-10 p.m. Cost: $20 general admission with upgrades
Oct 20 & 21 An Evening With The Spirits Details: An Evening With The Spirits is a Victorian-styled magic show during which Stanley The Great will try to reach the dearly departed. There will be spine tingling special effects made with antique props as chilling, gothic tales are told. Where: Mayo Street Arts, 10 Mayo St., Portland. When: 7 p.m. Cost: $15 in advance, $18 at the door, $22 preferred seating, pay-what-you-can seats available
Oct. 21 Saco Main Street Pumpkin Harvest Festival Details: Ride your broomstick to Saco for its annual Main Street Pumpkin Harvest Festival where you'll find kids' activities including a trunk or treat area, costume contest, pie-eating competition, horse-drawn wagon rides, merchant booths, dance troupes, live music and more. Where: Main Street, Saco When: 11 a.m. to 3 p.m. Cost: Free Advertisement
Oct. 22 & 29 "Grave Secrets" Cemetery Tours Details: Join the Lady in White for an afternoon of Hallowell history, Victorian funeral practices, gravestone symbolism and other hands-on activities. Spend a beautiful fall afternoon in the city's most peaceful cemetery. Where: 27 Water St., Hallowell (Hallowell Village Cemetery) When: 1-2:30 p.m. Cost: $25-$30
Oct. 25 Halloween Spook-Tacular Science Show Details: Attend a Halloween science extravaganza with Mad Science at the Lewiston Public Library. Start off with decorating your own trick-or-treat bags and visiting each service desk for a treat. Enjoy the other Halloween activities and a snack before the Mad Science Spook-tacular Show at 5:30 p.m. Costumes are encouraged. Where: Lewiston Public Library, 200 Lisbon St. When: 5 to 6:30 p.m. Cost: Free
Oct. 27 Thriller Throwdown 2023 Details: The 11th year for the zombie takeover happens in the center of downtown Portland, and you don't want to miss it. More than 100 grisly ghouls will be re-creating one of the most iconic videos ever made: Michael Jackson's "Thriller." Just remember, no one's gonna save you from the beast about to strike. Where: Congress Square Park, Portland When: 5:30 p.m. Cost: Free
Oct. 28 Trunk-or-Treat Mercer Details: Many treat givers, photo booth, games and more. The event will be moved into the gymnasium in the event of rain. Where: Mercer Community Center, 1015 Beech Hill Road, Mercer When: 1 to 4 p.m. Cost: Free
Oct. 28 Trunk-or-Treat Norridgewock Details: Bring all the kiddos, big and small to this wonderful community event. Where: Mill Stream School, 26 Mercer Road, Norridgewock When: 5 to 7 p.m. Cost: Free
Oct. 28 Kotzschmar Spooktacular Songs & Storytime Details: Geared for kids ages 2-12, the Kotzschmar Spooktacular features stories, songs and Portland Public Library's book-mobile. There's also a 10-minute silent film with with live accompaniment from organist James Kennerley, and kids will love a demo of the historic instrument. A costume parade will make its way across the stage. Be sure to reserve your free spot. Where: Merrill Auditorium, 20 Myrtle St., Portland When: 10 a.m. Cost: Free Advertisement
Oct. 28 Trunk-or-Treat Skowhegan Details: Cars, trucks, firetrucks, boats, police cars and more will fill the parking lot. Each vehicle will have their trunk decorated and children will walk from trunk to trunk gathering goodies and enjoying festive Halloween decorations. Where: MIKA After School & Summer Camp Programs, 348 Madison Ave., Skowhegan When: 5 to 7 p.m. Cost: Free
Oct. 28 HIVE: The Witching Hour All Night Halloween Party Details: It's a late-night dance party for the ages. Costumes are encouraged and music will be from DJ Gratitude, Tumbl Down b2b Kreitzman, Amrit, Max Dansky, Deja and Single Grind. You can also expect immersive experiences, dance performances and a costume contest. Where: 77 Free St., Portland When: 9 p.m. to 3 a.m. Cost: $20, $25
Oct. 28 Ghoul's Night Out Details: Throw on a costume and come throw it down at Geno's. Dancing, beverages and music will be bountiful, so put together a crew and make it happen. Where: Geno's Rock Club, 625 Congress St., Portland When: 9 p.m. Cost: Free entry, 21-plus
Oct. 28 Barnyard Trick or Treat Details: It's the final weekend of the barnyard season at Smiling Hill Farm, so put on a costume and pay a visit. Pick-a-pumpkin wagon rides will be happening, and the goats and other animals will be very happy to see you. Where: Smiling Hill Farm, 781 County Road, Westbrook When: 10:30 a.m. to 2 p.m. Cost: $9, $6 if in costume, $3 kids
Oct. 28 Trunk-or-Treat Details: Lithgow Public Library will be hosting its first Trunk-or-Treat in the parking lot. They'll have other community organizations with their decorated trunks, candy and some books. Parking will be in one half of the lot and on street as normal. Where: 45 Winthrop St., Augusta When: 1:30-3:30 p.m. Cost: Free
Oct. 28 Halloween Dance Details: Annual Halloween Dance sponsored by United Bikers of Maine Somerset County. Live Music by Holy Smoke. There will be a costume contest, 50/50 raffle and Halloween treats. All proceeds will be going to the Thanksgiving food baskets. Where: American Legion Post #39, 20 S. Maple St., Madison When: 8 p.m. to 12:01 a.m. Cost: $15 per person; $20 per couple Advertisement
Oct. 28 Haunted House Details: Not recommended for young children. Where: Skowhegan Community Center, 39 Poulin Drive, Skowhegan When: 6 to 8 p.m. Cost: $5
Oct. 28 Trunk or Treat Skowhegan-Madison Details: Bring your little ghouls and goblins and join us for some fun at the lodge. Where: Skowhengan-Madison Elks Lodge, 21 Silver St., Skowhegan When: 1to 3 p.m. Cost: Free
Oct. 31 Trunk a Treat Where: Chesterville Town Office, 409 Dutch Gap Road, Chesterville When: 4-6 p.m. Cost: Free
Oct. 28 Black Cat Ball Details: Get your groove on during the Black Cat Ball Halloween party, featuring Motor Booty Affair. The evening festivities will include a secret costume contest. Planted judges will scour the arena for the craziest costumes and deliberate on one final winner who will take home $500 courtesy of Black Maple Piercing. This event is 21+. Where: 190 Birch St., Lewiston When: 6 p.m. Cost: $20 to $50
Oct. 28 The Great Pumpkin Ball Details: Equality Maine and the Equality Community Center presents a massive Halloween dance party and costume contest in Portland. Head to the State Theatre where you'll find Salina EsTitties from RuPaul's Drag Race, host Blake Hayes from Coast 93.1, drag king Finn Gerring, music from DJ XO and DJ Robbie Leslie. The night also features a costume contest with great prizes, burlesque go-go dancers and special performances. VIP tix get you into a pre-party down the street at Sagamore Lounge. Where: State Theatre, 609 Congress St., Portland When: 8:30 p.m. Cost: $30 in advance, $40 at the door, $60 VIP, 18-plus, pay-what-you-can and free tickets available
Oct. 29 Space Halloween with Josie and The Pussycats, The Beach Boys, Buzzcocks and Animal Collective Details: Pull together a spectacular costume and head to Space for a thrilling night of local cover bands slaying with tunes from some of your favorite acts. The supergroups are comprised of Maine acts KGFREEZE, Ossalot, Lunch Cult, Akela Moon and several others. Where: Space, 538 Congress St., Portland When: 6:30 p.m. Cost: $15 in advance, $18 day of event, $10 for 18 and under/students Advertisement
Oct. 29 Lore of the Jack-O'-Lantern Details: Spend your Halloween eve eve with Brian Serven and Doctor Gasp. The latter is singer-songwriter Dan Blakeslee's spooky alter-ego, and he and Serven will have plenty of tricks up their sleeves. The evening will feature a theatrical reading and music performance to mark the audiobook release of "Lore of the Jack-O'Lantern" during which illustrations by Blakeslee will be projected. Where: Space, 538 Congress St., Portland When: 8:30 p.m. Cost: $15
Oct. 29-31 Trail of Terror Haunted Walk Details: This year's theme for the Trail of Terror Haunted Walk is CarnEvil of Souls so be ready to to scream your head off as you roam along the trail, wild with anticipation about what might go bump in the night. The walk is a volunteer-run fundraiser for OOB365. Where: Aquaboggan, 980 Portland Road, Saco When: 5-9 p.m. Cost: $20, $10 kids under 10
Oct. 30 Flightmare on Elm. St. 2 Details: You don't want to miss any night that involves powerhouse singer Gina Alibrio and her all-star band the Red Eye Flight Crew. You'll dance 'til you drop as they churn out soul, funk and rock covers. Where: Portland House of Music, 25 Temple St. When: 9:30 p.m. Cost: $20 in advance, $25 at the door, 21-plus
Oct. 31 Halloween Celebration with Hello Newman Details: Be a Halloween purist by partying on the actual night. Costumes are optional but don't be that person. Hello Newman will be playing '90s hits all night long. Where: Portland House of Music, 25 Temple St. When: 8 p.m. Cost: $10 in advance, $12 at the door, 21-plus
Send questions/comments to the editors.
Member Log In
Please enter your username and password below. Already a subscriber but don't have one? Click here .
Not a subscriber? Click here to see your options
A Haunted House (2013)
Awards | FAQ | User Ratings | External Reviews | Metacritic Reviews
User Ratings
External Reviews
Metacritic Reviews
Full Cast and Crew
Release Dates
Official Sites
Company Credits
Filming & Production
Technical Specs
Plot Summary
Plot Keywords
Parents Guide
Did You Know?
Crazy Credits
Alternate Versions
Connections
Soundtracks
Photo & Video
Photo Gallery
Trailers and Videos
Related Items
Related lists from IMDb users
Recently Viewed
23 Insanely Scary DIY Haunted House Ideas
The Sits Girls
Some people like to decorate their houses for Halloween. Other people like to transform their homes into terrifying haunted houses. A little DIYing can help you get there, whether you want to create a full-blown experience for trick-or-treaters or you're just looking to decorate a little.
The more time you put into decorating for Halloween, the bigger the pay off as far as how memorable your home is to the neighbors. Explore these outrageously spooky haunted house ideas and figure out which makes the most sense for your home this year.
Use Chicken Wire to Make Creepy Ghosts
Wholesale Party Supplies
 You can hang a white sheet and create a ghost, but this idea is sure to be more creepy. By using chicken wire, you can make the ghosts appear more lifelike in form. Also, opt for cheesecloth instead of sheets to make the entire project more spooky.
DIY Chicken Wire Ghosts from Wholesale Party Supplies
Start With PVC Pipe to Build a Grim Reaper
Print With My Pic
There's nothing quite as scary as the Grim Reaper making an appearance at your haunted house. The important thing is to take your time with this tutorial and use a foam wig stand to help make the shape true to form.
Make Your Own Grim Reaper Prop from Print With My Pic
Use Old Dolls for a Grotesque Mobile
There's not much creepier than a bunch of ragged, destroyed dolls hanging from the ceiling with weapons and blood galore. Just make sure whichever doll you decide to destroy isn't worth a ton of money first. 
DIY Creepy Doll Mobile from Epbot
Make Your Home's Exterior Angry
Craftibilities
All you need to add some moody ambiance to your house is a wood sheet, sharpies, and some paint. For this project, the teeth have a lip that rests between two of the porch beams, so no nails were needed. 
Make House Come Alive for Halloween from Craftibilities
Hang Some Halloween Skeletons From Your Roof
Instructables
If you want to add a touch of creepiness to your home's exterior but don't want to go all out, pick up a bunch of plastic skeletons and dangle them from your roof and windows. 
DIY Climbing Halloween Skeletons from Instructables
Throw Around a Few Body Bags
This project is an inexpensive way to add major creepy vibes to any part of your haunted house. The key is to make the shape of the bags as body-like as possible. To accomplish this, stuff actual clothing with newspaper then put your dressed body inside the trash bags.
Body Bag Halloween Decorations from Craftibilities
Make This Terrifying Werewolf Head
If you love sculpting with clay , try out this haunted house idea. Werewolves are a classic Halloween staple, but sometimes they can look less than scary. Learn how to make your own and it will surely look ferocious. Hang the finished piece under your front porch or just inside your home's foyer.
DIY Werewolf Head Decor from Instructables
Float Some Candles Overhead
This haunted house DIY is inspired by Harry Potter , but even non-fans will be spooked when they look up and see the candles magically floating in mid-air.
Harry Potter Floating Candles from The Sits Girls
Construct This Scary Jack-o'-lantern Archway
Crazi Carlos
While you will need a ton of scary plastic jack-o'-lanterns to make this idea come to life, the end result will be totally worth it. The base of this arch is constructed out of a PVC pipe, so it's easy to customize to your specific entryway.
DIY Pumpkin Archway from Crazi Carlos
Weave This Giant Spider Web
My Untangled Life
No one wants to get caught in a spider web, especially not inside a haunted house. Learn how to weave a simple web and place them around your haunted house perimeter or to block off certain areas you don't want guests.
DIY Giant Spider and Web from My Untangled Life
Turn a Normal Doormat Into a Spiderweb Doormat
Delia Creates
This haunted house idea is more practical than it is scary. If you are inviting guests into your home to get spooked, make sure they wipe off their feet first. You can customize a basic black rug using white fabric paint.
DIY Spiderweb Doormat from Delia Creates
Place Some Skeleton Zombies on the Lawn
Take advantage of your front lawn space when setting up your haunted house. One way to do this is by littering the lawn with zombie skeletons. Craft a form out of PVC pipe, add some stained red clothing, and then put on a foam skeleton head.
DIY Zombies from Craftibilities
Craft an Archway Using Plastic Skulls and Chains
  My Funhouse Projects
One of the most impressive parts of a haunted house is the entryway, so don't skimp on this first impression. Try to create this giant archway using carved foam boards. Next, add some extra detail using paint, decorative chains, and plastic skulls 
DIY Spooky Archway from My Funhouse Projects
Paint a Spooky Halloween Subway Sign
A Pumpkin and a Princess
Signs are a great way to set the tone of your haunted house. Some haunted houses are downright scary and others might be more suitable for children. This sign works well for a more underage type haunted house. Simply find a canvas or some old boards you can stencil.
DIY Halloween Subway Art Sign from A Pumpkin and a Princess
Learn How to Build This Electric Chair
If you love building things with wood, perhaps this is the perfect haunted house idea for you to try this year. The devil is in the detail on this one, so don't expect to complete this project in one sitting.
DIY Electric Chair from Haunt 31
Add Some Silhouetted Figures to Your Windows
To add instant haunted curb appeal to your house, make a bunch of silhouetted figures using cardboard. If you aren't good at drawing freehand, the original creator included some downloadable templates. This haunted house idea is perfect if you want to make a big impact on a very small budget.
Haunted House Silhouettes from Make:
Don't Forget About Your Home's Interior
Flamingo Toes
If you plan on having your haunted house party or tour inside your home, make sure that virtually everything that is on display is creepy in one way or another. You can do this in an obviously gory way, or you can opt for a more elegant yet gothic approach with these candlesticks.
Spooky Crystal Ball Candlesticks from Flamingo Toes
DIY an Eek Marquee Sign
This is another more lighthearted haunted house idea that would work well for young children. You want to have the haunted house be whimsical, a little creepy, but not downright scary. This sign is made out of paper mache letters, paint, and a string of lights
DIY Eek Marquee from Lolly Jane
Label Everything With Creepy Words
Lia Griffith
No detail is too small when it comes to creating an absolutely unforgettable haunted house. Visitor's senses will be heightened and they will take in all sorts of creepy characteristics. If your haunted house is indoors, create a vignette of poisons and other bizarre potions using these apothocary labels.
Printable Apothecary Labels for Halloween from Lia Griffith
Create a Gallery of Ghost-like Faces
Seeing anything other than your face in a mirror can be a creepy experience. To recreate that concept in your haunted house, take some silver mirror spray paint and coat the inside of a glass frame to 60% opacity. Next, add in a photo of a creepy ghost or face behind the glass.
Hitch Hiking Ghost Mirrors from Anniemated
Scatter Glowing Spooky Eyes Around Your House
Dream a Little Bigger
Hide these DIY glowing spooky eyes in bushes, trees, or in windows to make it look like a monster is lurking around your home. To make your own, use a cardboard tube (like a toilet paper roll) and a glow stick.
DIY Glowing Spooky Eyes from Dream a Little Bigger
Put Some Writing on the Wall
From House to Home
In many cases, writing scary words on the wall in a red blood-like paint will work well. However, if you want to have a darkly lit haunted house, using glow in the dark paint is a much better option.
Glow in the Dark Party Ideas for Halloween from From House to Home
Pose Skeletons in Creative Ways
Helpful Homemade
If you're short on ideas on how to make a kid-friendly haunted house, consider ways to make the creepy seem more fun and human. For instance, pose some skeletons in creative ways doing everyday things. 
DIY Skeleton Lawn Decor from Helpful Homemade
More from The Spruce Crafts
Free Pumpkin Coloring Pages for Kids
17 Spooky Skull DIYs Perfect for Halloween
How to Make a Stuffed Dummy
25 Creative Pumpkin Carving Ideas
12 Free 'You've Been Booed' Printables
13 DIY Planter Box Plans for Free
62 Spooktacular DIY Halloween Decorations
35 Christmas Wreaths You Can DIY
12 DIY Lego Tables
9 Easy Fake Blood Recipes
DIY Free Standing Cardboard Tombstones for Halloween
More Than 90 DIY Projects to Upgrade Your Home
Free Halloween Clip Art for All of Your Projects
16 DIY Halloween Wreath Ideas
How to Create and Share a Scary Halloween Feel Box
Christmas Door Decoration Ideas
By clicking "Accept All Cookies", you agree to the storing of cookies on your device to enhance site navigation, analyze site usage, and assist in our marketing efforts.